The head of NASA has urged Ireland to grow its space sector, saying it is the next economy waiting to be mined by anyone who wants to get involved.
Speaking exclusively to RTÉ News during his first visit to Dublin, Robert Lightfoot said the space industry is part of the global economy right now and is where everybody seems to be coalescing.
"It creates two things," the Acting Administrator said.
"It creates a workforce that is pushing the envelope. For me that it is the economic viability of space. Not to mention the sheer fascination, discovery and scientific research we get there."
He was speaking following a visit to University College Dublin where he met members of the team building EIRSAT-1, Ireland's first satellite.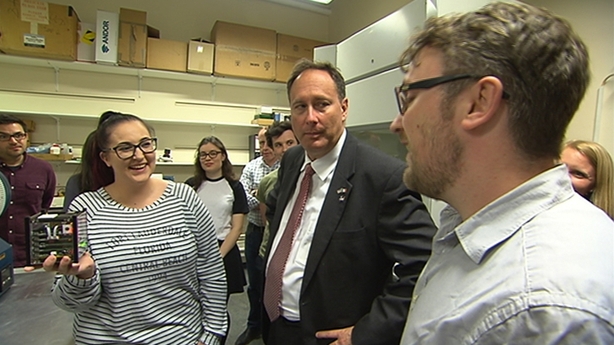 Earlier, Mr Lightfoot gave a public lecture and answered questions about NASA's ongoing work and plans for the future at Science Gallery Dublin.
There he spoke about a number of the agency's current and future missions and projects.
Asked by RTÉ News which of these he considers the most exciting, Mr Lightfoot named a number including the James Webb Space Telescope - the Hubble successor that is launching next year and will be able to look back into the universe further than ever before.
In the aeronautics area he also singled out a supersonic flight demonstrator capable of flying over land without making a deafening noise, which he said could, if successful, open a whole new industry.
He also pointed to various projects in human space flight including a new space launch system and the Orion capsule, will he said will change the dynamic as humans aim to head towards Mars.
But when it comes to those future missions to the red planet, what does Mr Lightfoot think is the biggest challenge to overcome - getting there, living there or getting back?
"All of the above," he said.
"I think those are all challenges we have to deal with. What we are working on now is the infrastructure."
Recently the US space agency reignited speculation that it might in the near future return to the Moon.
But Mr Lightfoot says right now the agency is only considering going back to the area around the Moon as part of preparations for deep-space missions.
The agency would, however, support other international partners who say they want to go to the surface, he said.
Mr Lightfoot's visit comes at the end of a week when NASA scientists revealed they had found hundreds of new extra-solar or exoplanets.
But the acting administrator agrees that getting to one of these new worlds remains a real challenge, because of the distances involved.
"We're going to need advanced propulsion systems which we don't have today, so we are working at a technology level on those kinds of things to say how can we get from our solar system to another solar system, it is truly interstellar travel."
And what about growing evidence pointing towards the likelihood of life existing elsewhere in the Universe?
Mr Lightfoot will not speculate but thinks we should keep looking.
"And when we find it we'll find it, but we're not turning anything off because we need to keep looking," he said.
We need your consent to load this rte-player contentWe use rte-player to manage extra content that can set cookies on your device and collect data about your activity. Please review their details and accept them to load the content.Manage Preferences
The International Space Station is due to reach the end of its working life around 2030, but Mr Lightfoot says NASA is not working on another orbiting laboratory at this point.
"What we're really trying to do at this stage is use the International Space Station we have today", he said..
"What we want to do is create a kind of an economy in low-earth orbit where people can have their own laboratories, their own opportunities for us to come and use. That's what we are trying to do. We're not working on anything past that. We're working on the infrastructure that would be the next step."
Next week the NASA chief will go before the US Senate do discuss the agency's $19.6bn budget.
But he rejected suggestions that NASA's decision to shelve projects like the asteroid redirect mission and certain Earth observation and education programmes due to budgetary pressures reflects reduced support for space exploration by the current US administration.
"If you look at the other budgets in the US, NASA fared very well," he claimed.
"If you look at the other fiscal constraints in the country that they are trying to balance, NASA did very well.  Yeah we got a couple of things that we've got challenges on but the basic core mission that we do in human space flight, science aeronautics and technology is pretty stable."
The Trump administration has told the agency it is very comfortable with what it is doing and it wants it to continue, he added.
Watch extended interview with NASA chief, Robert Lightfoot
We need your consent to load this YouTube contentWe use YouTube to manage extra content that can set cookies on your device and collect data about your activity. Please review their details and accept them to load the content.Manage Preferences