The Grand al-Nuri Mosque in Mosul and its famous leaning minaret have been blown up, with the Iraqi military claiming that the so-called Islamic State group was responsible.
However IS, whose leader leader Abu Bakr al-Baghdadi declared a self-styled "caliphate" from the medieval mosque three years ago, claimed that US airstrikes destroyed the mosque.
The US military has denied the claims.
The Iraqi military's media office distributed a picture taken from the air that appears to show the mosque and minaret flattened in the middle of the small houses of the Old City, the historic district where the militants are besieged.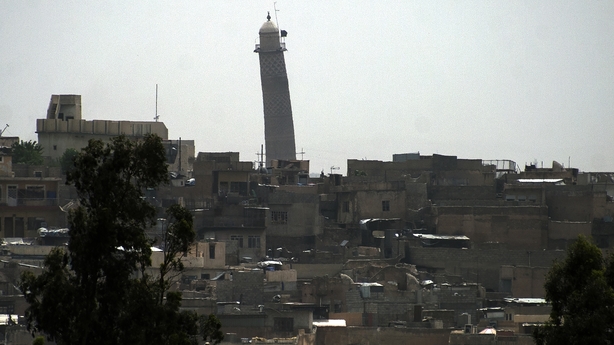 "The Daesh (another term for IS) terror gangs committed another historical crime by blowing up the al-Nuri mosque and its historical al-Hadba minaret," the military statement said.
The explosions happened as Iraq's elite Counter Terrorism Service units, which have been battling their way through Mosul's Old City, got to within 50m of the mosque, the statement said.
Earlier Iraqi forces said they had started a push towards the mosque.
A US-led coalition is providing air and ground support to the Mosul offensive, which began in October 2016.
The forces had encircled the jihadist group's stronghold in the Old City yesterday.
The Old City is the last district under IS control in Mosul.
The so-called Islamic State group has been accused of blowing up the iconic Grand al-Nuri Mosque in Mosul https://t.co/QLRVN4Kk41 pic.twitter.com/Ucxe5Jv79d

— RTÉ News (@rtenews) June 21, 2017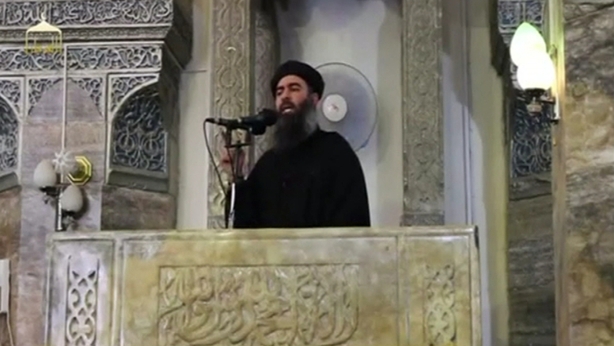 Al-Baghdadi proclaimed himself "caliph", or ruler of all Muslims, from the pulpit of the mosque on 4 July 2014, after the insurgents overran parts of Iraq and Syria.
His black flag had been flying over its 45m leaning minaret since June 2014.
Baghdadi's speech from the mosque was also the first time he revealed himself to the world, and the footage broadcast then is to this day the only video recording of him.
The fall of Mosul would, in effect, mark the end of the Iraqi half of the "caliphate" even though IS would continue to control territory west and south of the city, the largest they had control of in both Iraq and Syria.
Baghdadi has left the fighting in Mosul to local commanders and is believed to be hiding in the border area between Iraq and Syria, according to US and Iraqi military sources.