French President Emmanuel Macron and his centrist ally are now assured of having a parliamentary majority, having won at least 301 seats, according to partial official results from the Interior Ministry based on 92% of votes counted.
The ministry data put Mr Macron's Republic On the Move party at 263 seats and majority ally MoDem at 38 seats.
Projections show Mr Macron is on course to win a much larger majority.
The result redraws France's political landscape, humiliating the socialist and conservative parties which alternated in power for decades until Mr Macron's election in May.
Two pollsters projected that Mr Macron's Republic on the Move (LREM) and its MoDem allies would win 355-360 seats in the 577-seat lower house, lower than previously forecast.
A third poll by Elabe initially showed a far bigger majority, projecting 395-425 seats for the Macron alliance, but later brought down its forecast to 373-403.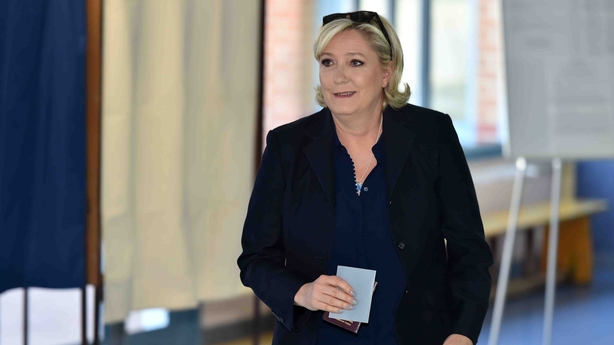 The three projections predicted the conservative Republicans and their allies would form the largest opposition bloc with 107-133 seats, while the Socialist Party, in power for the last five years, and its partners would secure 30-49 seats, their lowest ever.
"Tonight, the collapse of the Socialist Party is beyond doubt. The president of the Republic has all the powers," Jean-Christophe Cambadelis said after announcing he would step down as party chief.
He said the party would have to rebuild itself from the top down. Mr Cambadelis was knocked out of the running for parliament in last week's first round of voting.
Far-right leader Marine Le Pen (above) won a seat in the French Assembly for the first time and the polls showed her National Front winning four to eight seats.
But it suffered early disappointments, with its deputy leader failing to win in his constituency.
The scale of the majority hands Mr Macron, a pro-European Union centrist, a strong platform from which to make good on campaign promises to revive France's fortunes by cleaning up politics and relaxing regulations that investors say shackle the eurozone's second-biggest economy.
Voter turnout was projected to be a record low for parliamentary elections, at about 42%.
The high abstention rate underlines that Mr Macron may yet have to tread carefully with reforms in a country with muscular trade unions and a history of street protests that have forced many a past government to dilute new legislation.