At least 58 people are feared to have died in the fire that engulfed a London tower block this week, police said today, as British Prime Minister Theresa May admitted that the response from the authorities had not been good enough.
With anger mounting over the government's handling of the blaze, Mrs May met residents from the Grenfell Tower and vowed to personally oversee the recovery as protesters gathered to demonstrate in the streets around her residence for a second day.
Weakened by a botched election gamble last week, Mrs May has been criticised for her muted response to the fire and had to be rushed away from a meeting with residents yesterday under heavy police guard as protesters shouted "Shame on you".
"The response of the emergency services, National Health Service, and the community has been heroic," Mrs May said in a statement.
We need your consent to load this rte-player contentWe use rte-player to manage extra content that can set cookies on your device and collect data about your activity. Please review their details and accept them to load the content.Manage Preferences
"But, frankly, the support on the ground for families who needed help or basic information in the initial hours after this appalling disaster was not good enough."
London Police Commander Stuart Cundy said the toll of 58 represented those who were missing and presumed dead from a fire which ripped through the 24-storey social housing block as residents slept in the early hours of Wednesday morning.
"Sadly at this time, there are 58 people who we have been told were in Grenfell Tower on the night that are missing and therefore, sadly, I have to assume that they are dead," he said.
If the number is confirmed, it would make the Grenfell Tower blaze the deadliest in London since World War Two. The toll had previously been put at 30.
One of the first victims to be identified was 23-year-old Syrian refugee Mohammad Alhajali.
The British Home Office has said it has assisted the family of Mr Alhajali, in "making arrangements for their travel to the UK in these terribly sad circumstances".
While the blaze has prompted an outpouring of generosity, with many people donating provisions and clothes, it has also unleashed rage at the authorities as the charred tower was cast as a deadly symbol of a deeply divided society.
Yesterday, angry protesters chanting "We want justice" stormed their way into the Kensington and Chelsea town hall to try to confront the leaders of the local council.
Residents of the destroyed tower said Mrs May was far too slow to visit the stricken community, that the building had been unsafe and that officials have failed to give enough information and support to those who have lost relatives and their homes.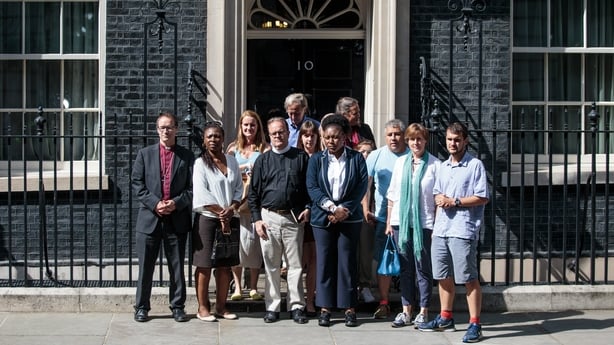 Mrs May spent over two hours today meeting residents from the north Kensington area at her Downing Street residence and chaired a meeting on the government's response to the fire.
She has promised to set up a public inquiry and pledged £5m of support, housing guarantees and help with access to bank accounts and cash. Those who lost their homes will be rehoused within three weeks, she said.
"It has been decided today that the public inquiry will report back to me personally," Mrs May said. "As prime minister, I will be responsible for implementing its findings."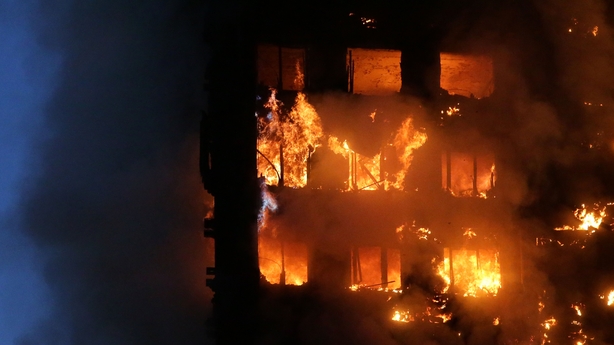 One of her closest allies, Damian Green, defended Mrs May, saying she was "distraught about what has happened".
"We're all desperately sad," said Mr Green, who was appointed Mrs May's deputy in the wake of the general election. "We're all angry, but of course none of us is as angry as those who were directly affected. I absolutely get why they're angry."
Mrs May was asked repeatedly in an interview yesterday whether she had misread the public mood. While failing to answer, she said the focus was now on providing support to the victims.
Today, more than 1,000 people gathered near Mrs May's Downing Street office to protest against her plan to form a government with the support of the DUP.
One banner showed a drawing of Mrs May with the words "Shame" and "Disgrace".
Opponents said Mrs May's handling of the fire had thrust her position further into doubt by showing a failure to feel the public mood and act decisively.
Her failure to win a majority in an election she did not need to call had already sparked a tumultuous week and pitched Britain into its deepest political crisis since the Brexit referendum a year ago.
Britain is now likely to go into arduous talks on Monday about its exit from the European Union with a weakened leader who is dependent on the DUP to get legislation passed.