The UN rights office has said it has credible reports that the so-called Islamic State group killed more than 230 civilians trying to flee Iraq's western Mosul since 26 May.
Between 50 to 80 more civilians were reportedly killed in a 31 May air strike on the IS-controlled Mosul neighbourhood of Zanjilly, according to a statement from the office of United Nations human rights chief Zeid Ra'ad Al Hussein.
Last Tuesday, Mr Zeid accused the jihadists of killing 163 civilians on 1 June in Mosul's al-Shifa neighbourhood.
Today's statement detailed two new allegations, including a 26 May incident where IS reportedly shot dead 27 people trying to escape al-Shifa, including five children.
On 3 June, the group allegedly killed another 41 civilians in the same neighbourhood as they ran towards Iraqi troops, according to the rights office.
"Shooting children as they try to run to safety with their families - there are no words of condemnation strong enough for such despicable acts", Mr Zeid said.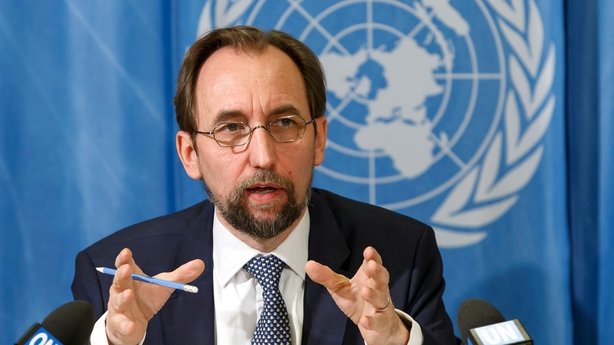 Targeting civilians "who are not directly taking part in hostilities, are war crimes," the statement added.
IS seized Mosul in 2014, and the operation that began last October to retake the city has displaced hundreds of thousands of people.
Iraqi forces have retaken all but a handful of areas around the Old City in western Mosul, but the jihadists are fighting in densely populated areas, and have used civilians as human shields at various points in the battle.
Several reports in recent weeks, including Pentagon investigations, have found that civilians have repeatedly been killed by air strikes from the anti-IS coalition supporting Iraqi troops.
Mr Zeid again urged the coalition "to ensure that their operations comply fully with international humanitarian law and that all possible measures are taken to avoid the loss of civilian lives," reiterating a plea he has made throughout the battle for Mosul.