At least 27 people have been killed and more than 100 wounded in two bombings in Baghdad, security and medical officials said.
In the first attack, a suicide bomber struck near a popular ice cream shop overnight, killing 16 people.
In the second, a car bomb exploded near one of the capital's main bridges this morning, killing 11, the officials said.
The so-called Islamic State group issued a statement claiming the first attack, identifying the bomber as an Iraqi who blew up an explosives-rigged vehicle targeting Shia Muslims.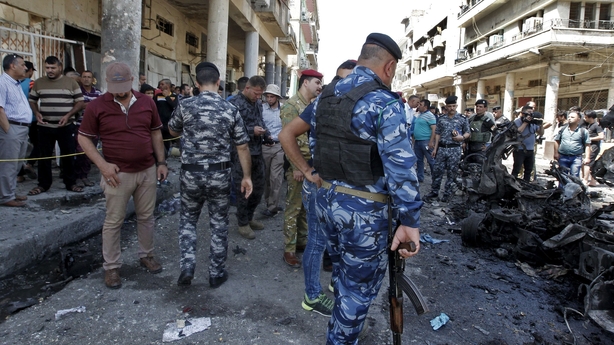 IS considers members of Iraq's Shia Muslim majority - including the women and children who were victims of the ice cream shop blast - to be heretics and thus legitimate targets for attack.
There was no immediate claim of responsibility for the second attack, but IS carries out frequent car bombings targeting civilians in the Iraqi capital.
The blasts, which come just a few days into the holy Muslim fasting month of Ramadan, highlight the danger posed by jihadists even as security forces have dealt them a string of battlefield defeats.
IS overran large areas north and west of Baghdad in 2014, but Iraqi forces backed by US-led air strikes have since regained much of the territory they lost and are now fighting to retake the last jihadist-held areas in second city Mosul.