Egyptian air force planes carried out six strikes directed at camps near Derna in Libya where Cairo believes militants responsible for a deadly attack on Christians earlier in the day were trained, Egyptian military sources said.
Egyptian President Abdel Fattah al-Sisi said he had directed strikes against what he called terrorist camps, declaring in a televised address that states that sponsored terrorism would be punished.
"The terrorist incident that took place today will not pass unnoticed," Mr Sisi said. "We are currently targeting the camps where the terrorists are trained."
The sources said the strikes took place at around sundown, hours after masked gunmen attacked a group of Coptic Christians travelling to a monastery in central Egypt, killing 28.
A health ministry official said a large number of Christian children are among the dead.
The group was travelling in two buses and a truck through the province, which is home to a sizeable Christian minority.
Coptic Christians, who make up about 10% of Egypt's population of 92 million, have been the subject of a series of deadly attacks in recent months.
About 70 have been killed in bomb attacks on churches in the cities of Cairo, Alexandria and Tanta since December.
The so-called Islamic State militant group said it was behind those attacks.
It is not yet know who carried out this latest attack.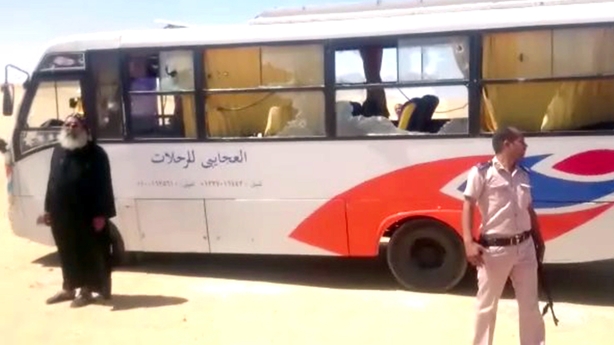 Minister for Foreign Affairs Charlie Flanagan issued a statement, saying: "I have learned with great sadness about another attack on the Coptic Christian community in Egypt today.
"Just last week in Dublin, I offered my condolences to the Head of the Coptic Church, His Holiness Pope Tawadros II for last month's attacks.
"Today I again offer my sincere condolences to those killed and injured and their loved ones, as well as to the entire Coptic Christian community.
"I condemn in the strongest terms the actions of those responsible for this barbarous act of terrorism."