WikiLeaks founder Julian Assange has said he was prepared to talk to Britain and the United States after Sweden dropped a probe into an allegation of rape against him.
However, he defended his right to remain in Ecuador's embassy in London.
He has lived in the Ecuadorean Embassy in London since 2012, after taking refuge there to avoid extradition to Sweden over the allegation. He had always denied the allegations.
Appearing at the balcony of the central London embassy where he has spent five years, Mr Assange criticised western governments, but said he was prepared to enter into dialogue with London and Washington.
We need your consent to load this rte-player contentWe use rte-player to manage extra content that can set cookies on your device and collect data about your activity. Please review their details and accept them to load the content.Manage Preferences
He said: "My legal staff have contacted the United Kingdom authorities and we hope to engage in a dialogue about what isthe best way forward.
"While there have been extremely threatening remarks made,I'm always happy to engage in a dialogue with the Department of Justice about what has occurred."
Earlier, Ecuador urged Britain today to "grant safe passage" out of the country to Mr Assange.
"The European Arrest Warrant no longer holds. The UK must now grant safe passage to Mr Julian Assange," minister Guillaume Long wrote on Twitter.
"Chief Prosecutor Marianne Ny has today decided to discontinue the preliminary investigation regarding suspected rape concerning Julian Assange," the prosecutors' office said in a statement.
UK refuses to confirm or deny if it has received a US arrest warrant for me - Julian Assange pic.twitter.com/KDzzr4FHOu

— Fiona Mitchell (@mitchefi) May 19, 2017
Despite that, British police said they would still arrest Mr Assange if he tried to leave the embassy.
They said he had breached the terms of his bail by refusing to turn himself in when an arrest warrant was issued in 2012.
In 2010, his WikiLeaks site leaked hundreds of thousands of secret US military and diplomatic documents.
Mr Assange feared that if he gave himself up to the Swedish authorities he would be extradited to the United States and put on trial for the intelligence leaks.
Ecuador, under leftist President Rafael Correa, granted Mr Assange asylum in 2012.
Mr Long said: "Ecuador welcomes the decision to drop the charges," recalling that Swedish prosecutors questioned Mr Assange in the embassy in November.
"Ecuador regrets that it took Swedish Prosecutor more than four years to carry out this interview. This was a wholly unnecessary delay," Mr Long wrote.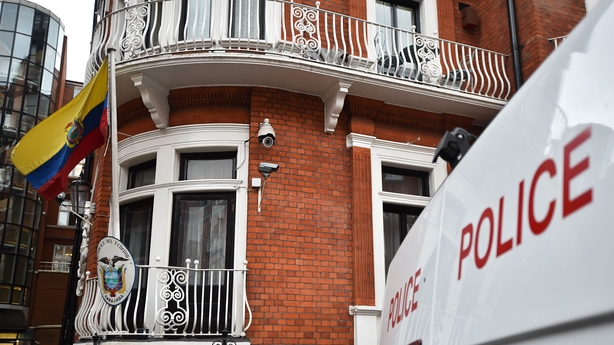 Yesterday, Chelsea Manning, the US soldier who furnished the classified documents to Wikileaks, was released from prison after serving seven years of a 35-year jail term for the offence. Former US President Barack Obama commuted the sentence before he left office in January.
US Attorney General Jeff Sessions has recently said the arrest of Mr Assange in relation to the leak was a priority.
Ms Ny said the motive for her decision to drop the investigation was that there is no reason to believe the decision to surrender Mr Assange to Sweden can be executed in the foreseeable future.
She told a press conference in Stockholm that the investigation could be reopened if Mr Assange returns to Sweden before the allegation against him elapses under Swedish law in August 2020.
She said: "Almost five years ago Julian Assange was permitted refuge at the Ecuadorian embassy in London, where he has resided ever since.
"In doing so, he has escaped all attempts by the Swedish and British authorities to execute the decision to surrender him to Sweden in accordance with the EU rules concerning the European Arrest Warrant. My assessment is that the surrender cannot be executed in the foreseeable future.
"At this point, all possibilities to conduct the investigation are exhausted. In order to proceed with the case, Julian Assange would have to be formally notified of the criminal suspicions against him.
"We cannot expect to receive assistance from Ecuador regarding this. Therefore the investigation is discontinued.
"If he, at a later date, makes himself available, I will be able to decide to resume the investigation immediately.
"As a result of the decision to discontinue the investigation, the prosecutor has reversed the decision to detain him in his absence and withdrawn the EAW (European Arrest Warrant)."