Syrian rebels and their families have started leaving a northern district of the capital, state television said, in the first evacuations from Damascus in the country's six-year war.
State television said the evacuations would continue for five days, but that rebel fighters who chose to stay could do so if they register with the government.
The channel did not specify how many people were expected to leave, but the Syrian Observatory for Human Rights monitor said up to 1,500 people - mostly rebels - would leave Barzeh today and head to the northwest province of Idlib.
The Barzeh evacuation deal was struck late last night, and dozens of people had gathered in the district from this morning.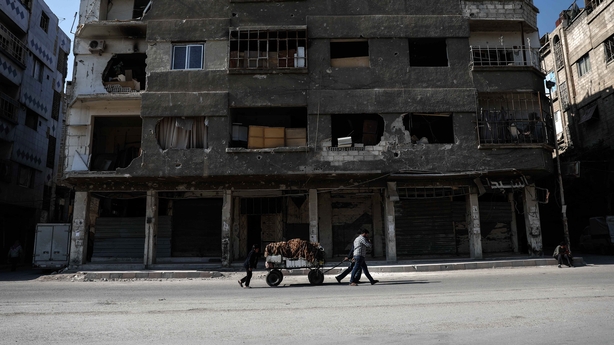 An AFP photographer in Barzeh saw rebel fighters carrying light weapons looking on as children and women pulled suitcases and duffel bags.
A source from the pro-government National Defence Forces said rebel fighters would be allowed to take their "personal weapons" with them.
Negotiations were ongoing for a similar deal in the district of Qabun, in Damascus's northeast, which has seen fierce shelling for weeks by forces loyal to President Bashar al-Assad.
The deal follows Saturday's start of a "de-escalation" process put in place by regime allies Russia and Iran and rebel-backer Turkey in four regions of Syria - but not the capital itself.
President Assad's government controls all but six districts of Damascus: Barzeh, Qabun, Jobar, Tishrin, Tadamun, and Yarmuk.