France's most crucial election in decades entered its final week with centrist presidential frontrunner Emmanuel Macron and his far-right rival Marine Le Pen trading campaign blows on May Day.
Mr Macron sought for a third successive day to paint National Front candidate Ms Le Pen as an extremist.
She portrayed him as a clone of unpopular outgoing Socialist President Francois Hollande, under whom he served as economy minister from 2014 to 2016.
The latest opinion poll showed Mr Macron leading Ms Le Pen by 61% to 39% ahead of Sunday's election.
The election offers France a choice between Mr Macron's vision of closer integration with a modernised European Union and Ms Le Pen's calls to cut immigration and take the country out of the euro.
"I will fight up until the very last second not only against her programme but also her idea of what constitutes democracy and the French Republic," said Mr Macron, an independent backed by En Marche!, a party he set up himself a year ago.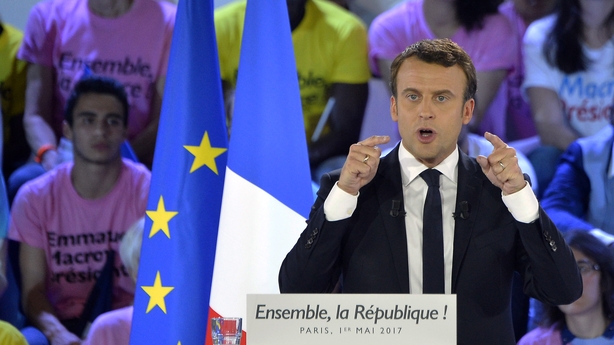 Later, at a rally, he described her as "the anti-France candidate" and said: "We want Europe to be strong because we want France to be strong."
He also rejected calls from leftwing politicians to drop his business friendly reforms.
Campaigning in a suburb north of the capital, Ms Le Pen told a rally: "Emmanuel Macron is just Francois Hollande who wants to stay and who is hanging on to power like a barnacle."
Since taking over the party, she has worked hard to cleanse it of xenophobic and anti-semitic associations and make it more appealing to a wider electorate.
At the weekend she said she had no more contact with her father and was not responsible for his "unacceptable comments".
Mr Le Pen senior gave his own traditional May Day speech at a statue of French mediaeval heroine Joan of Arc.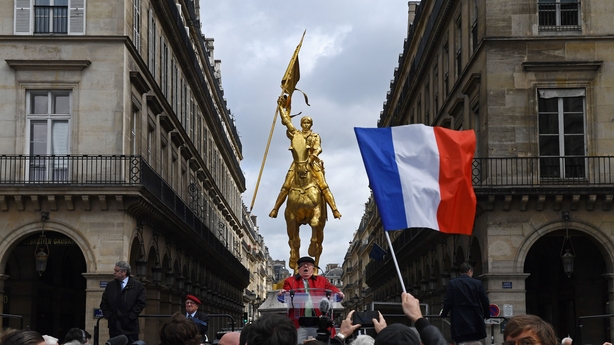 "Emmanuel Macron is doing a tour of graveyards. It's a bad sign for him," he said.
The bitterly contested election has polarised France, exposing some of the same sense of anger with globalisation and political elites that brought Donald Trump to presidential power in the US, and caused Britons to vote for a divorce from the EU.
The vote in the world's fifth largest economy, a key member of the NATO defence alliance, will be the first to elect a president who is from neither of the main political groupings: the candidates of the Socialists and conservative party The Republicans were knocked out in the first round on 23 April.
Between them Ms Le Pen and Mr Macron gathered only 45% of votes in that round, which eliminated nine other candidates.
The second round will take place in the middle of a weekend extended by a public holiday. That has fed speculation that a high abstention rate could favour Ms Le Pen, whose supporters typically tell pollsters they are staunchly committed to their candidate.
In recent days, Ms Le Pen has sought to play down the importance of a French exit from the euro - the part of her campaign platform that is the least popular with voters.
In her speech lasting nearly an hour, she made no reference to the single currency, devoting most of it to slamming her centrist rival and billing him as the candidate of the establishment.
"I want France to get its independence back by negotiating with Brussels the return of our sovereignty," she said.
Referring to her plan to hold a referendum on whether France should remain in the EU, she said: "The French people will decide."
Mr Macron is due to speak at a rally in Paris later today.
Paris police officer hurt in May Day rally
Meanwhile, one police officer was seriously burnt and two others injured in clashes at a May Day demonstration in Paris.
Protesters threw Molotov cocktails and other missiles, police said.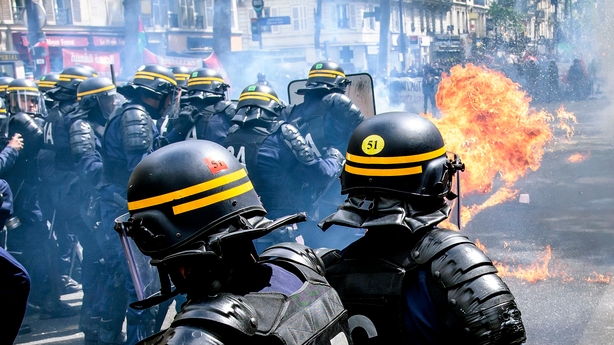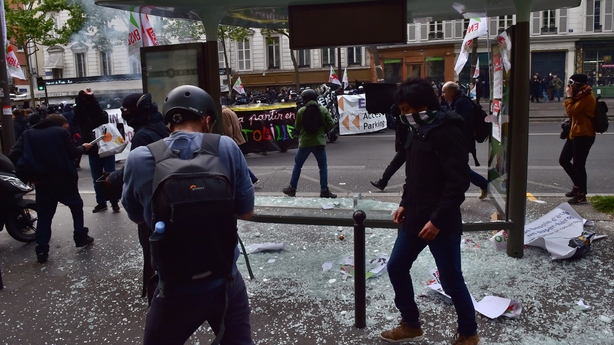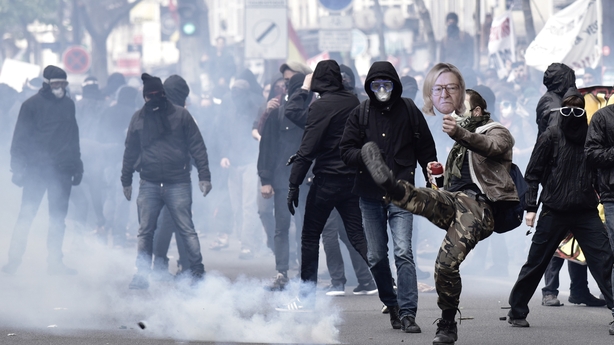 A policemen was seen trying to shake flames from their riot gear, and television pictures showed tear gas enveloping the streets around Paris' Bastille monument.
Some trade unionists and left-wing activists sought to make the day one of national solidarity against the National Front, mirroring protests in 2002 when Ms Le Pen's father, party founder Jean-Marie Le Pen, was a candidate.
Ms Le Pen tweeted her support for the injured policemen and said the incident was the type of unacceptable behavior that she no longer wanted to see on French streets.