Pope Francis said a third country, such as Norway, should try to mediate the dispute between North Korea and Washington, to cool a situation that had become "too hot" and posed the risk of nuclear devastation.
Francis said he believed "a good part of humanity" would be destroyed in any widespread war.
Speaking to reporters aboard the plane taking him back from Cairo, Francis also said he was ready to meet US President Donald Trump when he is in Europe next month but that he was not aware that Washington had made a request for a meeting.
In answer to a question about the tensions between the United States and North Korea, Francis said the United Nations should re-assert its leadership in world diplomacy because it had become "too watered down".
"I call on, and will call on, all leaders, as I have called on leaders of various places, to work to seek a solution to problems through the path of diplomacy," he said about the North Korea crisis.
Francis spoke after North Korea test-fired a ballistic missile shortly after US Secretary of State Rex Tillerson warned that failure to curb Pyongyang's nuclear and ballistic missile programmes could lead to "catastrophic consequences".
"There are so many facilitators in the world, there are mediators who offer themselves, such as Norway for example," he said in his customary freewheeling news conference with reporters at the end of each trip.
"It (Norway) is always ready to help. That is just one but there are many. But the path is the path of negotiations, of a diplomatic solution," he said in the discussion, which lasted about 30 minutes.
Norway secretly negotiated an agreement between Israel and the Palestinians known as the Oslo Accords in the early 1990s.
The pope expressed his deep concern over the crisis, saying:"This question of missiles in (North) Korea has been brewing for more than a year but now it seems the situation has become has become too hot."
He said: "We are talking about the future of humanity. Today, a widespread war would destroy - I would not say half of humanity - but a good part of humanity, and of culture, everything, everything.
"It would be terrible. I don't think that humanity today would be able to withstand it," he added.
Earlier, Pope Francis celebrated mass in Cairo on the last day of a brief visit to Egypt during which he urged Muslim leaders to unite against religious violence as Islamic militants threaten to rid the Middle East of its ancient Christian communities.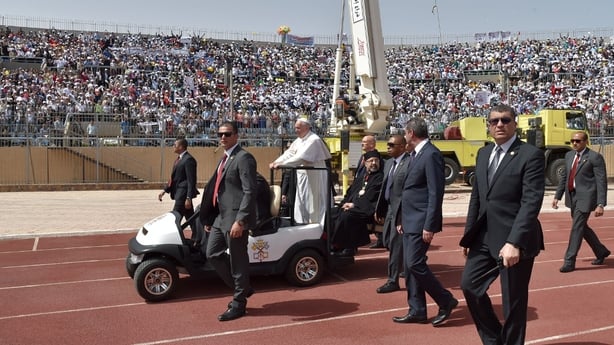 Francis' trip, aimed at rebuilding ties with Muslim religious leaders, comes three weeks after 45 people were killed in attacks on two Egyptian churches.
The so-called Islamic State said it was behind the attacks.
The Pope has used the visit to launch a strong appeal for religious freedom and accuse extremists of distorting the merciful nature of God.
After a packed first day of meetings with political and religious leaders, the highlight today was the mass in the Air Defence Stadium, where Vatican officials said 15,000 people gathered, among them Coptic and Anglican bishops.
At the end of mass, Francis blessed Egypt as one of the earliest nations to embrace Christianity and repeated his call for tolerance.
"True faith leads us to protect the rights of others with the same zeal and enthusiasm with which we defend our own," he told the crowd.
"God is pleased only by a faith that is proclaimed by our lives, for the only fanaticism believers can have is that of charity! Any other fanaticism does not come from God and is not pleasing to him!"
Egypt's Christians comprise roughly 10% of the 92 million population - making them by far the largest Christian community in the Middle East.
Most of Egypt's Christians are Coptic Orthodox with barely 200,000 members of churches within the Roman Catholic fold.