Arkansas has executed its first inmate in 12 years after a protracted legal battle that questioned aspects of the use of the death penalty in the United States.
Ledell Lee, 51, was pronounced dead at 11.56pm local time at the state's death chamber in its Cummins Unit Prison, a Department of Corrections spokesman said.
Lee, who had spent more than 20 years on death row, did not make a final statement.
He was convicted and sentenced to death for beating Debra Reese to death with a tyre iron in 1993.
Ms Reese's relatives were at the Cummins Unit.
Lawyers for Lee had filed numerous motions in various courts ahead of the lethal injection that had put the process on hold.
Lee had maintained his innocence for years and was seeking DNA tests his lawyers said could prove his innocence.
He was the first person in a group of what had been eight men Arkansas originally planned to execute in 11 days, the most of any state in as short a period since the US Supreme Court reinstated the death penalty in 1976.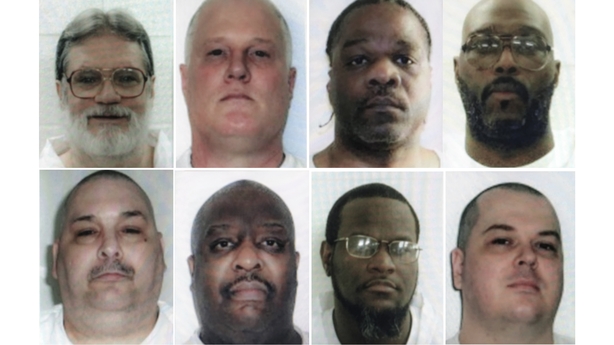 Courts have halted four of those executions.
The state's plan prompted an unprecedented flurry of legal filings that argued the process should be halted, citing problems with US death chamber protocols and lethal injection drug mixes.
Back-to-back Arkansas executions set for Monday were halted indefinitely.
Lawyers for the eight inmates, including Lee, had argued the state's rush to the death chamber amounted to cruel and unusual punishment, violated the inmates' right to counsel and their right to access the courts and counsel during the execution process.
The US Supreme Court denied the petitions for the group.
One of them was a 5-4 decision in which new Justice Neil Gorsuch sided with the four other conservative justices in denying the motion, while the court's liberals dissented.
Republican Governor Asa Hutchinson set the execution schedule because one of the three drugs used in Arkansas executions, the sedative midazolam, expires at month's end.
In a dissenting opinion, Justice Stephen Breyer said he took issue with the state trying to use the drugs before their expiration date.
"In my view, that factor, when considered as a determining factor separating those who live from those who die, is close to random," he wrote.
One of the drugs in the Arkansas mix, midazolam, had been used in flawed executions in Oklahoma and Arizona, where witnesses said the inmates appeared to twist in pain on death chamber gurneys.
"I pray this lawful execution brings closure for the Reese family," Attorney General Leslie Rutledge said in a statement.