Russian President Vladimir Putin has congratulated his Turkish counterpart Recep Tayyip Erdogan for winning a referendum on enhancing his powers, Turkish state media said.
Mr Putin telephoned Mr Erdogan to congratulate him over the win of the 'Yes' vote in Sunday's poll, the state-run Anadolu news agency said, quoting presidential sources.
Earlier, US President Donald Trump has also called Mr Erdogan to congratulate him on winning the referendum.
European Union leaders have been reserved in their reaction to Mr Erdogan's narrow victory and he has said it was not important if the EU suspended Turkish accession talks.
International monitors from the joint mission of the OSCE Office for Democratic Institutions and Human Rights and the Parliamentary Assembly of the Council of Europe said media coverage during the referendum campaign resulted in an "unlevel playing field".
An Austrian member of the Council of Europe's observer mission has cast doubt on the validity of up to 2.5 million ballots in the vote.
"There is a suspicion that up to 2.5 million votes could have been manipulated", Alev Korun, an Austrian member of parliament, said.
"This is about the fact that actually the law only allows official voting envelopes. The highest election authority decided however, as it were against the law, that envelopes without official stamp should be admitted," he added.
Mr Erdogan has said he will ignore international criticism of Sunday's referendum, telling foreign observers to "know their place".
He said the referendum result ended all debate on forging a stronger presidency, which he argues is needed to prevent instability. Opponents accuse him of leading a drive towards dictatorship.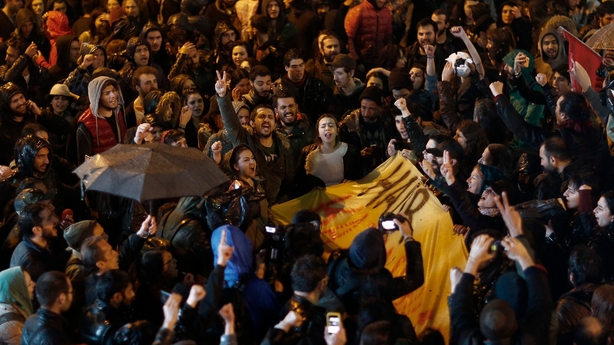 The Yes vote will replace Turkey's parliamentary democracy with an all-powerful presidency and may see Mr Erdogan in office until at least 2029.
Election authorities said preliminary results showed 51.4% of voters had backed the biggest overhaul of Turkish politics since the founding of the modern republic.
The narrowness of his victory could add to volatility in a country that has lately survived an attempted coup, attacks by Islamists, a Kurdish insurgency, civil unrest and war across its Syrian border.
The two largest opposition parties both challenged the referendum, saying it was deeply flawed.
Last night, the Turkish Cabinet extended a state of emergency by three months - the third such extension since a failed coup attempt last July.