The passenger dragged from a United Airlines plane in Chicago in an incident that sparked international outrage and turned into a public relations nightmare for the carrier is likely to sue the company, his attorney has said.
David Dao suffered a "significant" concussion, a broken nose and lost two front teeth, his lawyer Thomas Demetrio said at a news conference this afternoon.
"Will there be a lawsuit? Yeah, probably," Mr Demetrio added.
Dr Dao's daughter said what happened to her father "should never have happened to any human being".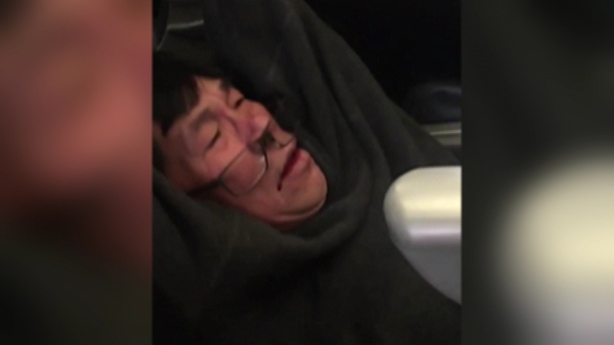 Dr Dao, a 69-year-old Vietnamese-American doctor, was hospitalised after Chicago aviation police dragged him from the plane as the airline sought to make space on a flight from the city's O'Hare International Airport to Louisville, Kentucky.
Video of the incident taken by other passengers and showing Dr Dao being dragged up the plane aisle and with a bloodied mouth circulated rapidly, causing public outrage that was not calmed by the airline's initial response to the case.
United Airlines criticised after passenger who refused to voluntarily give up seat is forcefully removed from flight https://t.co/gphPorriEn pic.twitter.com/qaCfawUZIE

— RTÉ News (@rtenews) April 10, 2017
Dr Dao's lawyers filed an emergency request with an Illinois state court yesterday to require United Continental Holdings Inc and the City of Chicago to preserve video recordings and other evidence related to Sunday's incident, a likely precursor to a lawsuit.
United Chief Executive Oscar Munoz is under pressure to contain a torrent of bad publicity and calls for boycotts against United, including in China, where people have been angered because Dr Dao was an Asian-American passenger.
United shares have lost about 1% of their value since Monday.
Mr Munoz has sought in the last two days to make amends.
In a statement on Tuesday he said he "deeply" apologised and was disturbed by what had happened.
Yesterday, he apologised to Dr Dao, his family and United customers in an ABC News interview, saying the company would no longer use law enforcement officers to remove passengers from overbooked flights.
Congresswoman Jan Schakowsky of Illinois said yesterday that she plans to introduce legislation to end the practice of involuntarily bumping passengers off planes.
A group of 21 senators also sent a letter to Mr Munoz announcing plans to examine the incident, and New Jersey Governor Chris Christie called for the US Department of Transportation to require airlines to stop overbooking flights pending a review.
Mr Munoz said his team had tried to reach out to Mr Dao, but his lawyers said that neither they nor the family had received any calls or messages from United.