Russia's Investigative Committee said it was investigating a suspected "act of terror" after a blast in the Saint Petersburg metro killed 11 people and injured dozens.
Russian news media said police were searching for a man recorded on surveillance cameras who was thought to have been involved in the attack, which coincided with a visit to the city by President Vladimir Putin.
Mr Putin visited the scene of the blast this evening, and laid flowers at the entrance to the metro station.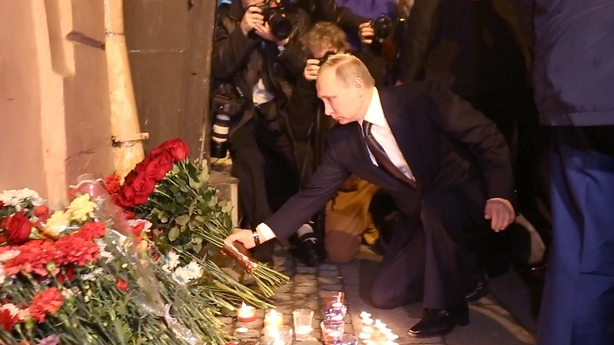 Private television station Ren TV broadcast grainy pictures, it said were captured by a camera on board a metro train of a middle-aged man with a beard, a long black coat and black hat.
Closed-circuit footage from a few minutes later showed him outside the station hit by the blast, looking at his telephone.
Interfax news agency quoted an unnamed source as saying the blast was caused by a bomb filled with shrapnel.
An unexploded device was also found at a second St Petersburg metro station, local news agencies cited Russia's anti-terrorism committee as saying.
The national anti-terrorism committee (NAK) said in a statement carried by Russian agencies that such a device was "found and neutralised in a timely fashion" at the Vosstaniya Square station.
Soon after the blast happened at 2.40pm, ambulances and fire engines descended on the concrete-and-glass Sennaya Ploshc had station. One helicopter hovered overhead, then landed on a broad avenue to take away an injured passenger.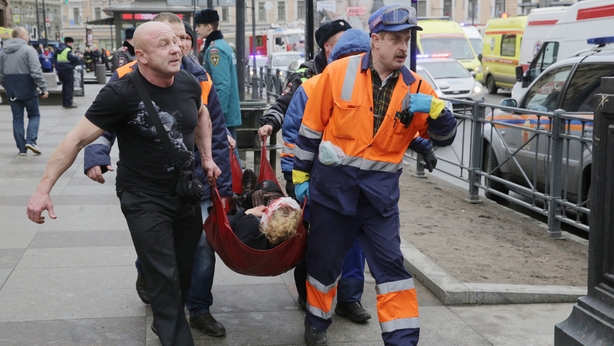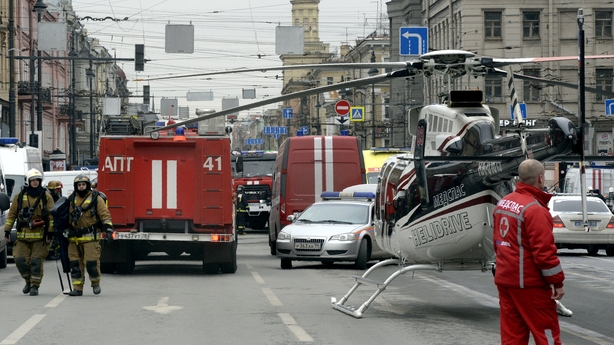 Authorities closed all St Petersburg metro stations. The Moscow metro said it was taking unspecified additional security measures in case of an attack there.
Mr Putin, who was himself in St Petersburg for a meeting with Belarussian leader Alexander Lukashenko, said he was considering all possible causes for the blast, including terrorism. He was consulting with security services.
Aftermath of explosion at underground system in St Petersburg https://t.co/eIPFZrfYhe pic.twitter.com/2pAXaYCBYx

— RTÉ News (@rtenews) April 3, 2017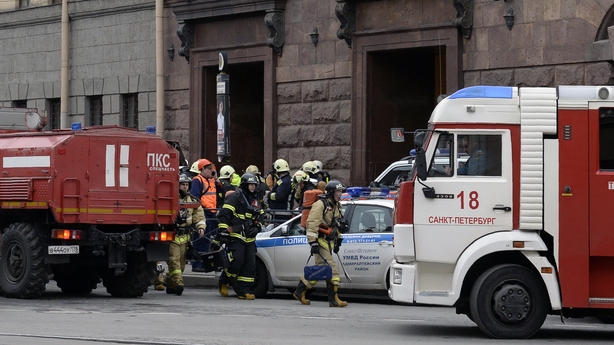 Video showed injured people lying bleeding on a platform, some being treated by emergency services and fellow passengers.
Others ran away from the platform amid clouds of smoke, some screaming or holding their hands to their faces.
A huge hole was blasted in the side of a carriage with metal wreckage strewn across the platform.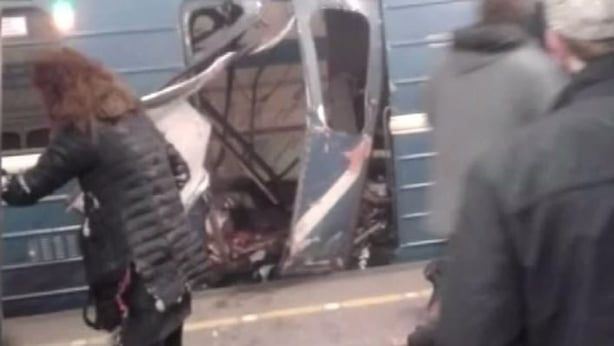 Passengers were seen hammering at the windows of one closed carriage.
Russia has been the target of attacks by separatist Islamist Chechen militants in past years.
The so-called Islamic State group, which has drawn recruits from the ranks of Chechen rebels, has also threatened attacks across Russia in retaliation for Russian military intervention in Syria.
Russian air force and special forces have been backing President Bashar al-Assad in fighting rebel groups and IS fighters now being driven out of their Syrian strongholds.
In a statement, the Department of Foreign Affairs said that it is monitoring the situation and is ready to provide assistance if it is needed.
It said that any Irish citizens with serious concerns can contact 01-4082000 or +7 985 928 7615