Illegal or undocumented migrants living and working in Ireland are calling on the Government to regularise their status.
It comes as Taoiseach Enda Kenny is expected to raise the issue of immigration with President Donald Trump in Washington.
The Justice for the Undocumented campaign, a campaign group of Irish undocumented migrants organised through the Migrant Rights Centre Ireland, has called on the "Irish Government to create a pathway to papers for undocumented workers, families and children in Ireland".
The MRCI estimates that between 20,000 and 26,000 undocumented migrants live and work in Ireland.
The call for regularisation comes as the campaign group published an open letter of solidarity to undocumented migrants living and working in the United States.
The letter highlights similarities between undocumented migrants in Ireland and the United States.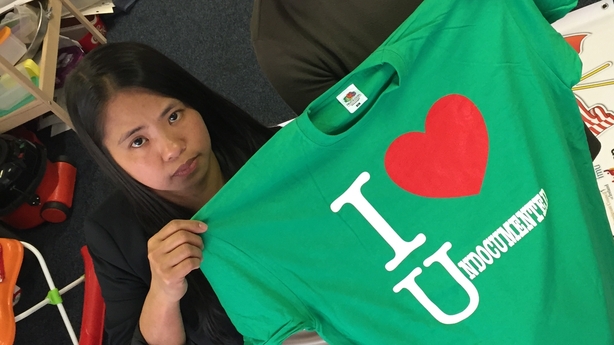 It states: "Being undocumented, staying undocumented, is not an easy life to live. Missing celebrations, missing funerals, missing your family every single moment of every day. Living in constant fear of deportation".
"We know why you do it. The lives you live in America, we live in Ireland," the letter adds.
"We will not give up our shared struggle. We will keep fighting until undocumented people have a pathway to papers. We will remind our political leaders that we are still here. But right now we extend a hand of friendship and a shoulder of strength to you – our fellow people, undocumented and documented, in the Irish community and in all communities in the USA this St Patrick's Day," says the group's letter.
We need your consent to load this rte-player contentWe use rte-player to manage extra content that can set cookies on your device and collect data about your activity. Please review their details and accept them to load the content.Manage Preferences
Commenting on the letter to RTÉ's Morning Ireland, an undocumented restaurant worker named Rebecca, who moved to Ireland from South East Asia 15 years ago, said: "This is not just an issue for the undocumented Irish in the USA, it's an issue for migrants living all over the world.
"I have lived and worked in Ireland for 15 years now. I have Irish grandchildren. Ireland is my home. I know exactly how the undocumented in America feel: missing funerals and celebrations, afraid that one day you will have to leave forever…it is not easy," Rebecca said.
We wanted to send them our support, especially now their President speaks with such anger and hatred.
Rebecca, who set up the Justice for the Undocumented campaign group eight years ago, called on the Taoiseach to consider "undocumented people struggling in Ireland" when he raises the issue of immigration with US President Donald Trump.
This evening, a candlelit rally will be held outside the Central Bank by the Justice for the Undocumented campaign - which claims to have 1,400 members.
Migrant Rights Centre Ireland spokesperson Helen Lowry told Morning Ireland: "The solidarity rally is also making a very strong point to our Taoiseach Enda Kenny on his journey to Washington that there are undocumented migrants here in Ireland in exactly the same situation as the undocumented in the United States".
"We need a regularisation introduced in to this country that recognises the reality that people are now here long term. They are working, they are raising families, they've got deep roots in communities up and down the country".
In response to calls for the regularisation of migrant workers in Ireland, the Department of Justice said in a statement "there are currently no plans to introduce a general regularisation scheme for the undocumented" in Ireland.
A proposal of this nature could give rise to very large, unpredictable and potentially very costly impacts across the full range of public and social services.
"Also, any possible implication for the operation of the Common Travel Area would also have to be very carefully considered, particularly in the context of Brexit", the statement added.
The statement also added that most people become "undocumented" through their own actions or omissions, and there is provision under EU law to use "case-by-case regularisation" for "humanitarian or economic reasons".
"There are instances of persons who became undocumented through no fault of their own and all cases are dealt with on their individual merits," the statement from the Department of Justice added.