Separate bomb attacks in Afghanistan have left at least 45 people dead and 105 injured.
Twin Taliban blasts struck near the Afghan parliament in Kabul this afternoon, killing at least 31 people and wounding 70 others in the rush-hour attack that shattered a relative lull in violence in the capital.
Taliban insurgents immediately claimed responsibility for the bombings, which struck as employees were exiting the parliament complex.
"The first explosion happened outside the parliament ... a number of innocent workers were killed and wounded. It was caused by a suicide bomber on foot," an injured parliament security guard, told AFP.
"The second one was a car bomb. It was parked on the other side of the road and flung me back when it detonated," he said.
A health ministry spokesman warned that the toll was expected to rise.
The blasts went off near a parliament annexe, which houses offices of some politicians.
But a Taliban spokesman said the explosions targeted a vehicle belonging to Afghanistan's main intelligence agency. 
The Taliban are pressing ahead with nationwide attacks despite the onset of winter, when fighting usually ebbs, as international efforts to jump start peace talks falter.
Repeated bids to launch peace negotiations with the Taliban have failed, with a fierce new fighting season expected to kick off in the spring.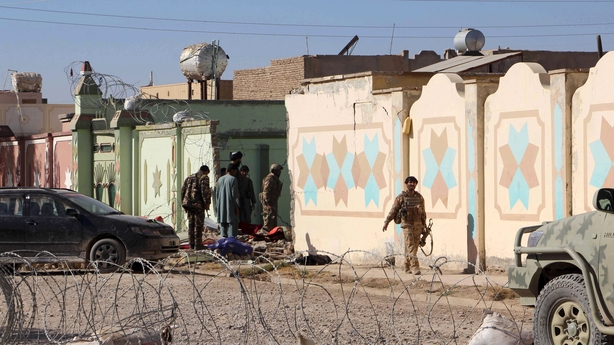 Meanwhile, an explosion in the southern city of Kandahar killed at least seven people and wounded 18 others, including the provincial governor and the United Arab Emirates ambassador who was visiting the city, officials said.
           
The governor's spokesman, who was among those wounded in the attack, said the incident took place during a meeting between senior officials and diplomats from the UAE embassy.
           
Kandahar police chief said that one of the most feared anti-Taliban commanders in Afghanistan, was present at the meeting but was unharmed in the attack.
           
There was no immediate claim of responsibility. 
Earlier, a suicide bomber killed seven people and wounded nine when he detonated his explosives in a house in Helmand used by intelligence services.