British opposition leader Jeremy Corbyn accused Prime Minister Theresa May's Government of being "unfit" to negotiate Brexit, saying it has no plan and cannot make a success of leaving the European Union.
"At no point since the Second World War has Britain's ruling elite so recklessly put the country in such an exposed position without any plan," the Labour leader told supporters in Peterborough where he was giving a speech on Brexit.
"As a result they're now reduced to repeating 'Brexit means Brexit'. They're unfit to negotiate it," he said.
Mr Corbyn, who campaigned for Britain to stay in the EU, said he accepted the result of the June referendum and would not block Ms May's plans to begin exit negotiations by the end of March.
But he warned his centre-left party would fight for continued "full access" to the EU's single market, and for a deal that put "decent jobs and living standards first".
"There can be no question of giving Theresa May's Tories a free pass in the Brexit negotiations to entrench and instill further the failed free market policies in post-Brexit Britain," he said.
The Prime Minister has yet to outline her negotiating strategy, but has made clear she wants to end unrestricted immigration from the rest of the EU - a key element of single market membership.
Mr Corbyn is a strong advocate of free movement of labour, but some of his MPs fear this position is alienating voters concerned about the impact of mass migration.
In his speech, he said he wanted to stop cheap migrant labour that undercut British workers' wages, but said he would prioritise access to the single market.
He accused the government of blaming migrants for overstretched public services, which he argued were the result of six years of austerity.
Johnson says UK 'first in line' for US trade deal
Meanwhile, Boris Johnson has said that Britain is "first in line" for a trade deal with the US, after talks with Donald Trump's senior advisers.
The closeness of the relationship between the UK and US will not change once the president-elect takes office, the Foreign Secretary insisted.
Mr Johnson, who once joked that he would not visit parts of New York because of the "real risk of meeting Donald Trump", lavished praise on the Republican's "exciting agenda of change".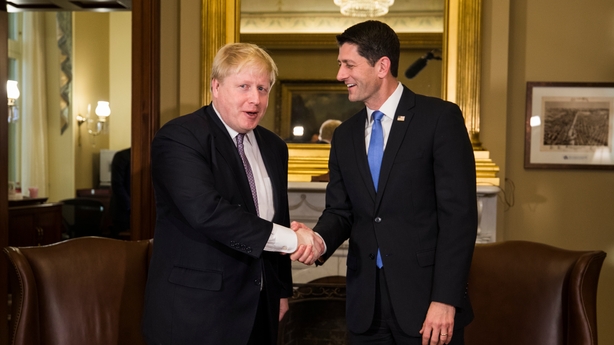 President Barack Obama warned during the Brexit campaign that Britain would be at the "back of the queue" for a trading agreement.
But Mr Johnson said: "Clearly, the Trump administration-to-be has a very exciting agenda of change. One thing that won't change though is the closeness of the relationship between the US and the UK.
"We are the number two contributor to defence in NATO. We are America's principal partner in working for global security and, of course, we are great campaigners for free trade.
"We hear that we are first in line to do a great free trade deal with the United States. So, it's going to be a very exciting year for both our countries."
Mr Johnson met Mr Trump's son-in-law Jared Kushner and the president-elect's chief strategist Steve Bannon after flying to New York on Sunday on a hastily arranged trip and has been meeting other key Republicans in Washington.
The meeting came after British Prime Minister Theresa May condemned Mr Trump's comments about groping women as "unacceptable".
But she indicated the "special relationship" between the UK and US would flourish when he was in the White House.
Ms May, who is expected to meet Mr Trump in the spring, said she has had two "very good, positive" conversations with Mr Trump.