At least 159 people have died following a 6.2 magnitude earthquake in central Italy, according to the Italian civil protection agency.
Rescue teams are working through the night to try to find survivors under the rubble that remained of central Italian towns flattened by the earthquake that hit in the early hours of this morning.
"Tonight will be our first nightmare night," said Alessandro Gabrielli, one of hundreds preparing to sleep in tents erected by rescue workers in fields and parking lots, each one housing 12 people whose homes had been destroyed.
"Last night, I woke up with a sound that sounded like a bomb," he added.
The quake caused serious damage to a number of towns and villages, but did not seem to have hit heavily populated areas.
Deaths were reported in three villages in a mountainous area straddling the regions of Lazio and Marche: Amatrice, Accumoli and Pescara del Tronto.
Earlier, Italian Prime Minister Matteo Renzi visited the area of Amatrice and called for national unity. 
He said: "We Italians are very good at arguing and being polemical but now let's stand in solidarity and pride alongside those who are rescuing others."
Mr Renzi said that his Cabinet would meet on Thursday to decide measures to help the affected communities. 
Rescuers working with emergency lighting in the darkness saved a 10-year-old girl, pulling her out of the rubble alive, where she had lain for some 17 hours in the hamlet of Pescara del Tronto.
In the nearby village of Accumoli a family of four, including two boys aged 8 months and 9 years, were buried when their house imploded.
As rescue workers carried away the body of the infant, carefully covered by a small blanket, the children's grandmother blamed God: "He took them all at once," she wailed.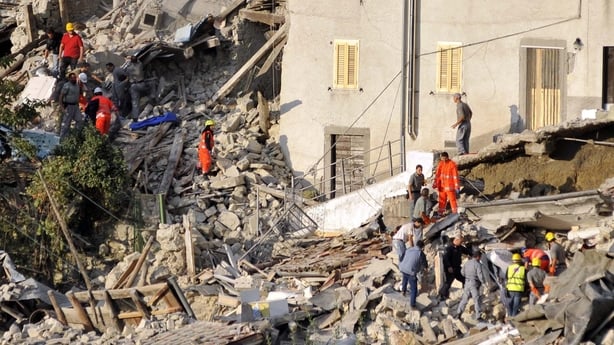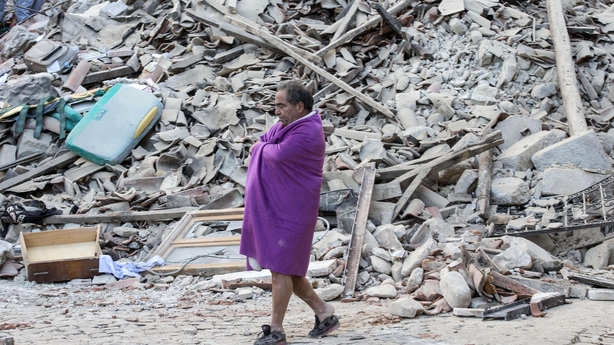 Security cameras at a hardware shop in central Italy capture the moment tremors from the earthquake hit the area.
Aerial footage filmed with a drone shows the level of damage in one of the towns hit by the 6.2 magnitude earthquakehttps://t.co/ASQ0bPVNx8

— RTÉ News (@rtenews) August 24, 2016
CCTV footage in central Italy show when tremors from 6.2 magnitude earthquake hit the area https://t.co/9NJn1sA0MPhttps://t.co/bKmPm0SboV

— RTÉ News (@rtenews) August 24, 2016
In a statement, Minister for Foreign Affairs Charlie Flanagan said that the Irish Embassy in Rome "is monitoring the situation and, to date, has received no confirmation of Irish casualties."
MR Flanagan said anyone with concerns should contact the Department of Foreign Affairs on 01-408-2000.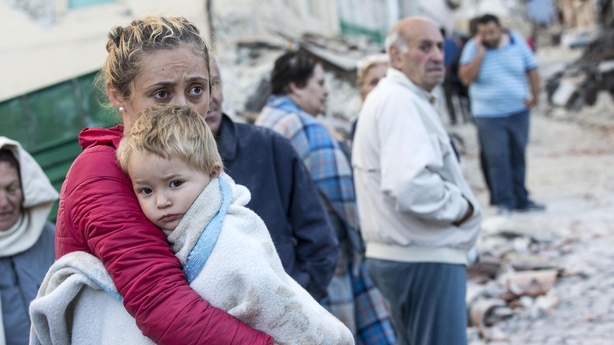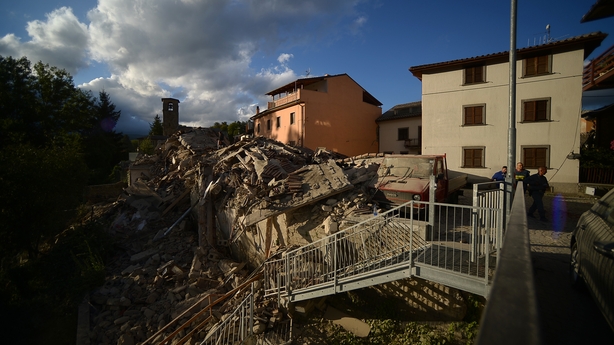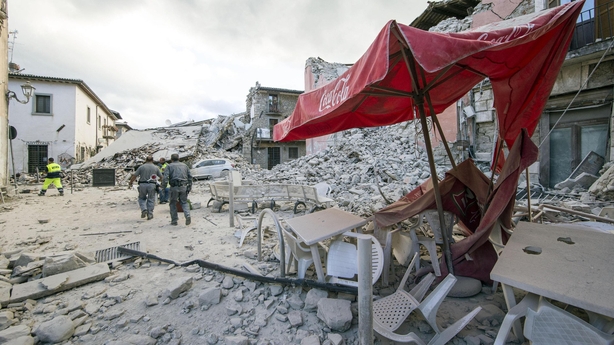 The earthquake caused damage to towns in three regions - Umbria, Lazio and Marche.
The US Geological Survey, which measured the quake at 6.2 magnitude, said it struck near the Umbrian city of Norcia, which has a picturesque historic centre and is a major tourist site.
#NEWSGRAPHIC Updated map of the quake-hit region in Italy @AFP pic.twitter.com/8EVjj1xyxJ

— AFPgraphics (@AFPgraphics) August 24, 2016
Death toll in Italy earthquake rises. https://t.co/qD6OPvDjEF via @rtenews

— RTÉ (@rte) August 24, 2016
Residents of Rome, 170km from the epicentre, were woken by the quake, which rattled furniture and swayed lights in most of central Italy.
The Italian earthquake institute reported 60 aftershocks in the four hours following the initial quake, the strongest measuring 5.5. It measured the original quake at 6.0.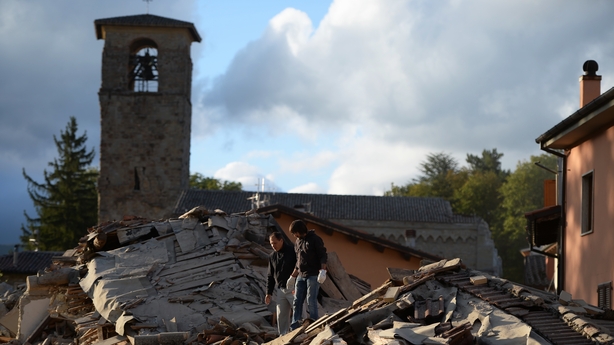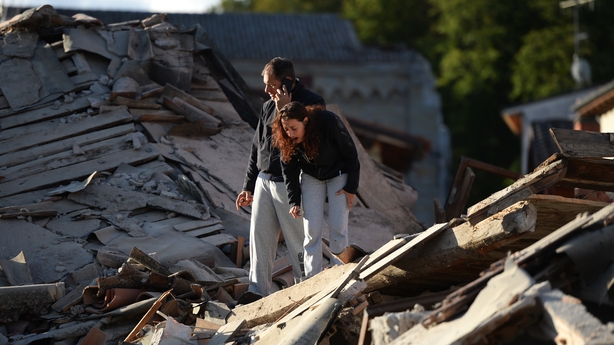 Italy sits on two fault lines, making it one of the most seismically active countries in Europe.
The last major earthquake to hit the country struck the central city of L'Aquila in 2009, killing more than 300 people.
The most deadly since the start of the 20th Century came in 1908, when an earthquake followed by a tsunami killed an estimated 80,000 people in the southern regions of Reggio Calabria and Sicily.