Belgian prosecutors charged three men today with terrorist offences over the Brussels bomb attacks and authorities called off a planned 'march against fear' in the jittery capital to relieve pressure on an over-taxed police force.
The suicide bomb attacks targeting Brussels airport and a rush-hour metro train on Tuesday killed 31 people, including three of the attackers, and injured hundreds more. The so-called Islamic State claimed responsibility.
Amid increasing signs that the attacks were carried out by the same militant network that was behind the attacks in Paris last November that killed 130 people, German lawmakers said Europe urgently needed to improve the way its security agencies share information.
Of the three men charged today, Belgian prosecutors named one as Faycal C. Belgian media identified him as Faycal Cheffou and said he was the man wearing a hat and light-coloured jacket in last Tuesday's airport CCTV footage that showed three men pushing baggage trolleys before the attacks.
The two other men in the picture are believed to have blown themselves up.
Mr Cheffou was charged with taking part in the activities of a terrorist group, and actual and attempted terrorist murder.
The other two men charged today, Aboubakar A. and Rabah N., were accused of terrorist activities and membership of a terrorist group.
Rabah N. was wanted in connection with a related raid in France this week that authorities say foiled an apparent attack plot.
Brussels mayor Yvan Mayeur said that Cheffou, who said he was a freelance journalist, was "dangerous" and that he had been detained a number of times at a park where he sought to encourage asylum seekers camped there to turn to radical extremism.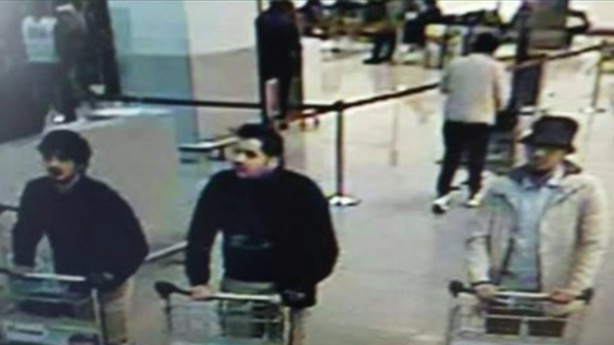 The authorities also said that a man arrested yesterday after being shot in the leg at a tram stop in the Brussels district of Schaerbeek was being held for a further 24 hours.
He was identified as Abderamane A. and was one of three people arrested yesterday.
With Brussels still on high alert, organisers called off a 'march against fear' planned for tomorrow after officials including the city's mayor urged people to stay away in order to spare the over-taxed police force.
"The security of our citizens is an absolute priority," said march organiser Emmanuel Foulon.
"We totally agree with the authorities' request to delay this plan for a later date. We in turn ask citizens not to come to Brussels this Sunday."
Officials said 24 victims from nine different nationalities had been identified so far from the attacks in Brussels, which is the headquarters of the European Union and NATO.
Sweden's foreign ministry confirmed the death of a Swedish woman in her 60s who had been missing since Tuesday. It said one Swedish citizen was still unaccounted for.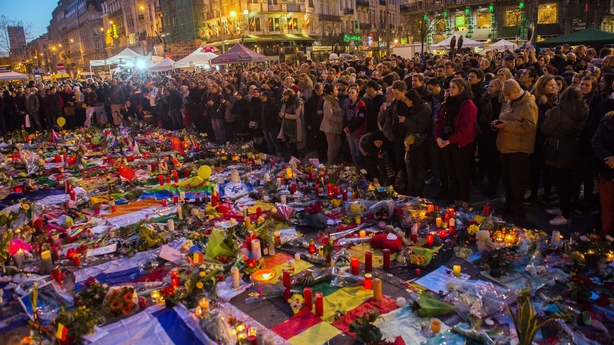 Highlighting the jittery national mood, the murder this week of a security guard employed at a site in Belgium holding radioactive materials has stoked debate about the risks of militants attempting some kind of nuclear attack.
Today prosecutors denied media reports that the security guard had had his access badge stolen and the implication that it could have been a motive for his murder.
On Thursday, French language newspaper Derniere Heure had reported the suicide bombers who blew themselves up on Tuesday originally considered targeting a nuclear site, but a series of arrests of suspect militants forced them to speed up their plans and instead switch focus to Brussels.
Late last year, investigators found a video tracking the movements of a man linked to Belgium's nuclear industry during a search of a flat as part of investigations into the Islamist militant attacks on Paris on 13 November.
Meanwhile, Brussels Airport said an examination of the main building housing the departure hall showed the structure is stable and it will now see if temporary check-in desks can be installed.
"This first, provisional analysis shows that both the main building and the connector building where hand luggage and passengers are checked, are stable. Brussels Airport will now investigate the possibilities to install temporary check-in desks," it said in a statement.
The airport said earlier it would not reopen before Tuesday.