North Korean leader Kim Jong-un has said the country's nuclear weapons must be ready for use "any time".
Th statement comes in an expected ramping up of rhetoric following the UN Security Council's adoption of tough new sanctions on Pyongyang.
"We must always be ready to fire our nuclear warheads at anytime," Mr Kim said.
Mr Kim also said his country should turn its military posture to a "preemptive basis" because enemies are threatening the state's survival.
North Korea fired several short-range projectiles into the sea, hours after the UN Security Council voted to impose tough new sanctions on the isolated state and the South Korean president vowed to end Pyongyang's "tyranny".

The firing escalated tensions on the Korean peninsula, which have been high since North Korea recent nuclear test and long-range rocket launch, and set the South's military on a heightened alert.

South Korea's Defence Ministry said it was trying to determine if the projectiles, launched at 10am (1am Irish time) from the North's east coast, were short-range missiles or artillery fire.

The firing came after the UN Security Council passed a unanimous resolution on Wednesday dramatically expanding sanctions on North Korea following its fourth nuclear test on 6 January and a long-range rocket launch on 7 February.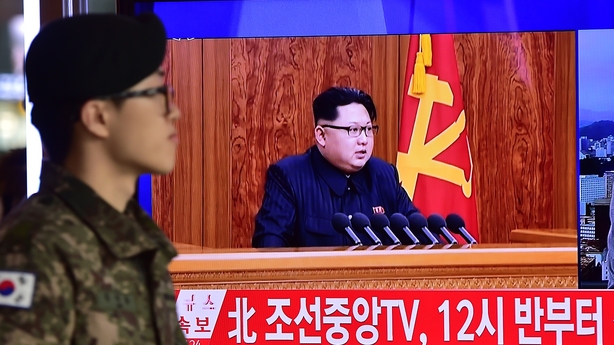 Russian UN Ambassador Vitaly Churkin said North Korea's action showed it had not taken the proper lesson from the latest round of sanctions.

A spokesman for the US State Department said Pyongyang should "refrain from provocative actions that aggravate tensions and instead focus on fulfilling its international obligations", while a Chinese Foreign Ministry spokesman said China hoped all parties could refrain from actions that escalate tension.

Japan's UN ambassador, Motohide Yoshikawa, said the firing was North Korea's reaction to the latest sanctions and added: "They may do something more."

South Korean President Park Geun-hye welcomed the tougher Security Council sanctions and repeated a call for North Korea to change its behaviour.

"We will cooperate with the world to make the North Korean regime abandon its reckless nuclear development and end tyranny that oppresses freedom and human rights of our brethren in the North," Ms Park said.

Ms Park has been tough in her response to the North's recent actions, moving from her earlier self-described "trust politik".

Last month, Seoul suspended the operation of a jointly run factory project with North Korea that had been the rivals' last remaining venue for regular interaction.

In its latest barrage of insults against South Korea'sleader, North Korea's official media carried a commentary on Wednesday likening Park to an "ugly female bat," fated to "die in the dreary cave, its body hanging down".