A senior official from Syria's main opposition group said the first major attempt to halt the fighting after nearly five years of war was in danger of total collapse because of attacks by government forces.
The cessation of hostilities drawn up by the United States and Russia, faced "complete nullification" because Syrian government attacks were violating the agreement, the official of the Saudi-backed opposition High Negotiations Committee said.
France said there were reports of attacks on opposition forces in breach of the deal, which came into force on Saturday, and countries backing the Syria peace process would meet later today to try to clarify the situation.
UN Secretary-General Ban Ki-moon said the pause in the fighting was largely holding, despite some incidents that he hoped would be contained.
Russia said the process was under way, although it had always been clear it would not be easy.
The British-based Syrian Observatory for Human Rights said the cessation was largely holding with casualties greatly reduced compared to before the agreement took effect.
The cessation of hostilities, the first of its kind since the war began in 2011, is a less formal arrangement than a ceasefire.
It is meant to allow peace talks to resume and aid to reach besieged communities.
The United Nations and other agencies hope to deliver aid to more than 150,000 people in the next five days.
Asaad al-Zoubi, head of the HNC's delegation to the peace talks, gave a gloomy assessment of the truce. "We are not facing a violation of the truce ... we are facing a complete nullification," he said on Al Arabiya al Hadath TV.
"I believe the international community has totally failed in all its experiments, and must take real, practical measures towards the (Syrian) regime," Mr Zoubi said, without elaborating.
He said there were no signs of any preparations for peace talks, which the UN wants to reconvene on 7 March.
Talks in Geneva in early this month collapsed before they started, with rebels saying they could not negotiate while they were being bombed.
Syrian officials could not immediately be reached for comment on claims that government forces were violating the cessation.
The government, whose forces are backed by Russian air power, has said it is abiding by the agreement.
The agreement does not include jihadist groups such as the so-called Islamic State and the Nusra Front and Russia has made clear it intends to keep bombing them.
However, rebels regarded as "moderate" by the West fear they will also be targeted as they operate in areas where Nusra is also present.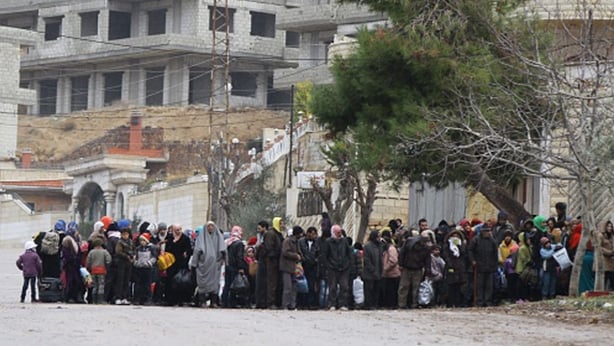 UN chief warns over starvation in Syria
The United Nation's human rights chief has warned that thousands of people may have died of starvation during sieges in Syria.
Zeid Ra'ad al Hussein said "the deliberate starvation of people is unequivocally forbidden as a weapon of warfare. By extension, so are sieges."
Mr Zeid was speaking at the opening of the UN Human Rights Council's main annual session in the wake of the implementation of a ceasefire in the country.
He pointed to the desperate situation of the estimated 480,000 people "currently trapped in besieged towns and villages in Syria - and have been, in some cases for years."
Aid workers say several dozen people have died of starvation just in Madaya, which became a symbol of the plight of besieged Syrians after shocking images of starving residents spread last month.
However, Mr Zeid warned the situation could be far more dire.
"Thousands of people may have starved to death," he said.
His comments came as the UN was preparing to deliver aid to thousands of besieged civilians in Syria amid a fragile ceasefire.
The first major truce in five years, which after three days remained largely intact, was expected to allow aid workers to bring supplies to an additional 154,000 people living in besieged areas over the next five days.
But Mr Zeid lamented that prior to the temporary cessation of hostilities that began Saturday, human rights in the country had been "violated shockingly" for nearly five years.