Up to 20,000 Syrians fleeing a government advance in northern Aleppo have gathered at a border crossing with Turkey, according to the United Nations (UN).
A UN spokesperson said: "It is estimated that up to 20,000 people have gathered at the Bab al-Salama border crossing and another 5,000 to 10,000 people have been displaced to Azaz city nearby".
She said another 10,000 people were estimated to have been displaced to the Kurdish town of Afrin, elsewhere in northern Aleppo.
Meanwhile, more than 120 members of Syrian regime forces and rebels were killed in heaving fighting for a town north of Aleppo city, the Syrian Observatory for Human Rights said.
The British-based monitor said rebels had regained control of more than half of the town of Ratyan in the clashes, leaving about 60 opposition fighters and 60 regime forces dead.
This comes as Syrians fled an intensifying Russian assault around Aleppo and aid workers have said they feared the city could soon fall under a full government siege.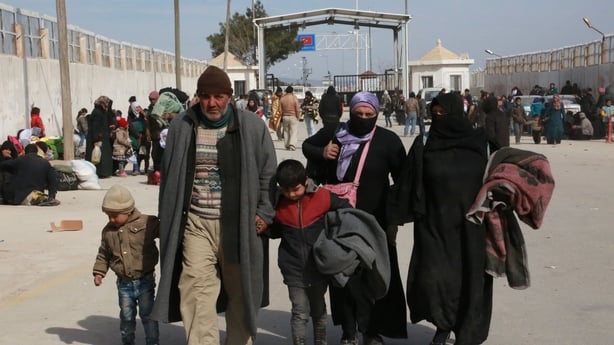 Iran reported one of its generals was killed on the front line assisting government forces, direct confirmation of the role Tehran is playing, along with Moscow, in what appears to be one of the most ambitious offensives in five years of civil war.
The government assault around Aleppo city, and advances in the south of the country, helped to torpedo peace talks this week in Geneva.
Syrian President Bashar al-Assad's forces and their allies are making a new bid to achieve victory on the battlefield after Russia's intervention ended months of stalemate.
The last 24 hours saw government troops and their Lebanese and Iranian allies fully encircle the countryside north of Aleppo city and cut off the main supply route linking the city - Syria's largest before the war - to Turkey.
Turkey said it suspected the aim was to starve the population into submission.
Yesterday, Syrian government troops and their allies broke through rebel defences to reach two Shia villages in the northern Aleppo province, choking opposition supply lines from Turkey to Aleppo city.
The assault in northern Aleppo province, backed by hundreds of Russian air strikes there, has also prompted tens of thousands of people to flee towards the Turkish border and helped derail peace talks in Geneva.
Aleppo city would be the biggest strategic prize in years for the Syrian president's government in a conflict that has killed at least 250,000 people and driven 11 million from their homes.
Video footage showed thousands of people, mostly women, children and the elderly, massing at the Bab al-Salam border crossing.
Men carried luggage on top of their heads and the elderly and those unable to walk were brought in wheelchairs.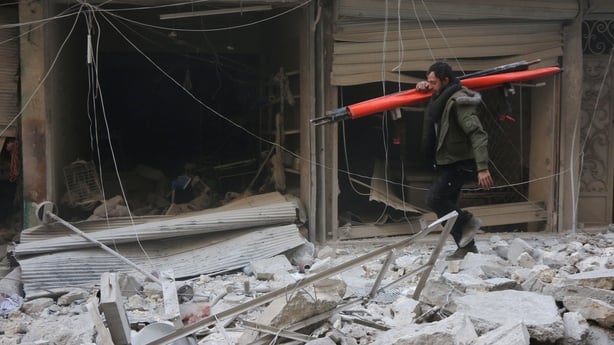 Some women sat on the side of the road holding babies and awaited to be allowed into Turkey.
One programme director for the US aid agency Mercy Corps said: "It feels like a siege of Aleppo is about to begin".
The leader of a prominent rebel group active in northwestern Syria confirmed that government-allied forces were tightening their grip on the northern Aleppo countryside and that heavy Russian bombing carried on unabated.
One fighter who fights under the umbrella of the Free Syrian Army group said: "The regime is not trying to expand the area it has taken control of ... Now the northern countryside [of Aleppo] is totally encircled and the humanitarian situation is very difficult."
He also said there were "very heavy battles".
Syrian state TV and a monitoring group said the army and its allies had sized the town of Ratyan, north of Aleppo city, building on gains made earlier in the week.