French Foreign Minister Laurent Fabius said that an ambitious global climate deal was within reach, though political concessions were still required to get over some last hurdles.
Mr Fabius said he remained on track to present a final agreement tomorrow morning, a day later than planned, that could be adopted by consensus among the almost 200 countries negotiating in Paris.
The last stumbling blocks were over money, specifically how to structure hundreds of billions of dollars in funding from rich nations to poor ones to help them adapt to climate change.
"Evidently, not everyone will obtain 100% of what they are asking," Mr Fabius said.
"When there are 196 parties on such a complex subject, if everyone demands 100%, each and everyone will obtain 0%," he said. "We must have a spirit of compromise."
Despite late-in-the-game delays and a frustrating night of talks late yesterday, many participants said the momentum towards an agreement was unlikely to be crushed at this stage.
"There are some very strongly held views but I also think there is a spirit of compromise," Australian Foreign Minister Julie Bishop said as talks moved into this evening, past the hour where Mr Fabius had pledged to have the deal wrapped up.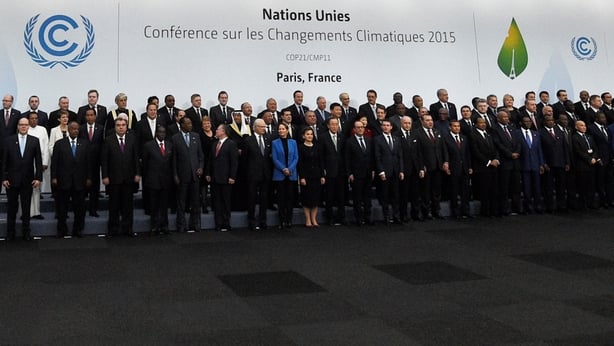 The negotiators are trying to seal an agreement that would bind both rich and poor nations to cut rising greenhouse gas emissions.
UN Secretary-General Ban Ki-moon called a 27-page draft text on the table "a good basis" for a deal to help avert more powerful storms, droughts, desertification and rising sea levels.
"I appeal to all parties to take a final decision for humanity," he said.
One of the last sticking points is over how to accommodate US financial commitments.
To help developing countries navigate the shift to a low-carbon economy, rich nations have promised to provide $100bn in yearly funding by 2020.
Leader of the Green Party Eamon Ryan has said a new deal on climate change will mean government plans to double output in the beef and dairy sectors are not viable.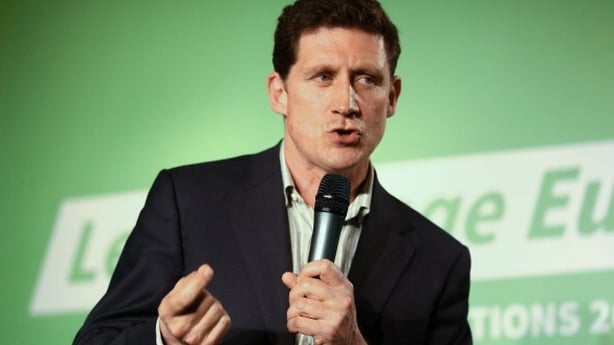 Speaking on Morning Ireland, Mr Ryan said from what he is hearing, Ireland will not be able to negotiate the matter.
"There's no way that, I think within the wording that I'm hearing and the broad approach that's being taken, I can't see how Ireland is going to be able to negotiate an opt-out."
Mr Ryan said he believes the deal on climate change, currently in its final stages in Paris, will be a historic one, that changes everything, adding that he also expects the draft agreement to be finalised tomorrow.
He said the document will not address the problem of climate change but that it will provide the means to do so and the means to go for more ambitious change.
"I think it is heading in the right direction. There's still more work to be done but at the moment, and things can change by the moment, I would say it looks likely there will be a deal, and it could be quite a historic deal," he added.
Meanwhile, Chinese President Xi Jinping and his US counterpart Barack Obama discussed the Paris climate summit in a phone call today, Beijing's foreign ministry said.
The ministry cited Mr Obama as replying that the US was willing to maintain coordination with China.
The Asian giant pledged last year to peak carbon dioxide output by "around 2030" - suggesting at least another decade of growing emissions.
"We still have some distance to cover before reaching our final deal, and some key issues remain unresolved," the Chinese foreign ministry said.
"Developed countries should play the leading role and make greater efforts," it said, while calling upon all participant countries to "show their flexibility" and "narrow differences".
Meanwhile, a climatologist at Maynooth University has described the draft agreement as a gentle approach to the problem.
Speaking on Today with Sean O'Rourke, professor John Sweeney said that while there are some positives in the draft, some other measures in relation to human rights and climate justice have been removed.
Prof Sweeney said if countries do not get themselves organised in the next few years, for the implementation of the agreement in 2020, it will make the achievement of the objections in the deal very difficult.
"We've seen a lot of these kinds of tweaks of the rules being made, and as yet, what's coming out of the negotiations seems to be that facts and figures, dates and amounts, seem to be being rather more nebulously expressed as time goes on," he said. 
"I would expect another draft to come out sometime this evening. I would expect them to be negotiating through the night. But I think what we are going to see is a reduction in what we call the square brackets."