UN Secretary-General Ban Ki-moon has warned that the "clock is ticking toward climate catastrophe" and urged governments to agree a strong deal to limit global warming. 
"Outside these negotiating halls, there is a rising global tide of support for a strong, universal agreement," Mr Ban said at the international climate change conference in Paris, due to end on Friday.        
He urged delegates from almost 200 nations at the 2015 Paris Climate Conference to produce the strongest agreement yet to bind both rich and poor to curb greenhouse gas emissions.         
"The world is expecting more from you than half-measures and incremental approaches," Mr Ban said, calling for "a transformative agreement".         
Mr Ban said a final deal should include a review of national pledges at five-year intervals starting before 2020. Some developing nations are reluctant to commit to such an early timetable.          
He also said the private sector needed a clear signal that a shift to low emissions was "inevitable" and told rich nations to lead in cutting emissions.
Mr Ban said emerging nations also needed access to $100bn a year promised by 2020 to help them tackle climate change.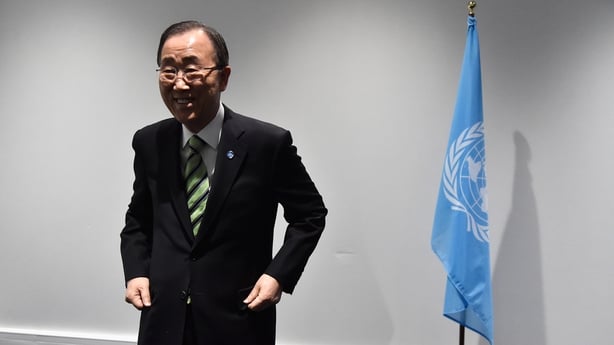 While officials have been pleased with progress halfway through the two-week summit, Indian Environment Minister Prakash Javadekar cautioned that "substance-wise, we are not midway but ... at a crossroads".      
He reiterated New Delhi's demand that richer nations must shoulder the biggest curbs to "pay back their debt for the overdraft that they have drawn on the carbon space", highlighting one of the most difficult issues to a deal with.           
To speed things along, the host, French Foreign Minister Laurent Fabius, has formed working committees headed by ministers to tackle the biggest themes, which include" differentiation" (the distinction between rich and poor nations, critical for questions of financing) and "ambition" (how to improve on national efforts in future).          
Some form of agreement seems all but certain, with major powers eager to avoid the failure of the last summit in Copenhagen, six years ago.            
Still, all sides say the deal will not be enough to prevent global temperatures rising past a dangerous threshold of 2C over pre-industrial times.       
Just how strong the accord will be remains to be seen. Some nations want a commitment to phase out fossil fuels by the middle of the century; others see that as unrealistic.
Some of the most vulnerable countries, such as low-lying islands, want firm language on how rich nations who have emitted the most will pay for the future damage caused by rising seas.