Conservative challenger Mauricio Macri was elected as new president of Argentina last night with a promise to liberalise the ailing economy and end a culture of divisive politics.
Opposition leader Mr Macri beat ruling party candidate Daniel Scioli in yesterday's election, effectively ending the eight-year, production-sapping feud between farmers and outgoing President Cristina Fernandez.
Argentina's election body said Mr Macri had 52.1% of votes and Scioli had 47.9% with returns in from 91.5% of polling stations.
"The is the beginning of a new era that has to carry us toward the opportunities we need to grow and progress," Mr Macri told supporters at his headquarters last night.
Mr Macri, the son of an Italian-born construction magnate, won the election by tapping into frustration over economic growth.
After an unpredictable campaign that pitted poorer Argentines grateful for generous welfare programmes against others exasperated with state shackles on the economy, Mr Macri will need to deliver on pro-business reforms without hurting the poor.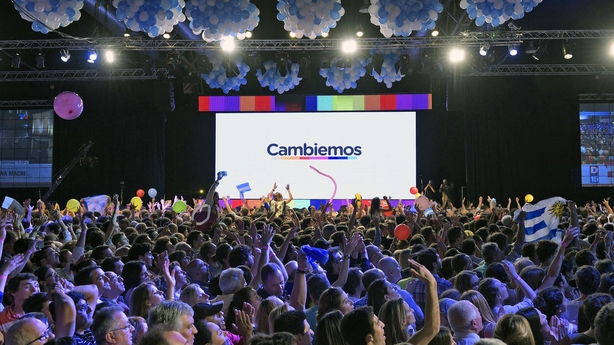 "We've been saying from Tierra del Fuego in the south to Jujuy in the north that we have to build an Argentina with zero poverty, and that's what we're going to do together," Mr Macri told his jubilant supporters.
The 56-year-old faces a number of economic challenges. Slow growth is driven by unsustainable spending, inflation is at well above 20% and capital controls have backfired to leave foreign reserves at nine-year lows.
The country is also mired in a messy debt default that is blocking access to global credit markets.
Mr Macri, who served two terms as mayor of Buenos Aires, has promised to dismantle a web of currency controls and trade restrictions that have deterred investors and hobbled growth.
"We cannot solve all the problems that this government is leaving behind on the first day," the incoming president added.