A wave of attacks in Kabul yesterday killed at least 50 people and wounded hundreds, dimming hopes that the Taliban in Afghanistan might be weakened by a leadership struggle after their longtime leader's death.
The bloodshed suffered by Afghan army, police and US special forces began with a truck bomb that exploded in a heavily populated district of the capital.
It was followed by a suicide attacker who blew himself up at the entrance of the Kabul Police Academy, and ended with an hours-long battle at a base used by US special forces.
It became the deadliest day in Kabul for years.
The radical Islamist insurgents claimed responsibility for both the police academy attack and the battle at the US special forces base, though not for the truck bomb.
The scale of the violence heightened obstacles to reviving the stalled peace process.
Instead it conveyed a no-compromise message from the Taliban at a delicate time following last week's confirmation of Mullah Mohammad Omar's death and an ongoing dispute over leadership of the radical Islamist insurgency.
The number of casualties from yesterday's attacks was expected to rise further as details continued to emerge from the authorities.
NATO-led coalition forces confirmed that one international service member and eight Afghan contractors were killed in the attack on Camp Integrity, a base used by US special forces near the main airport.
The blast outside the base was powerful enough to flatten offices inside, wounding occupants who were airlifted by helicopter to military hospitals during the night.
"There was a big explosion at the gate... (the gunfire) sounded like it came from two different sides," said a US special forces member who was wounded when his office collapsed.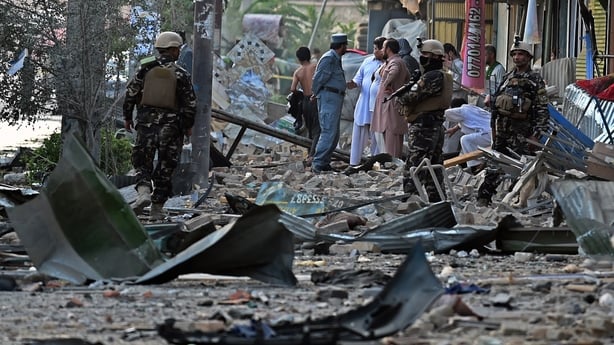 The initial blast caused by a suicide car bomb at the gate was followed by other explosions and a firefight that lasted a couple of hours, he said.
Camp Integrity is run by US security contractor Academi, which was known as Blackwater before being sold. 
The Camp Integrity assault followed a suicide bombing at a police academy that killed and wounded over 40 people, the Afghan interior ministry said.
A Taliban spokesman said the insurgents launched both the police academy and Camp Integrity attacks, but he earlier refused to comment on the early morning truck bomb that tore through buildings in central Kabul, killing and wounding over 250 people.
Divisions have broken out within the Taliban high command following last week's appointment of Mullah Akhtar Mansour as new lead.
Previously seen as open to reviving peace talks, the Taliban have since pledged to press on with the insurgency that has killed and wounded thousands this year.
There have been almost 5,000 civilian casualties in Afghanistan in the first half of the year, UN figures show.