Federal prosecutors have unsealed a wide-ranging indictment of Donald Trump, accusing the former US president of endangering national security by holding on to top secret nuclear and defence documents after leaving the White House.
Mr Trump, 76, the frontrunner for the 2024 Republican presidential nomination, took "hundreds" of classified government documents in cardboard boxes to his Mar-a-Lago residence in Florida, the 49-page charge sheet said.
Mr Trump kept the files, which included records from the Pentagon, CIA and National Security Agency, unsecured at Mar-a-Lago, which regularly hosted large social events involving tens of thousands of guests over time, the indictment said.
On at least two occasions, Mr Trump showed classified documents on US military operations and plans to people not cleared to see them at his Bedminster, New Jersey, golf club, it said.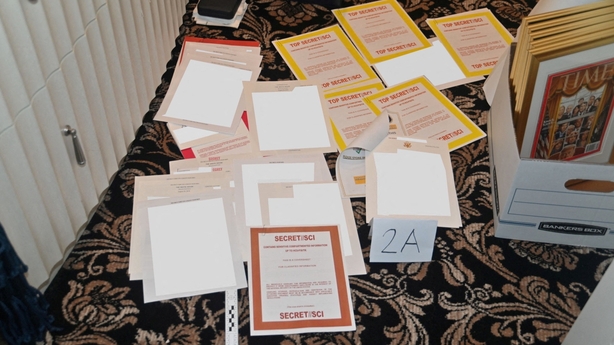 Mr Trump faces 37 separate counts in the indictment including 31 counts of "willful retention of national defense information" relating to specific documents. A conviction on each count carries up to ten years in prison.
"We have one set of laws in this country, and they apply to everyone," said Special Counsel Jack Smith, who brought the historic indictment against Donald Trump, the first former US president ever to face federal criminal charges.
"Laws that protect national defence information are critical to the safety and security of the United States, and they must be enforced," Mr Smith said, adding that he would seek to ensure that Mr Trump receives a "speedy trial."
Other charges facing the twice-impeached former president include conspiracy to obstruct justice, punishable by up to 20 years in prison, withholding a document or record, which also carries a prison term of up to 20 years, and making false statements.
---
Read more:
What charges are against Trump over classified files?
The growing legal woes of Donald Trump
---
Mr Trump's personal aide, Walt Nauta, was named as a co-conspirator, charged with six counts for helping him hide documents, which were kept at various locations in Mar-a-Lago, according to the indictment, including a ballroom, a bathroom, his bedroom and a storage room.
"The classified documents Trump stored in the boxes included information regarding defence and weapons capabilities of both the United States and foreign countries," the indictment said.
Other records dealt with US nuclear programs and potential vulnerabilities of the United States and its allies to military attack along with plans for retaliation, it said.
"The unauthorised disclosure of these classified documents could put at risk the national security of the Untied States, foreign relations, the safety of the United States military, and human sources," according to the indictment.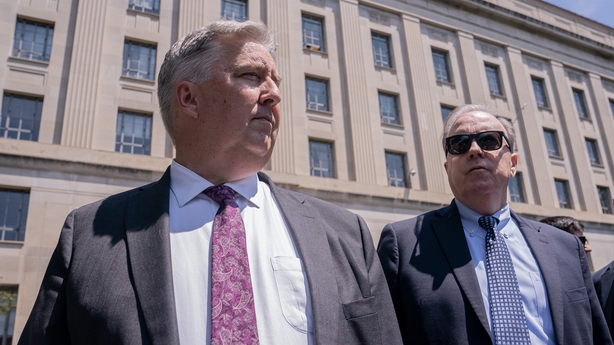 Mr Trump is to appear in court in Miami at 3pm on Tuesday for the first hearing in the case.
According to US media, the case will initially be handled by Aileen Cannon, 42, a Trump-appointed judge who made rulings favourable to the former president during a court review of documents seized in an August 2022 FBI raid on Mar-a-Lago.
A trial is not expected to begin for several months and there is nothing to prevent Mr Trump from pursuing a second term in the White House while facing charges.
According to the indictment, Mr Trump directed his aide to conceal boxes containing documents from the FBI and his own attorney and suggested to his lawyers at one point that they hide or destroy documents being sought by the authorities.
The indictment also recounted a conversation between Mr Trump and one of his attorneys about the documents in which the former president reportedly said "wouldn't it be better if we just told them we don't have anything here."
Mr Trump announced on his Truth Social platform yesterday that he had been indicted by the "corrupt Biden Administration" in what he called the "Boxes Hoax."
In a defiant video, Mr Trump declared his innocence and framed the indictment as election interference by a Justice Department "weaponized" by President Joe Biden.
"They come after me because now we're leading in the polls again by a lot against Biden," Mr Trump said.
President Biden said that he has had no contact with Attorney General Merrick Garland, who appointed Smith as special counsel to conduct the investigation into Trump.
"I have not spoken to him at all and I'm not going to speak with him. And I have no comment on that (case)," he told reporters.
Mr Trump was already the first former or sitting president to be charged with a crime, in a New York case involving election-eve hush money payments to a porn star who said she had an affair with him.
Mr Smith, the special counsel, is also looking into whether Donald Trump should face charges over the January 2021 assault on the US Capitol by his supporters.
And Georgia prosecutors are investigating whether Mr Trump illegally attempted to overturn the 2020 presidential election outcome in the southern state.
Trump remains popular with Republican voters
Mr Trump's legal woes have not dented his popularity with Republican voters, according to Reuters/Ipsos polling. His main Republican rivals have so far lined up behind him to criticise the case as politically motivated.
Mr Trump served as president from 2017 to 2021, and he has so far managed to weather controversies that might torpedo other politicians.
He describes himself as the victim of a witch-hunt and accuses the Justice Department of partisan bias.
Special Counsel Smith is leading a second criminal probe into efforts by Mr Trump and his allies to overturn his 2020 election loss to President Biden.
Mr Trump also faces a separate criminal probe in Georgia related to efforts to overturn his loss to Mr Biden in that state.
Special Counsel Smith convened grand juries in both Washington and Miami to hear evidence, but has opted to bring the case in the politically competitive state of Florida, rather than the US capital, where any jury would likely be heavily Democratic.
Under federal law, defendants have a right to be charged where the activity in question took place.
A Florida prosecution, legal experts say, could head off a drawn-out legal challenge from Mr Trump's team over the proper venue.
The Republican state-by-state presidential nominating contest kicks off early next year, and the party is due to choose its nominee for the November 2024 election in July of that year.