Former US vice president Mike Pence has launched his presidential campaign by framing the Republican nomination as a choice between "reckless" Donald Trump and the Constitution, arguing that his old boss's bid to overturn the last election should rule him out at the next.
Offering a spirited defence of the Trump White House's record, the one-time radio talk show host, congressman and governor said he had been proud to stand with his running mate "every single day" during the 2017-21 administration.
But he drew the line at the former president's incitement of a crowd to storm the Capitol as Mr Pence was in the building, overseeing the certification of the election in January 2021.
"As I've said many times, on that fateful day, President Trump's words were reckless and endangered my family and everyone at the Capitol," Pence told supporters in Ankeny, Iowa.
"But the American people deserve to know that on that day, President Trump also demanded that I choose between him and the Constitution. Now voters will be faced with the same choice. I chose the Constitution and I always will."
Mr Pence honed his reputation as an unstintingly loyal vice president who stuck with Donald Trump throughout a scandal-plagued four years in the White House and brought the religious right into the tent.
But the evangelical Christian became a pariah among Trump supporters after rejecting the Republican leader's demands that he overturn the 2020 election in his role as president of the Senate.
Berated constantly by Mr Trump after Joe Biden's election victory, Mike Pence was forced to flee for his life after a mob directed by the former president to march on the Capitol broke through barricades and called for the vice president's execution.
Mr Pence, who in a launch video earlier insisted that "God is not done with America yet," is the first modern vice president to challenge his old running mate for his party's nomination.
His announcement speech underscored the tightrope that Mr Pence will have to walk on the campaign trail as he attempts to distance himself from the chaos of the Trump years while taking credit for the gains he believes the country made.
Mr Pence attacked Donald Trump for backing off conservative policies such as tough abortion curbs and fiscal responsibility and accused him of breaking a promise "on day one" to govern with "decency and civility" as he vilified fellow Republicans.
"I'll always be grateful for what President Trump did for this country. I've often prayed for him over the past few years and I prayed for him again today," added the Indiana native, who was celebrating his 64th birthday.
"I had hoped he would come around and see that he had been misled about my role that day but that was not to be."
Mr Pence announced his presidential run a day after former New Jersey governor Chris Christie joined the contest. Florida governor Ron DeSantis and two former, governors Nikki Haley and Asa Hutchinson, are also in the race.
Polls show Trump as the overwhelming early frontrunner, regularly posting leads on Mr DeSantis in excess of 30 points. None of the other candidates, Mr Pence included, is achieving double figures.
But the former president is facing multiple criminal investigations into his personal and professional conduct that have already yielded dozens of felony charges.
North Dakota governor joins 2024 Republican primary race
North Dakota Governor Doug Burgum has entered the 2024 Republican presidential campaign.
Mr Burgum, 66, a former software company executive, is largely unknown beyond his state, and he will begin his White House bid well behind rivals such as Mr Trump and Mr DeSantis.
He filed paperwork for his candidacy with the Federal Election Commission and said on Twitter he would make an announcement later.
His personal wealth, derived from selling his startup to Microsoft more than two decades ago, could help fund advertising aimed at raising his national profile.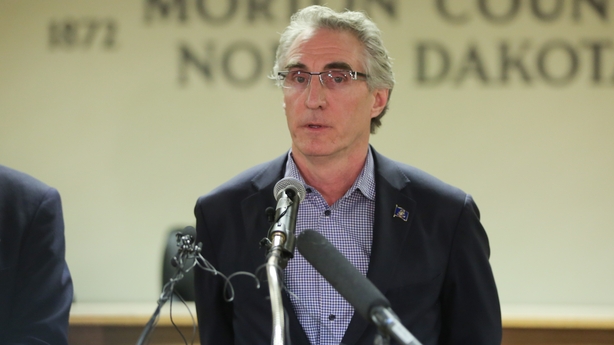 Mr Burgum, in a campaign-style video released before today's event, describes his ascent from a young boy in rural North Dakota to the founder of a billion-dollar software company and a governor who has cut red tape and taxes.
Like many other Republican governors, Mr Burgum has signed laws banning abortion and restricting transgender rights, including gender-affirming care for minors.
Unlike many Republican governors, however, Mr Burgum has called for North Dakota to achieve carbon neutrality by decade's end, although his strategy involves improving carbon capture technology rather than any limits on fossil fuels.