Republicans have picked up a net five seats in the US House of Representatives that had previously been held by Democrats with 185 of 435 races not yet called, Edison Research has projected.
For House races, Edison Research is tracking the net number of seats that flip from one party to another, as opposed to the net gain or loss of overall seats by either party.
The number of flips does not take into account seven new seats created during congressional redistricting and two races in which an incumbent Democrat and an incumbent Republican are facing each other due to redistricting.
So far, Republicans have won 157 seats in the 435-seat House and Democrats have won 93 seats, Edison projected
These elections will determine whether Republicans win control of Congress, which would give them the power to block much of President Joe Biden's agenda in the next two years.
Motivated by concerns about high inflation and crime, voters are poised to usher in an era of divided government in Washington, despite warnings from Democrats about the erosion of abortion rights and the undermining of democratic norms.
A total of 35 Senate seats and all 435 House of Representatives seats are on the ballot.
The Senate - currently split 50-50 with Democrats holding the tie-breaking vote - could come down to a quartet of toss-up races in Pennsylvania, Nevada, Georgia and Arizona.
We need your consent to load this rte-player contentWe use rte-player to manage extra content that can set cookies on your device and collect data about your activity. Please review their details and accept them to load the content.Manage Preferences
Republican J.D. Vance, the best-selling "Hillbilly Elegy" author backed by former president Donald Trump, won a contentious race for Ohio's open US Senate seat, networks projected, in a disappointment for Democratic President Joe Biden.
The win for the Republicans does not represent a gain of a seat in the 100-member Senate, as Vance and rival Tim Ryan, a Democratic congressman, were vying to replace retiring Republican Rob Portman.
But it marks a failure of Biden's Democrats to flip a competitive seat in the all-important battle for control of the Senate, which is currently evenly split but held by Democrats because of Vice President Kamala Harris's tie-breaking vote.
And it keeps Republican hopes alive of wresting control of the upper chamber from the opposing party in Tuesday's midterm elections.
ABC and NBC both called the Ohio contest in Vance's favor. With 93% of votes in and counted, he was ahead of Ryan by more than seven points.
Mr Vance, 37, earned national attention - and acclaim - in 2016 with his memoir about his modest and chaotic childhood in a working-class town in Ohio that has become a symbol of the industrial decline of the American Rust Belt.
A military veteran who became a venture capitalist in California, Vance entered politics last year and won his party's primary by drawing close to Mr Trump, with whom he has had a topsy-turvy relationship.
Mr Trump - always keen on burnishing his own brand - mocked the candidate at a September rally in Ohio, saying "J.D. is kissing my ass he wants my support so bad."
Despite the humiliation, Mr Vance welcomed Mr Trump back to the Midwestern state for a rally in Dayton on the eve of the election.
Mr Vance's fealty to Mr Trump in red-leaning Ohio helped him remain competitive in the Senate race against Mr Ryan, a working-class Democratic congressman who has kept his distance from Mr Biden.
Early results in gubernatorial races
Florida Governor Ron DeSantis, who has been tipped as a possible 2024 presidential candidate, was projected as one of the early winners of the night.
Mr DeSantis, a rising star of America's political right, was re-elected governor, defeating Democratic challenger Charlie Crist.
ABC and CNN projected a win for the 44-year-old Mr DeSantis, who is seen as a serious challenger to presumptive candidate former president Donald Trump to lead their party's next charge at the White House.
Mr DeSantis gained national attention for his opposition to strict measures aimed at slowing the spread of Covid-19, and has made himself a standard bearer of the conservative backlash to growing tolerance for LGBT rights.
The Florida governor also signed a 15-week abortion ban into law earlier this year, joining a nationwide push by conservatives to restrict reproductive rights.
While Mr DeSantis has not declared his candidacy for the 2024 Republican presidential nomination, he is clearly keeping his options open, refusing to commit to serving out his full second term as governor.
Elsewhere, Massachusetts elected Democrat Maura Healey as America's first openly lesbian governor, TV networks said.
Ms Healey, 51, flipped the seat from the Republicans, comfortably defeating opponent Geoff Diehl, NBC and Fox News projected.
LGBTQ+ rights group the Human Rights Campaign hailed Ms Healey's historic victory.
"Massachusetts embraced a platform of equality and inclusion by electing a pro-equality champion," the organization's interim president Joni Madison, said in a statement.
LGBTQ candidates are running in all 50 states and the capital Washington for the first time in this year's midterm election, as the community becomes an increasingly powerful voting constituency.
Democrat Tina Kotek, who is also lesbian, was bidding to match Healey's win in Oregon in a governor's race regarded as a toss-up.
Almost 90 percent of the LGBTQ+ candidates who entered this year's primary races are Democrats.
Donald Trump's former White House spokesperson Sarah Huckabee Sanders won the gubernatorial race in heavily Republican Arkansas, US media projected.
She had been favored to beat Democrat Chris Jones in the southern state that her father, who ran twice for the Republican presidential nomination, governed from 1996 to 2007.
Ms Sanders, 40, ran a campaign that lambasted President Joe Biden, a moderate Democrat, as "radical," and like Republicans across the country hammered Democrats on issues including inflation, border policies and crime.
She said she was "ready to join the coalition of strong conservative governors defending our freedom and empowering our people."
As top spokesperson at the Trump White House, Ms Sanders was routinely criticised for perpetuating untruths when answering journalists' questions.
Eyes on 2024
Even before the midterm elections were completed, the 2024 presidential election was taking shape. Former President Donald Trump yesterday sent his strongest hint yet that he would be kicking off his third consecutive White House campaign soon, telling supporters in Ohio that he would be making a "big announcement" on 15 November.
Hundreds of Republican candidates have echoed Mr Trump's false claims that his 2020 loss to Mr Biden was due to widespread fraud are on the ballot this year, including several seeking positions that would give them direct oversight of the 2024 presidential elections in competitive states.
However, many voters said they were motivated by frustration with inflation, which at 8.2%, stands at the highest rate in 40 years.
Polls have started to close from 11pm Irish time, but the results in close races might not be known for days or even weeks.
Parts of Indiana and Kentucky have been the first to close polling places.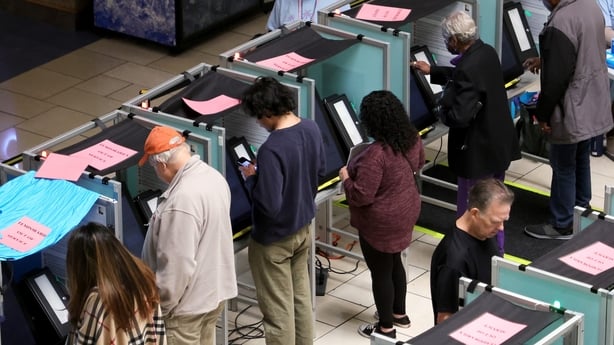 More than 46 million Americans voted ahead of election day, either by mail or in-person, according to data from the US Election Project, and state election officials caution that it will take time to count all of those ballots. Control of the Senate might not be not known until a potential 6 December runoff in Georgia.
As Election Day began, a senior US cybersecurity official said there is "no specific or credible threat" to disrupt election infrastructure. But officials in Maricopa County, Arizona, said about 20% of their vote tabulation machines were malfunctioning.
---
Read more:What races to watch out for
---
There are 36 governors' races, including campaigns in the swing states of Michigan, Wisconsin, Nevada, Arizona and Georgia.
In Congress, a Republican-controlled House would be able to block bills addressing Democratic priorities such as abortion rights and climate change. Republicans could also initiate a showdown over the nation's debt ceiling, which could shake financial markets, and launch investigations into Biden's administration and family.
Republicans will have the power to block aid to Ukraine if they win back control of Congress, but analysts say they are more likely to slow or pare back the flow of defence and economic assistance.
A Republican Senate would hold sway over Mr Biden's judicial nominations, including any Supreme Court vacancy, intensifying the spotlight on the increasingly conservative court.
Some Democratic candidates deliberately distanced themselves from the White House as Mr Biden's popularity languished. Yesterday, the final day of campaigning, Mr Biden headed to Democratic-leaning Maryland, rather than a swing state.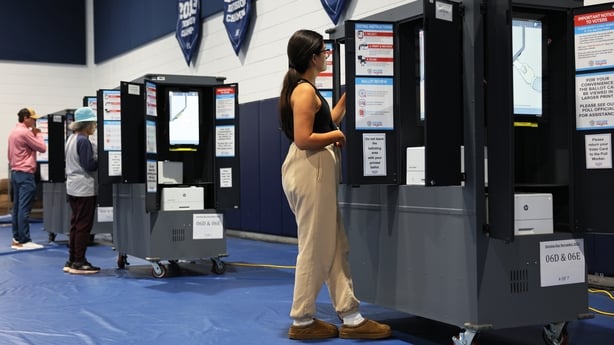 "It's Election Day, America. Make your voice heard today," Mr Biden, who cast his ballot in early voting in Delaware, said in a Twitter post this morning.
At a polling station in Florida, Mr Trump predicted success for his Republicans.
"I think we're going to have a great night," he said. He said he voted for the re-election of the state's governor, Ron DeSantis, a potential rival for the 2024 Republican presidential nomination.
The Supreme Court's June decision to overturn the nationwide right to abortion had galvanised Democratic voters around the country, temporarily raising the party's hopes they could defy history.
But stubbornly rising prices have left voters dissatisfied despite one of the strongest job markets in history.
A Reuters/Ipsos poll this week showed more than two-thirds of Americans believe the country is on the wrong track, with just 39% approving of the way Mr Biden has done his job. Mr Trump's polling is similarly low, with just 41% of respondents to a separate recent Reuters/Ipsos poll saying they viewed him favourably.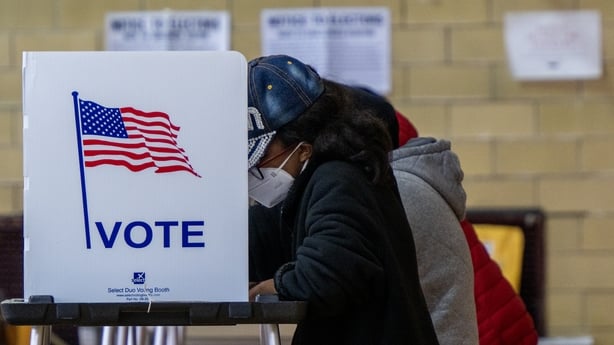 The prognosis has left some Democrats questioning the party's campaign message, which cantered on protecting abortion rights and American democracy.
Meanwhile, the US Department of Justice yesterday announced it would monitor compliance with federal voting rights laws in 64 jurisdictions in 24 states. Officials in at least one locality - Cole County, Missouri - pushed back against the move.
Republicans could also initiate a showdown over the nation's debt ceiling, which could shake financial markets, and launch potentially politically damaging investigations into Mr Biden's administration and family.
Republicans would look to use their leverage to make permanent the 2017 individual tax cuts passed under Mr Trump, and protect corporate tax cuts that Democrats have unsuccessfully tried to reverse over the past two years.
A Republican Senate, meanwhile, would hold sway over Mr Biden's judicial nominations, including any Supreme Court vacancy.
Top Senate Republican Mitch McConnell has already hinted he might refuse to fill an open seat on the top court until after the 2024 presidential election if he returns to the majority leader's position.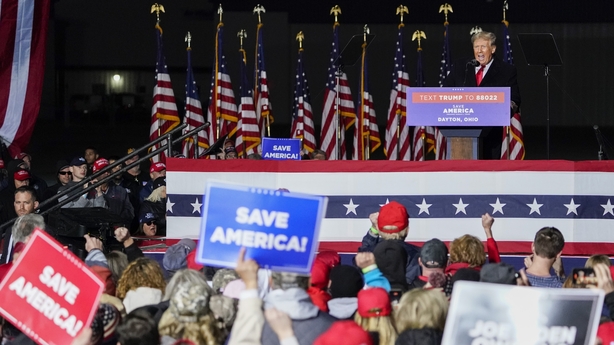 Divided government would intensify the spotlight on the increasingly conservative court, which has already issued sweeping decisions erasing a nationwide right to abortion and vastly expanding gun rights, among others.
Mr Biden and former president Barack Obama, still the party's biggest luminary, have criss-crossed the country over the past week, urging supporters to vote in hopes of stemming Democrats' losses.
Mr Trump has done the same as he lays the groundwork for another run at the presidency.
However, some Democrats in tough races have deliberately distanced themselves from the White House as Mr Biden's popularity languishes.
On the final day of campaigning, Mr Biden headed to the politically safe turf of Democratic-leaning Maryland, rather than a swing state.
Meanwhile, the prevalence of election deniers among Republican candidates has elevated down-ballot races that typically receive little attention, including contests for secretary of state, the top election official in most states.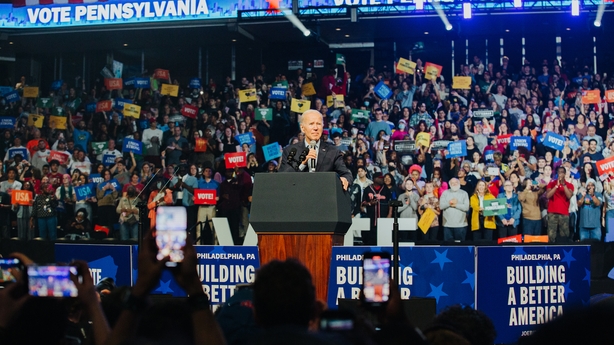 In swing states such as Nevada, Arizona and Michigan, the Republican nominees to head up the states' election apparatus have embraced Mr Trump's falsehoods, raising fears among Democrats that, if they prevail, they could interfere with the 2024 presidential race.
Mr Trump's hold on the Republican Party remains formidable. His endorsement proved a potent tool during party selection contests, and his preferred candidates prevailed in several crucial Senate primaries, despite concerns from some Republican leaders that their far-right rhetoric would be a liability in the general election.
First-time Senate candidates such as Blake Masters in Arizona, JD Vance in Ohio and Mehmet Oz in Pennsylvania have struggled at times to moderate their tone for a wider electorate, giving Democrats hope in what might otherwise have been challenging races for Mr Biden's party.
In Georgia, Herschel Walker, a former sports star challenging incumbent Democratic US Senator Raphael Warnock, has faced a raft of scandals.
They include allegations he has called lies from two women who said he urged them to have abortions during past relationships, despite his uncompromising anti-abortion stance on the campaign trail.
"Winning the Senate would have been an easy thing to accomplish had the Republican Party been wiser in its selection of qualified candidates," said Rick Tyler, a Republican strategist.
---
The RTÉ News channel will be carrying the CBS News Midterms Election Night programme from 1am to 7am.