A weakening tropical storm approaching California and parts of the US southwest promised to bring cooler temperatures to the region while threatening to exacerbate the risk of wildfires across the state.
Gusty winds of up to 80km/h from Tropical Storm Kay were expected to fan the flames of the Fairview Fire, a raging 27,000-acre (10,926 hectares) wildfire in Hemet, California.
The fire, which was 5% contained, could force 22,000 people to evacuate before the storm inundates the area with heavy rain, fire officials warned.
"I have not seen a fire burn like this in Riverside County in my career," said Cal Fire division chief John Crater.
"It's a very stubborn fire. It's doing things that we just haven't seen."
An already widespread evacuation zone was expanded to cover more than 20,000 people as emergency managers tried to out-flank the fire and get ahead of the winds.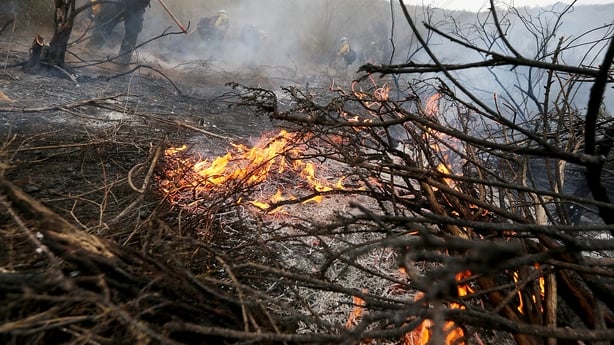 "Winds will increase from the east... Ember cast will dramatically increase as the strong 40+ mph (65+ kph) winds enter the area," Cal Fire warned.
"Ember cast" and "spotting" refer to burning materials jumping from the main fire and settling elsewhere, igniting and spreading the blaze.
Sheriff's deputies were going door to door to urge residents to get out of harm's way.
At least two people have already died in the blaze, apparently trapped by fast-moving flames as they tried to flee.
Further north, the Mosquito fire was raging out of control outside Sacramento, and had already torched 30,000 acres.
Firefighters said they did not have control of any of the perimeter of the blaze, which they believe has already damaged or destroyed a number of buildings.
"The fire is burning in extremely difficult terrain including steep canyons where directly attacking the fire can be difficult," Cal Fire said in an operational update.
Tropical Storm Kay is expected to bring much-needed relief from the state's days-long scorching heat wave as it diminishes in intensity into the weekend while it moves toward the Pacific coast, threatening Baja California, parts of Mexico and the US southwest with flash flooding and mudslides.
Forecasters at the National Weather Service said up to 18cm of rain could fall in the area around the Fairview fire, creating the risk of flash flooding and mudflows in areas where burned-out soil cannot absorb the sudden downpour.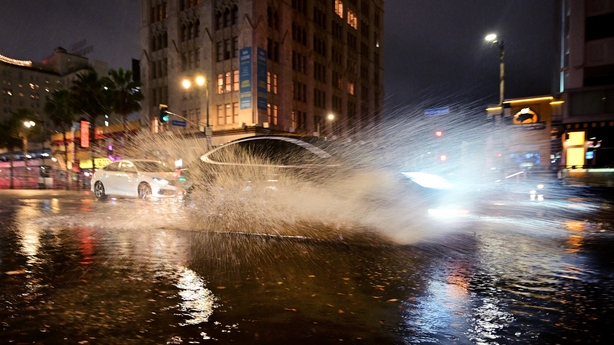 "We could go from a fire suppression event into significant rain, water rescues, mudslides, debris (flows)," Jeff Veik of Cal Fire's Riverside Unit told a community meeting.
"We have challenging days ahead."
The forecast of cooler temperatures follows a string of days when conservation efforts helped the power grid avoid rotating outages, according to the California Independent System Operator (ISO), grid operator for most of the state.
Edison International's Southern California Edison utility, which serves five million customers in the southern third of California, was considering shutting off power to about 50,000 customers in order to lessen the risk of powerlines igniting wildfires.
"The utility's concern is the short window of time before the rains start. We don't want any of the utility's equipment to cause wildfires during that time," said company spokesman David Song.
The grid came close to imposing rotating outages on Tuesday ,when power demand hit an all-time high and electric prices spiked to two-year highs.
High temperatures in Sacramento, the state capital, have topped 37.8 Celsius (100F) every day so far in September.
After hitting a record 43.8C on Thursday, meteorologists at AccuWeather forecast high temperatures in Sacramento would drop to 30C today, when the heatwave breaks.