Jury selection has begun in the trial of Elizabeth Holmes, once hailed as a ground-breaking biotech wunderkind, now facing a potential 20-year prison sentence for fraud.
The 37-year-old has pleaded not guilty to defrauding investors in her firm, Theranos, by falsely claiming the firm had invented a new way of running a wide range of tests from just a single drop of blood.
Elizabeth Holmes and Ramesh "Sunny" Balwani are charged with two counts of conspiracy to commit wire fraud and nine counts of wire fraud.
According to the indictment, the charges stem from allegations that Ms Holmes and Mr Balwani engaged in a multi-million-dollar scheme to defraud investors, and a separate scheme to defraud doctors and patients.
Both have pleaded not guilty to the charges.
Ms Holmes and Mr Balwani were previously romantically involved as well as being business partners at Theranos.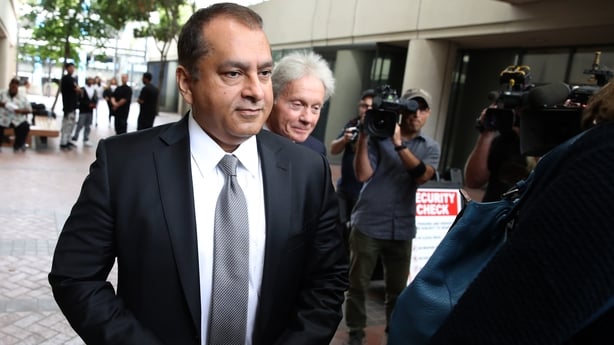 As jury selection began in San José yesterday, the judge quizzed the potential jurors about their familiarity with the case, which has generated intense media scrutiny, including books, podcasts, documentaries and an upcoming feature film starring Amanda Seyfried.
When asked if they had been exposed to media coverage of the case, more than a third raised their hands.
Jury pool members who were questioned about that exposure in court largely said it would not affect their ability to be impartial, though several were excused.
The trial is expected to last several months, and Holmes' lawyers have said she may make the unusual move of taking the stand in her own defence, opening herself up to cross-examination by prosecutors.
Court papers submitted more than 18 months ago and unsealed late last week revealed that Ms Holmes had accused former Theranos COO Ramesh "Sunny" Balwani of psychological and sexual abuse.
Ms Holmes' lawyers said her "deference" to Mr Balwani led her to believe allegedly false statements about parts of Theranos that he controlled.
Ms Holmes was 18 years old when she met Mr Balwani, who is 20 years her senior, and started living with him around three years later.
Mr Balwani denied allegations of abuse in a 2019 court filing. He is scheduled to be tried on the fraud charges separately next year.
Elizabeth Holmes was just 19 when she launched the diagnostics company Theranos in 2003, promising results that were faster and cheaper than traditional methods and labs, saying she could run tests on a drop of blood from a finger-prick.
She dropped out of Stanford University, where she had studied chemical engineering for two semesters.
Despite problems with the testing mechanism, political figures like Henry Kissinger and former US defence secretary James Mattis were drawn to the company's board and media mogul Rupert Murdoch invested millions in what seemed to be a sure-fire winner.
Ms Holmes was lauded as a visionary, drawing comparisons with Apple founder Steve Jobs, and wearing a similar daily uniform of a black polo-neck.
In 2015 Ms Holmes was touted as the world's youngest self-made female billionaire, worth an estimated $4.5 billion, (€3.8bn) and became a darling of Silicon Valley, as well as the focus of fawning articles.
But years of hype, and billions of dollars later, those promises unspooled; the miracle machines did not work.
And according to prosecutors, Ms Holmes knew it, yet continued to lie to investors, doctors and patients so she could raise more than $700 million for the company.
Jurors could hear from former board members like Henry Kissinger and James Mattis, as well as from Rupert Murdoch after witness testimony begins on 8 September.
They may also hear from patients who allege they were victims of the faulty tests, and received misdiagnoses of cancer, HIV or pregnancy loss.
In 2018, the Securities and Exchange Commission, the US stock market watchdog, presented the Theranos case as a lesson for Silicon Valley, a warning against the "fake it till you make it" culture.
"So far, Silicon Valley has gotten away with almost every misdeed you can think of," said academic and author Vivek Wadhwa, who has been tracking the Theranos case.
"Just the fact that she could end up going to jail is a big deal, because it hasn't happened before."
The trial has been postponed several times, most recently because Ms Holmes had her first child, a son, in early July.