Former US police officer Derek Chauvin has been sentenced to 22-and-a-half years in jail for the murder of George Floyd in Minneapolis last year.
Earlier in the sentencing hearing, Chauvin offered his condolences to the family of George Floyd.
"At this time due to some additional legal matters at hand, I'm not able to give a full formal statement at this time," Chauvin told the Minneapolis court.
"But briefly though, I do want to give my condolences to the Floyd family.
"There's going to be some other information in the future that would be of interest and I hope things will give you some peace of mind," he added.
In April, Chauvin was found guilty of second-degree murder, third-degree murder and second-degree manslaughter.
He was accused of killing Mr Floyd in May last year after he knelt on his neck for more than nine minutes, a murder that sparked a global protest movement.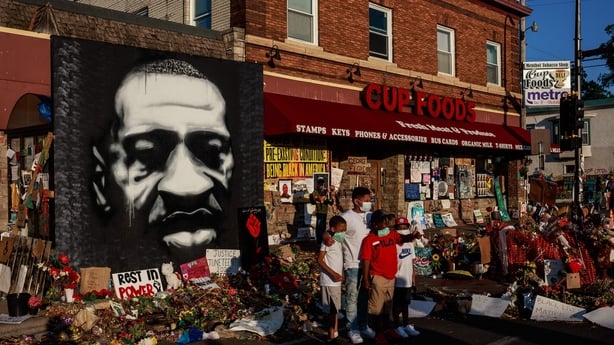 The maximum sentence for the most serious charge was 40 years, sentencing guidelines recommend 12-and-a-half years, but prosecutors had sought a prison term of 30 years.
"The sentence is not based on emotion or sympathy," said Judge Peter Cahill as he handed down the sentence.
He added in a short address that it was also not based on "on public opinion," but on the law and the facts specific to the case.
Speaking in Washington, US President Joe Biden said the sentence "seemed to be appropriate", but that he did not know all the details.
Former police officer Derek Chauvin sentenced to 22-and-a-half years for the murder of George Floyd in Minneapolis last year | https://t.co/PsQ7bZ1cgt pic.twitter.com/jOGLCXTrN9

— RTÉ News (@rtenews) June 25, 2021
Earlier, prosecutors asked several members of Mr Floyd's family to address Hennepin County District Judge Peter Cahill as the hearing got under way.
Mr Floyd's seven-year-old daughter Gianna began, appearing in a video recording played for the judge.
"I ask about him all the time," she said in the video as Chauvin sat before the judge dressed in a grey suit and tie, a blue medical mask covering his nose and mouth.
"My daddy always used to help me brush my teeth."
Asked what she would say to him if she could see him again, she said: "It would be I miss you and I love you."
George Floyd's brother called for the maximum sentence.
Terrence Floyd also urged Chauvin to explain the reason for murdering his brother during an arrest.
"Why? What were you thinking? What was going through your head when you had your knee on my brother's neck?" he asked.
Philonise Floyd said he was haunted by the videos of his brother's death, which were replayed countless times at Chauvin's trial.
"I haven't had a real nice sleep because of the nightmares I constantly have hearing my brother plead and beg for his life over and over again," he told the court.
Chauvin's mother, Carolyn Pawlenty, told the judge she would always believe her son was innocent and that her life's two happiest moments were giving birth to Chauvin and pinning his police badge on him when he joined the Minneapolis Police Department.
"The public will never know the loving and caring man he is, but his family does," she said, her voice quivering at times.
"Derek has played over and over again in his head the events of that day. I have seen the toll it has taken on him. I believe a lengthy sentence will not serve Derek well. When you sentence my son, you will also be sentencing me."
Judge Cahill ruled earlier this month that prosecutors had established grounds for giving Chauvin a harsher sentence. The defence had asked for probation and sought a retrial ahead of an expected appeal.
As former US police officer Derek Chauvin has been sentenced to 22-and-a-half years in jail for the murder of George Floyd in Minneapolis last year, RTÉ Washington Correspondent @BrianOD_News has the latest | https://t.co/ScbtKrcxWi pic.twitter.com/QuHsafeHVS

— RTÉ News (@rtenews) June 25, 2021
Chauvin's lawyer had argued that he was deprived of a fair trial because of prosecutorial and jury misconduct and errors of law at trial. That request was denied this morning.
Judge Cahill had identified aggravating circumstances prior to the sentencing.
He said Chauvin had "abused his position of trust and authority," treated Floyd with "particular cruelty" in front of minors and "committed the crime as a group with the active participation of at least three other" officers.
Chauvin and three colleagues arrested Mr Floyd, 46, on suspicion of having passed a fake $20 note in a shop in Minneapolis. They handcuffed him and pinned him to the ground in the middle of the street.
Chauvin then knelt on the back of Mr Floyd's neck for over nine minutes, ignoring his groans and the pleas of distraught passers-by.
The scene, filmed and uploaded by a young woman, quickly went viral.
After weeks of home confinement due to the Covid-19 pandemic, hundreds of thousands of people poured onto streets across the country and also overseas, to demand an end to racism and police brutality.
It took weeks for the mass demonstrations to taper off, but the debate around the pressing social issues remains vivid in the US.
Chauvin has been held at the state's maximum security prison in Oak Park Heights since his conviction.
He could leave prison after about 15 years.
In Minnesota, convicted people with good behaviour spend two-thirds of their sentence in prison and the final third on supervised release.
Additional reporting Brian O'Donovan, AFP, Reuters