The US Senate trial of former president Donald Trump will begin the second week of February, after the article of impeachment is transmitted to the chamber early next week, Senate Majority Leader Chuck Schumer said today.
"Once the briefs are drafted, presentation by the parties will commence the week of 8 February," Mr Schumer told colleagues on the Senate floor.
The schedule essentially amounts to a two-week delay, which will allow the chamber to conduct normal business in the interim.
This includes confirmation votes on President Joe Biden's cabinet nominations and potential action on a massive coronavirus relief package.
Earlier, Senator Schumer said on Twitter: "I have spoken to [House of Representatives speaker Nancy Pelosi] - the articles of impeachment will be delivered to the Senate on Monday.
"Make no mistake: There will be a full trial. There will be fair trial."
The sending of the article of impeachment from the House to the Senate is necessary in order to launch the trial process.
Mr Trump was impeached on a single charge of "incitement of insurrection" for his role in whipping up his supporters during a speech in Washington on 6 January, the day a pro-Trump mob stormed Congress with deadly consequences.
The Senate's top Republican, Mitch McConnell, severely reprimanded the outgoing president and left the door open for voting to convict Mr Trump.
However, he had sought a delay in an impeachment trial until February, arguing Mr Trump needed time to hire lawyers and mount a defence.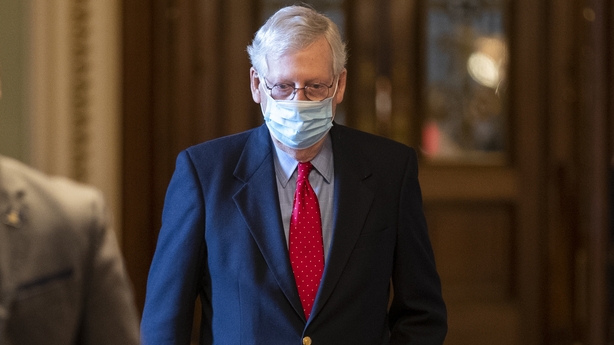 Senator McConnell also said that delaying the trial would provide time for the Senate to examine crucial legislation such as a coronavirus pandemic rescue package and consider Mr Biden's Cabinet nominations.
Democrats control the Senate by the narrowest possible margin, relying on Vice President Kamala Harris's tie-breaking vote in a 50-50 chamber.
They also need Republican cooperation to advance much of President Biden's agenda.
Mr Trump is the only US president to have been impeached twice, and his trial in the Senate will be the only one ever to have taken place after a president has left office.
A separate vote would be needed to block him from running for office again.
Mr Trump has hired South Carolina-based lawyer Butch Bowers to represent him in his Senate impeachment trial, a source familiar with the matter said yesterday.
Also today, the US Senate Finance Committee unanimously approved Janet Yellen's nomination as the first woman Treasury secretary, indicating that she will easily win full Senate approval, but Republicans called for her to work with them in developing economic policies.
The full Senate will vote on Dr Yellen's nomination on Monday, Senate Majority Leader Chuck Schumer said on the Senate floor. This would allow her to get to work promptly on President Biden's economic agenda.
Her nomination was approved 26-0 in the evenly split committee, with concerns expressed by Republicans about Mr Biden's ambitious plans for massive coronavirus relief spending, infrastructure investment and tax hikes failing to sway them against the former Federal Reserve chair.
"I have very strong disagreements with Dr Yellen on a number of her positions, particularly in the tax policy arena, but she has committed to us that she will work with us," Republican Senator Mike Crapo said after the vote.
"And I think the strong vote on our side to support her today is an indication that we want to engage."