US President Donald Trump has granted clemency to former White House aide Steve Bannon as part of a wave of pardons and commutations issued in his final hours in office, a senior administration official said, but did not pardon himself, members of his family or lawyer Rudy Giuliani.
Mr Trump leaves office today, when Joe Biden is sworn in as the country's 46th president.
White House officials had argued to Mr Trump that he should not pardon himself or his family because it might look like they are guilty of crimes, according to a source familiar with the situation.
Mr Trump also pardoned Elliott Broidy, a former top fundraiser for him who pleaded guilty last year to violating foreign lobbying laws, and former Detroit Mayor Kwame Kilpatrick, who was serving a 28-year prison term on corruption charges, a senior administration official said.
Rappers Lil Wayne and Kodak Black who were prosecuted on federal weapons offences, were also granted pardons.
Mr Bannon, who was a key adviser in Mr Trump's 2016 presidential run, was charged last year with swindling Trump supporters over an effort to raise private funds to build the president's wall on the US-Mexico border.
He has pleaded not guilty.
White House officials had advised Mr Trump against pardoning him.
The two men have lately rekindled their relationship as Mr Trump sought support for his unproven claims of voter fraud, an official familiar with the situation said.
Mr Giuliani, who has been at the forefront of unsuccessful efforts to overturn the 2020 presidential election, has not been charged with a crime, but investigators have been probing hisa ctivities in Ukraine.

Mr Bannon is the latest prominent political ally to receive clemency from Mr Trump, who has often used the powers of the executive branch to reward loyalists and punish his enemies.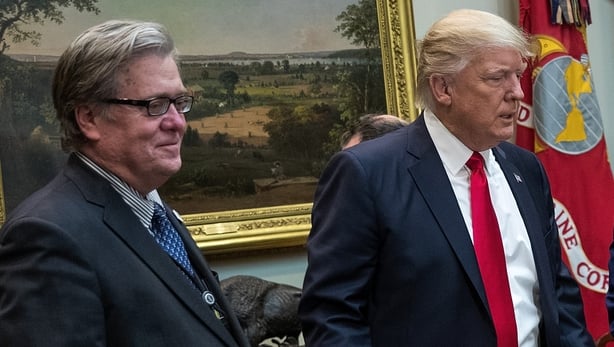 Mr Trump previously pardoned former National Security Adviser Michael Flynn for lying to the FBI about his conversation with the former Russian ambassador, and he commuted the prison term for Roger Stone, who was convicted of lying to Congress during its investigation into Russian interference in the 2016 presidential election.
Mr Bannon can still be charged in state court in New York, where a pardon would not help him, said Daniel R Alonso, a former prosecutor now at the Buckley law firm.
Fraud prosecutions are frequently brought by the Manhattan District Attorney's Office, Mr Alonso said.
Mr Broidy, who was a top fundraiser for Mr Trump during the 2016 campaign, pleaded guilty in October to violating lobbying laws by attempting to influence the administration on behalf of Chinese and Malaysian interests.
Lil Wayne, 38, whose real name is Dwayne Michael Carter Jr pleaded guilty in federal court in December to illegally possessing a firearm and faced up to ten years in prison.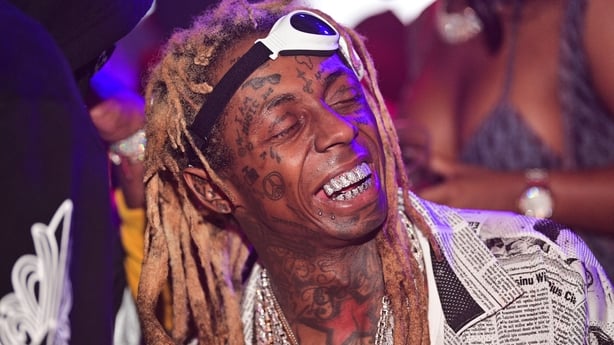 He has expressed support for Mr Trump's criminal justice reform efforts.
Kodak Black, 23, who was born Bill Kahan Kapri, is in federal prison for making a false statement in order to buy a firearm.
---
Read more:
Rappers and politicians among notable names pardoned
Inauguration Day: All you need to know
5 ways in which this inauguration will be different
US inaugurations: High drama and sore losers
---
Trump ends tumultuous term under cloud
Mr Trump will bid farewell to the White House hours before President-elect Biden is inaugurated. That will make him the first outgoing president since Andrew Johnson in 1869 to skip the Inauguration Day ceremony marking the formal transfer of power.
Mr Trump and his wife, Melania, departed the South Lawn on the Marine One helicopter for Joint Base Andrews in suburban Maryland, before boarding Air Force One one last time to fly to Florida.
His arrival at his Mar-a-Lago club in Palm Beach is being timed to get him behind the wall of the resort before his term as president expires.
Banned from Twitter after his supporters stormed the US Capitol on 6 January, Mr Trump used an old-school method - an emailed press release - to distribute a farewell video yesterday in which he veered from his usual divisive rhetoric and sounded an upbeat message.
"Now more than ever, we must unify around our shared values and rise above the partisan rancor, and forge our common destiny," he said. But he did not mention Mr Biden, to whom he has not formally conceded.
We need your consent to load this YouTube contentWe use YouTube to manage extra content that can set cookies on your device and collect data about your activity. Please review their details and accept them to load the content.Manage Preferences
Even after Mr Trump leaves office, the Senate is still to hold a trial on the impeachment charge brought by the Democratic-led House of Representatives that he incited an insurrection. Its outcome could determine whether he will be disqualified from running again for president.
"He is going to be as an asterisk president, a one-termer who did more damage than good," said presidential historian Douglas Brinkley.
The Washington that he leaves behind is being guarded by 25,000 National Guard troops, while the National Mall, traditionally thronged with spectators on Inauguration Day, is closed to the public because of threats of violence from groups that attacked the Capitol.