White House hopeful Joe Biden has sharply criticised Donald Trump, with his campaign saying the president has resorted to "abhorrent" lies about Democrat Kamala Harris's eligibility to be vice president.
Mr Biden named Ms Harris, who was born in the United States to immigrant parents and is constitutionally eligible to be both vice president and president, as his running mate on Tuesday.
She quickly faced attacks that Democrats deemed racist.
"I heard it today that she doesn't meet the requirements," Mr Trump said on Thursday, citing an article by a conservative law professor that questioned the immigration status of Ms Harris's parents at the time of her birth.
Ms Harris, 55, was born in Oakland, California to a mother from India and a father from Jamaica.
Mr Trump "has sought to fuel racism and tear our nation apart," Mr Biden's spokesman Andrew Bates said in a statement, referring to the "grotesque, racist birther movement" led by Mr Trump that promoted the lie that former president Barack Obama was not born in the United States.
"So it's unsurprising, but no less abhorrent, that as Trump makes a fool of himself straining to distract the American people from the horrific toll of his failed coronavirus response that his campaign and their allies would resort to wretched, demonstrably false lies in their pathetic desperation."
---
Read More:
Trump promotes false birther theory about Kamala Harris
Who is Joe Biden's running mate Kamala Harris?
---
The conservative professor's article cited by Mr Trump followed claims shared thousands of times on Facebook that Ms Harris could not become president because her parents hailed from abroad.
Article 2 of the US Constitution states that "no person except a natural born citizen, or a citizen of the United States" shall be eligible for the presidency.
Section 2 of the 14th Amendment says "all persons born or naturalised in the United States" are US citizens.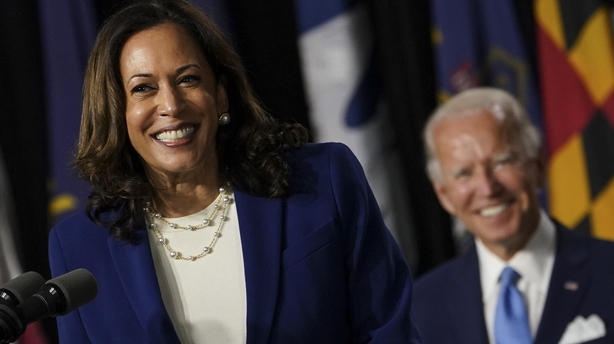 Mr Trump grudgingly acknowledged late in his 2016 presidential campaign that Mr Obama was American-born.
Since then, Mr Trump has faced accusations of racism, and has embraced other conspiracies.
Polls show him trailing Mr Biden in the November election.
Trump visits ill brother at New York hospital
Separately, Mr Trump visited his younger brother Robert at a hospital in New York, where he is being treated for an undisclosed illness.
The US leader, who was wearing a face mask upon arriving at New York-Presbyterian Hospital, entered through a back door and stayed about 45 minutes.
Mr Trump, who was stopping in New York on the way to his golf club in nearby Bedminster, New Jersey for the weekend, told reporters only that "he's having a hard time."
While far less famous than his older brother, Robert Trump has long been an integral part of the family real estate empire and is fiercely loyal to the president.
Robert Trump unsuccessfully went to court to try and get an injunction preventing publication of a book by his niece Mary Trump, called 'Too Much and Never Enough: How My Family Created the World's Most Dangerous Man'.
The book, which paints Donald Trump as the product of a "toxic" family was a "disgrace," Robert Trump said.
Although a temporary restraining order was applied, a judge lifted this in July, allowing publication.
At a press conference, President Trump called his brother "wonderful" and said they have "had a great relationship for a long time, from day one."