The first Atlantic hurricane of 2020 was downgraded to a tropical storm after lashing coronavirus-hit Texas, as Hawaii braced for its own battering.
Hanna was still packing winds of around 65km/h as it crossed over northeastern Mexico, meteorologists said.
"Additional weakening is expected as the centre of Hanna moves farther inland, and the cyclone is expected to weaken to a tropical depression later today and dissipate Monday," the US National Hurricane Center (NHC) reported.
There were no immediate reports of casualties or widespread damage, and both Mexico and Texas had lifted all coastal storm warnings by afternoon.
But meteorologists warned that heavy rain could produce "life-threatening flash flooding" in South Texas and mudslides across northern Mexican states.
Images shared by the National Weather Service office showed water lapping at the Art Museum of South Texas.
The Texas State Aquarium said it would be closed following some storm damage.
A second storm system - Pacific Hurricane Douglas - was bearing down on the Hawaii and expected to move over parts of the islands tonight and into Monday.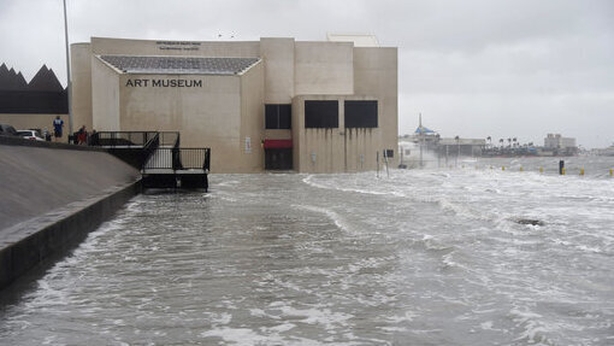 A hurricane warning was in effect for Maui and Kauai counties, as well as Oahu - the island on which Honolulu, a city of just under 350,000 - is located.
The Category One hurricane was packing winds of up to 140km/h.
"Gradual weakening is forecast during the next 48 hours, but Douglas is expected to remain a hurricane as it moves through the islands," the NDC said.