Dr Anthony Fauci is the US's top infectious disease expert and was the face and voice of the US response to the coronavirus.
In recent weeks, however, he has done fewer briefings and interviews.
The White House has been accused of trying to sideline and silence him.
Dr Fauci has repeatedly contradicted Donald Trump's claims about the virus and the US president has publicly accused Dr Fauci of making mistakes and getting things wrong.
Other members of the Trump administration have also criticised Dr Fauci in recent days.
In an op-ed for USA Today, the president's trade adviser Peter Navarro claimed that "Anthony Fauci has been wrong about everything I have interacted with him on.
"When you ask me whether I listen to Dr. Fauci's advice, my answer is: only with skepticism and caution," Mr Navarro wrote.
Dr Fauci was asked about the comments by The Atlantic.
"I can't explain Peter Navarro. He's in a world by himself. So I don't even want to go there," he said.
Dr Fauci described the White House attacks on him as "bizarre".
"I cannot figure out in my wildest dreams why they would want to do that," he said.
"I think they realise now that was not a prudent thing to do, because it's only reflecting negatively on them."
Donald Trump criticised Navarro for writing the op-ed.
"He made a statement representing himself, he shouldn't be doing that," he said.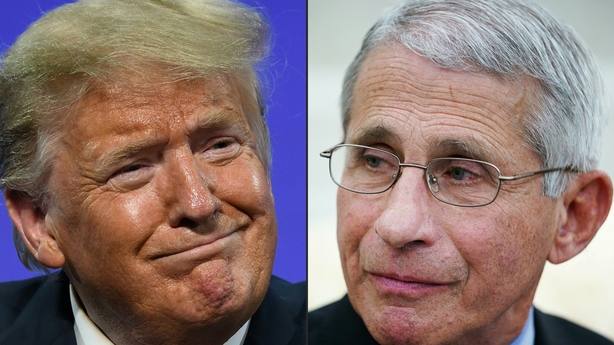 "I have a very good relationship with Anthony. We're all on the same team, including Dr Fauci."
Just a few days earlier however the White House had been accused of trying to smear Dr Fauci in the press by distributing negative information to journalists.
White House Press Secretary Kayleigh McEnany denied this was the case and said they had simply been responding to reporters' questions.
On Thursday, she was asked about Donald Trump's push to reopen schools in the autumn.
"I was just in the Oval talking to him about that. When he says open, he means open in full, kids being able to attend each and every day in their school. The science should not stand in the way of this," McEnany said.
Is attacking the science and the scientists the latest tactic being used to boost Donald Trump's approval ratings?
Last month the US president questioned why Dr Anthony Fauci had better poll numbers than him tweeting that the media was giving his infectious disease expert a 72% approval rating. Mr Trump, predictably, dismissed it as "fake news".
An ABC News/Washington Post poll released on Friday showed that 64% voters distrust what Donald Trump says about the coronavirus.
Disapproval of the president's handling of the pandemic has risen to 60%, a jump of 15% since March.
The White House would like to hit the rewind button when it comes to those ratings and senior White House adviser Kellyanne Conway has suggested that Donald Trump's poll numbers might improve if he were to resume regular coronavirus media briefings.
At the start of the crisis, the US president held daily press conferences but they became long, rambling affairs that sometimes ran for two hours.
They also became controversial when Donald Trump asked if the ingestion of disinfectants might help treat the virus.
Kellyanne Conway told Fox News on Friday that the president's approval ratings were "much higher when he was out there briefing everybody on a day-by-day basis, just giving people the information."
"I think the president should be doing that," she said.
"I just think the people want to hear from the president of the United States," Ms Conway told reporters in a follow-up interview.
"Doesn't have to be daily. Doesn't have to be for two hours. But in my view it has to be."
Donald Trump likes to play the blame game with this virus, whether trying to say the fault lies with China, the World Health Organization, individual governors and mayors, or even the Obama administration.
But when he starts to attack his own scientists and experts, he runs the risk of worsening public confidence in his handling of the pandemic - and that is perhaps being reflected in the opinion polls.