US President Donald Trump has tweeted a video wishing his fellow citizens a happy Fourth of July - as Americans celebrate independence weekend.
Another record number of coronavirus cases overshadowed the start of the celebrations.
Mr Trump said: "We will proclaim the ideals of the Declaration of Independence .... America's future is in our hands." He also declared "the best is yet to come".
The video was released as hundreds of thousands of people started to converge in the heart of Washington DC where Mr Trump will host an Independence Day fireworks display and military flyover, while protesters will march for racial equality.
July 4, 2020
Police blocked off streets around the White House, Black Lives Matter Plaza and the Lincoln Memorial, where demonstrators pledged to hold peaceful protests for reforms following the May killing of George Floyd, a 46-year-old black man from Minneapolis who died after an officer knelt on his neck.
Minister for Foreign Affairs Simon Coveney tweeted his good wishes for the Fourth of July while the Irish embassy in Washington DC posted a video of a young Irish dancer to celebrate the occasion.
Happy 4th July to all our friends in the #USA and to all Americans here in #Ireland. The history, family ties, economic links, friendships and political bonds remain so strong! #Happy4thofJuly 🇮🇪🇺🇸 @dfatirl @IrelandEmbUSA. pic.twitter.com/xtr33Kx339

— Simon Coveney (@simoncoveney) July 4, 2020
To mark the 4th of July, some fireworks courtesy of the fast feet of one of our favourite Virginians. Here is the wonderful @morrghan dancing to Rapture by @originalkoffee. Enjoy & Happy #IndependenceDay all! pic.twitter.com/yER2rYoVuk

— Embassy of Ireland USA (@IrelandEmbUSA) July 4, 2020
Meanwhile, the pandemic has reached Mr Trump's inner circle. Kimberly Guilfoyle, a senior campaign official and the girlfriend of Donald Trump Jr, has tested positive for coronvirus.
On Friday, Mr Trump spoke to a rally of his supporters at Mount Rushmore in South Dakota. The event drew 7,500 people, packed tightly into an amphitheatre.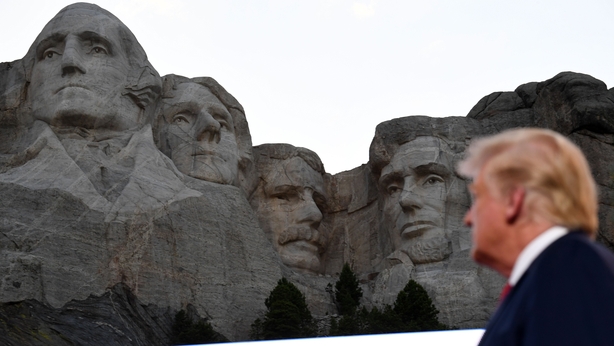 Many did not wear masks, defying the advice of public-health officials who have urged Americans to avoid large gatherings to slow the spread of Covid-19.
Speaking underneath a famed landmark that depicts four US presidents, Mr Trump warned that the demonstrations over racial inequality in American society threatened the foundations of the US political system.
"Make no mistake, this left wing cultural revolution is designed to overthrow the American revolution," Mr Trump said. "Our children are taught in school to hate their own country," he added.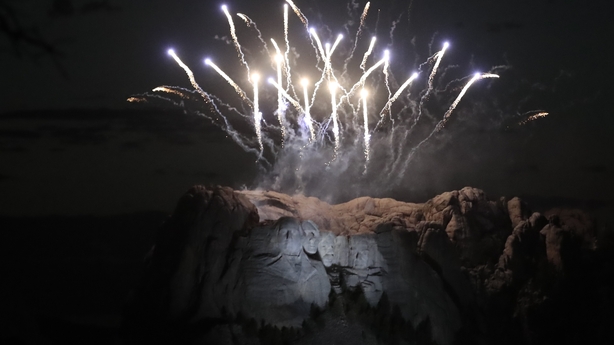 Mr Trump announced that he would create a "National Garden of American Heroes," which he described as a large outdoor park featuring statues of "the greatest Americans who ever lived". He did not provide further details.
Mount Rushmore, which depicts US presidents George Washington, Thomas Jefferson, Theodore Roosevelt and Abraham Lincoln, has not hosted a fireworks spectacle since 2009 because of environmental concerns.
Mr Trump advocated for a resumption of the display, and the state said the surrounding Black Hills National Forest has "gained strength" since then and that fireworks technology has advanced.