Job losses from the coronavirus pandemic in the United States climbed to 26.4 million, as Congress approved a new stimulus measure and governors in some states move to slowly reopen businesses.
Sobering data released by the Labor Department showed 4.4 million US workers filed new claims for jobless benefits in the week that ended 18 April, underscoring the damage done to the world's largest economy by the crisis.
The figure represents a drop from recent weeks, but the weekly totals are many times higher than any recorded during the global financial crisis, as virus lockdown measures force businesses to close nationwide.
The House of Representatives gave its seal of approval to the latest stimulus bill by a margin of 388-5, which will add nearly $500bn in fresh relief funds for devastated small businesses and overwhelmed hospitals.
That builds upon the massive $2.2tn CARES Act stimulus measure passed in late March.
The new bill will provide another $320bn in funding for a depleted program to aid small businesses, along with $75bn for hospitals, $25bn to expand virus testing and $60bn in disaster recovery loans and grants.
President Donald Trump has said he will sign it into law.
In states where the outbreak has been less severe, governors are moving to begin the slow process of returning to normal, some in response to a spate of anti-lockdown protests.
But their measures are being called into question - and President Trump specifically criticised a decision to open hair salons, tattoo parlors and gyms in Georgia from Friday.
"I told the governor of Georgia, Brian Kemp, that I disagree strongly with his decision to open certain facilities," the president told reporters on Wednesday.
"At the same time, he must do what he thinks is right."
In Florida, another Republican governor, Ron DeSantis, is considering similar measures.
A CBS News poll indicated 63% of Americans were more concerned about lifting the restrictions too soon and intensifying the outbreak than about the consequences to the economy of maintaining them for two long.
Meanwhile, only 13% said they would return to public places if the restrictions were lifted right now.
Business owners and economists have said that without confident consumers willing to go out and spend, reopening shops and restaurants will have little effect.
In another sign of the pandemic's damage, government data showed home sales collapsing in March, declining 15.4% compared to February - exceeding analyst expectations.
The decrease was seen in all areas of the country, with the sharpest contractions in the Northeast and West - both regions that have experienced significant virus outbreaks.
Unemployment rates rose in 29 states and the District of Columbia in March 2020 https://t.co/GF08maObtI #BLSdata pic.twitter.com/AFtp4RnuS9

— BLS-Labor Statistics (@BLS_gov) April 23, 2020
New York Governor Andrew Cuomo said a preliminary survey found that nearly 14% tested positive for antibodies against the coronavirus, suggesting that as many as 2.7 million New Yorkers may have been infected with the disease.
While noting the sample size of 3,000 people and other limitations of the survey, Cuomo said the implied fatality rate of 0.5% of those infected by Covid-19 was lower than some experts feared.
"If the infection rate is 13.9%, then it changes the theories of what the death rate is if you get infected," Cuomo told a daily briefing.
The survey targeted people who were out shopping, but not working, meaning they were not essential workers like grocery clerks or bus drivers but were more likely to test positive for antibodies than someone isolated at home, Cuomo said.
Even after discounting for those caveats, Cuomo said the preliminary data added to his understanding of the virus and would inform his reopening plan, with social distancing measures relaxed more quickly in less infected regions of the state.
Cuomo said the state would keep adding to the sample size in the coming weeks and would test more in African-American and Hispanic communities, which made up disproportionately high percentages of positive tests in the survey so far, with whites registering a disproportionately lower infection rate.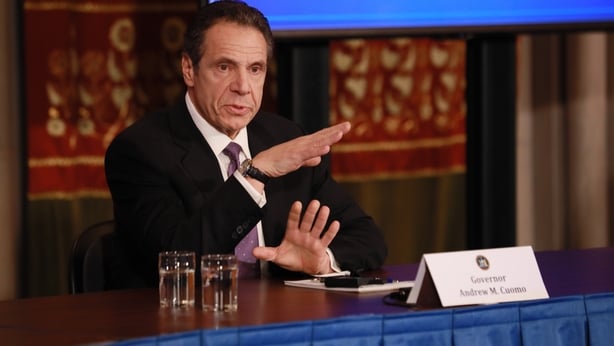 The US Centers for Disease Control and Prevention reported 828,441 cases of the virus, an increase of 25,858 from its previous count, and said the number of deaths had risen by 1,804 to 46,379.
The CDC figures do not necessarily reflect cases reported by individual states.