The number of coronavirus cases in New York state alone is approaching 150,000, surpassing Spain for the most infections anywhere in the world, even as authorities warned the state's official death toll may understate the true figure.
New York and neighbouring New Jersey again reported new single-day highs for Covid-19 deaths.
New York state has 149,316 reported cases compared to Spain's 146,690, according to a tally.
In total, the United States has recorded more than 417,000 coronavirus cases and 14,100 deaths.
New York officials said a recent surge in the number of people dying at home suggests that the most populous US city may be undercounting how many people have died of Covid-19.
"I think that's a very real possibility," New York Governor Andrew Cuomo said in his daily news briefing.
Mr Cuomo said 779 people died from coronavirus in the past day in his state and New Jersey Governor Phil Murphy said another 275 had died there. Both totals exceeded one-day records reported just a day earlier.
Despite the grim tally, Mr Cuomo said overall trends still appear positive, with the rate of hospitalisations down in the state at the epicentre of the US epidemic.
"Every number is a face, right," he said of the death statistics.
"This virus attacked the vulnerable and attacked the weak and it's our job as a society to protect the vulnerable."
Mr Murphy tightened New Jersey's social distancing requirements, ordering retailers including grocery stores still allowed to operate to limit customers, ensure that customers and employees wear face coverings and regularly sanitise the premises.
"We need to continue to be absolutely vigilant and, if anything tighten, as opposed to loosen," Mr Murphy said of coronavirus-related restrictions on residents. "And I don't say that with any joy."
Louisiana announced 70 more deaths in the past day, matching that state's single-day record announced a day earlier.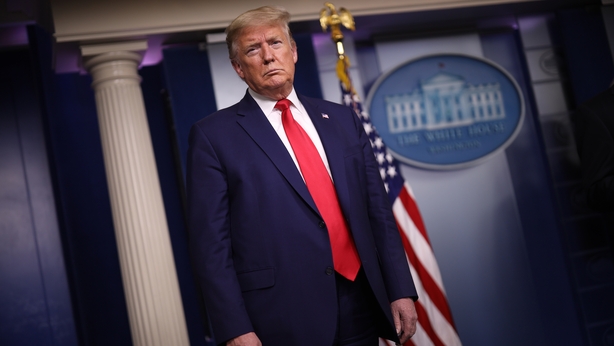 President Donald Trump's administration has called for 30 days of measures, including staying at least 1.8metres away from other people, that have upended American life, with most people staying isolated at home, schools and businesses closed and millions losing their jobs.
Some 94% of the US population has been ordered to stay at home.
"What's really important is that people don't turn these early signs of hope into releasing from the 30 days to stop the spread - it's really critical," Deborah Birx, the coordinator of the White House coronavirus task force, said.
"If people start going out again and socially interacting, we could see a really acute second wave" of infections, she added.
The University of Washington's Institute for Health Metrics and Evaluation model lowered its projected US death toll by 26%, to 60,000 from 80,000 by 4 August. The model is one of several the White House task force has cited.
The task force previously projected 100,000 to 240,000 Americans could die.
New York governor says social distancing 'working'
Efforts at social distancing are working to bring the coronavirus outbreak in New York under control, according to the governor.
Andrew Cuomo, who has emerged as a leading national voice on the outbreak, said he never thought he would experience a disaster on the scale of the 11 September 2001 attacks again and called the mounting death toll "almost unimaginable to me."
The governor called for continued adherence to business closures and other social distancing steps.
Mr Cuomo ordered all flags to be flown at half-mast across New York, where 6,268 people have died from Covid-19, accounting for nearly half the deaths in the United States.
"Don't start doing a retrospective like it's over," Mr Cuomo told a daily news briefing. "We are not through it. It's not over."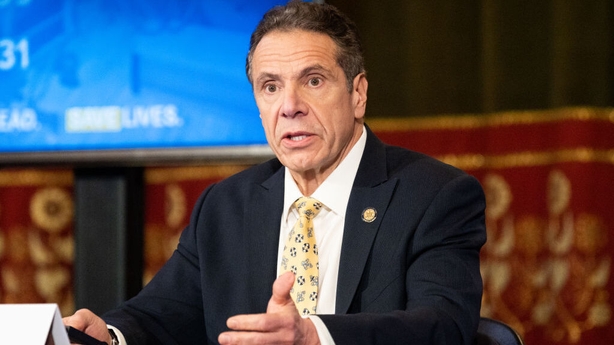 He pointed to the fall in new hospitalisations and other data as evidence that New York is "bending the curve" and gaining some control over the rate of infections.
But Mr Cuomo warned that any relaxing of social distancing steps - yesterday he extended the state's closure of non-essential businesses and schools until the end of April - risked reversing the gains.
"This is just a small snapshot in time where we are," Mr Cuomo said.
"You have four or five days of flattening. You could have tomorrow morning we wake up and the number is back up."