An Irishman has been taken to hospital after being injured when lightning hit a tree at a PGA Tour event in Atlanta.
Ryan Murphy, from Cookstown, Co Tyrone, was in Atlanta supporting golfer Rory McIlroy.
The 19-year-old's family said he had been working in the US for the summer.
He was among six spectators who were injured by debris after lightning struck East Lake Golf Club, shortly after play had been suspended in the third round of the Tour Championship.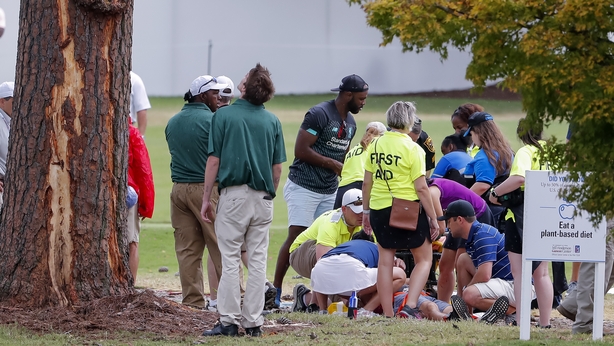 Five people were taken to hospitals for further medical attention.
One other person was treated and released on-site.
WATCH...This is why you take thunderstorms seriously!

Scary situation as a t-storm developed near the East Lake Golf Club in Atlanta, GA. Golf players, as well as spectators, were seeking shelter. 4 people were reported being treated due to the lightning strike. #gawx #arwx pic.twitter.com/GQHCx2mqfG

— Hayden Nix (@HaydenNix) August 24, 2019
Lightening strike at the FedEx cup championship in Atlanta. Hope everyone is ok. #FedExCup pic.twitter.com/gbSFvVJwHO

— Blake Manuel (@Bcicles) August 24, 2019