US President Donald Trump is presiding over 4 July celebrations in Washington with a speech about patriotism and a show of military might that critics say is politicising Independence Day and wasting taxpayers' money.
Mr Trump, who admires displays of national pride and military strength put on by France, has dismissed concerns about the expense and militaristic overtones of the event.
The event features fireworks, a flyover by Air Force One, and a display of tanks.
---
Read more:
Tanks but no tanks: Controversy over Donald Trump's 4 July event
---
Democrats have accused President Trump of staging a campaign rally, but the White House has said his remarks tonight will not be political in nature.
"People are coming from far and wide to join us today and tonight for what is turning out to be one of the biggest celebrations in the history of our Country," Mr Trump tweeted this morning.
He was set to give a speech at 10.30pm Irish time, followed by a concert on the US Capitol lawn.
Asked earlier this week if he could give a speech that would represent all Americans, the president said he thought he could and then launched into an attack on Democrats' policies on healthcare and taxes.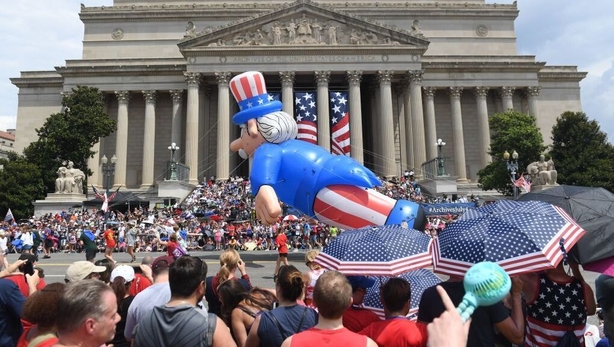 Supporters and opponents of President Trump carried American flags and wore red, white and blue outfits.
"I think what Trump's doing with the tanks, all the flyovers, I think it's great," said Brandon Lawrence, his face painted with the colours of the American flag.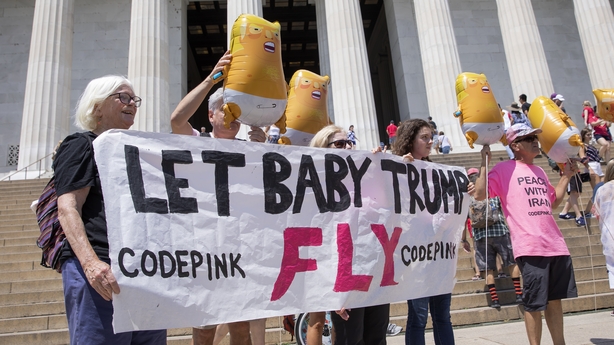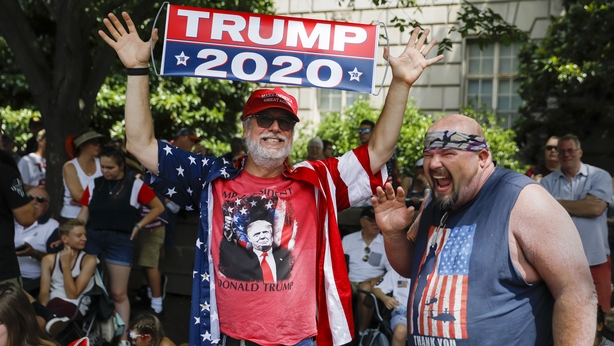 Opponents were not impressed with the cost of the parade.
"This is costing us millions and millions of dollars. We the taxpayers are paying for it, for Donald Trump to use our military as a prop. And that's just not right," said Medea Benjamin, co-founder of the women-led peace group Code Pink.
Republican political groups were given prime tickets for Mr Trump's speech, and the Washington Post reported that the US National Park Service diverted $2.5m in park entrance fees to help pay for the event.
Mr Trump played down the expense.
"The cost of our great Salute to America tomorrow will be very little compared to what it is worth. We own the planes, we have the pilots, the airport is right next door (Andrews), all we need is the fuel," he posted on Twitter.
"We own the tanks and all. Fireworks are donated by two of the greats. Nice!" Mr Trump added.
The 4 July holiday celebrates the US founders' declaring independence from Britain in 1776.
We need your consent to load this rte-player contentWe use rte-player to manage extra content that can set cookies on your device and collect data about your activity. Please review their details and accept them to load the content.Manage Preferences