Details of Special Counsel Robert Mueller's investigation into Russia's role in the 2016 US presidential election were released this afternoon.
The redacted report shows a series of incidents in which US President Donald Trump took actions to impede the inquiry that raised questions of whether he committed the crime of obstruction of justice.
Release of a long-awaited report by Mr Mueller is seen as a watershed moment in Mr Trump's tumultuous presidency.
Ahead of its release, Attorney General William Barr, whose Department of Justice oversaw the investigation, delivered a spirited defence of the Republican president and his actions, infuriating Democrats.
Mr Mueller did not make a conclusion on whether Mr Trump had committed obstruction of justice, but did not exonerate him either.
Mr Barr subsequently concluded that Mr Trump had not broken the law, but told a news conference that Mr Mueller had detailed "ten episodes involving the president and discusses potential legal theories for connecting these actions to elements of an obstruction offence".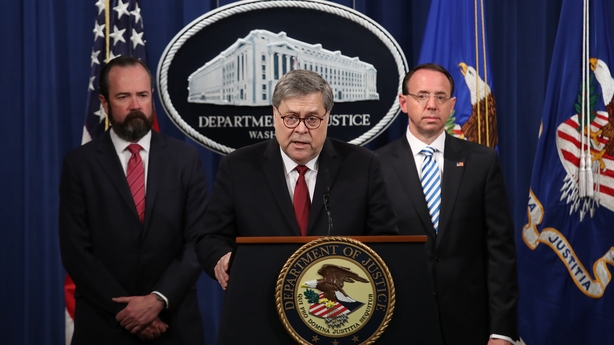 In June 2017, Mr Trump directed White House counsel Don McGahn to tell the then-acting attorney general that Mr Mueller had conflicts of interest and must be removed, the report said.
"McGahn did not carry out the direction, however, deciding that he would resign rather than trigger what he regarded as a potential Saturday Night Massacre," the report said.
The Saturday Night Massacre refers to an effort by US president Richard Nixon in 1973 to thwart the Watergate investigation.
It also said there was "substantial evidence" that Mr Trump fired James Comey as FBI director in 2017 due to his "unwillingness to publicly state that the president was not personally under investigation".
Mr Mueller cited "some evidence" suggesting that Mr Trump knew about former national security adviser Michael Flynn's controversial calls with the Russian ambassador before Mr Trump took office, but evidence was "inconclusive" and could not be used to establish intent to obstruct.

The report said Mr Trump directed former campaign manager Corey Lewandowski to ask former Attorney General Jeff Sessions to say the Russia investigation was "very unfair".
Moments after Mr Barr concluded his news conference, Mr Trump posted an image of himself on Twitter surrounded by fog with the words: "No collusion. No obstruction. For the haters and the radical left Democrats - GAME OVER."
Later, he said at the start of a speech: "I'm having a good day."
April 18, 2019
No Collusion - No Obstruction! pic.twitter.com/diggF8V3hl

— Donald J. Trump (@realDonaldTrump) April 18, 2019
---
Read More:
---
'I'm having a good day': @realDonaldTrump reacts after Mueller's Russia report is released | https://t.co/YJuzQ8RQCW pic.twitter.com/xtTRrkXfnW

— RTÉ News (@rtenews) April 18, 2019
Before the report's release, Mr Barr gave a news conference at the Justice Department as he sought to shape the narrative on the document's findings.
One of a handful of people to have seen the report before its release, Mr Barr emphasised, as he had said last month, that Mr Mueller did not conclude there was collusion between Trump's campaign and Russia.
"President Trump faced an unprecedented situation. As he entered into office and sought to perform his responsibilities as president, federal agents and prosecutors were scrutinising his conduct before and after taking office and the conduct of some of his associates," Mr Barr said.
"At the same time, there was relentless speculation in the news media about the president's personal culpability. Yet, as he said from the beginning, there was in fact no collusion," added Mr Barr, shortly before he sent the report to Congress.
The report said Mr Mueller's team did not issue a subpoena to force Mr Trump to give an interview to the special counsel because it would have created a "substantial delay" at a late stage in the investigation.
It said Mr Mueller accepted the longstanding Justice Department view that a sitting president cannot be indicted on criminal charges.
Mr Barr said Mr Trump's personal lawyers "were given the opportunity to read a final version of the redacted report before it was publicly released," a revelation certain to infuriate congressional Democrats.
The US Attorney General William Barr says nobody outside of the @TheJusticeDept has seen the unredacted version of the #MuellerReport. @rtenews pic.twitter.com/J8Y2GHfhH7

— Brian O'Donovan (@BrianOD_News) April 18, 2019
Mr Mueller submitted the report to Mr Barr on 22 March.
Two days later, Mr Barr told politicians that the inquiry did not establish that Mr Trump's 2016 campaign team engaged in a criminal conspiracy with Russia and that Mr Mueller had not exonerated Mr Trump of committing the crime of obstruction of justice.
Mr Barr subsequently concluded that Mr Trump had not committed obstruction of justice.
The prospect of the Democratic-led House of Representatives beginning an impeachment process to remove Mr Trump from office receded with the release of Mr Mueller's initial findings last month.
House Speaker Nancy Pelosi and Senate Democratic leader Chuck Schumer criticised Mr Barr for writing what they called a "slanted" summary letter and for his press conference before the expected release of the report detailing the probe's findings.
"We believe the only way to begin restoring public trust in the handling of the Special Counsel's investigation is for Special Counsel Mueller himself to provide public testimony in the House and Senate as soon as possible," Ms Pelosi, who is currently on a fact-finding mission to Ireland, and Mr Schumer said in a statement.
Mr Barr said he and Attorney General Rod Rosenstein, who appointed Mr Mueller as special counsel in May 2017, "disagreed with some of the special counsel's legal theories and felt that some of the episodes examined did not amount to obstruction as a matter of law".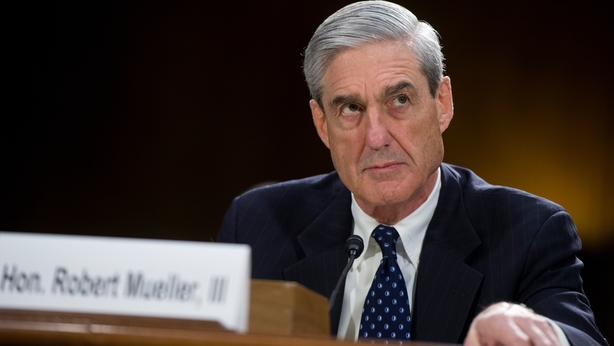 Mr Rosenstein appointed Mr Mueller as special counsel in May 2017.
Asked why Mr Mueller was not invited to take part in the news conference, Mr Barr said that the special counsel was merely "required under the regulation to provide me with a confidential report".
"I'm here to discuss my response to that report and my decision, entirely discretionary, to make it public, since these reports are not supposed to be made public. That's what I'm here to discuss," Mr Barr said.
Justice Department regulations give Mr Barr broad authority to decide how much of the report to make public.
"That's the bottom line. After nearly two years of investigations, thousands of subpoenas, hundreds of warrants and witness interviews, the special counsel confirmed that the Russian government sponsored efforts to illegally interfere in the 2016 presidential election but did not find that the Trump campaign or other Americans colluded in those efforts," Mr Barr said.
Mr Mueller charged 34 people and three Russian companies.
Those who were convicted or pleaded guilty included figures close to Mr Trump such as his former campaign chairman Paul Manafort, personal lawyer Michael Cohen and national security adviser Michael Flynn.
Mr Barr is due to testify to Congress in public about the report in early May.
---
Trump's dismay at appointment of Mueller
US President Donald Trump reacted with dismay when told a special counsel had been appointed to look into Russian interference in the 2016 presidential election, according to the Mueller report published Thursday.
Mr Trump was informed on 17 May 2017 of the appointment of former FBI director Robert Mueller as special counsel by then-attorney general Jeff Sessions, the report said.
"When Sessions told the president that a special counsel had been appointed, the President slumped back in his chair and said, 'Oh my God. This is terrible. This is the end of my presidency. I'm f*****'," the report said, citing notes from the meeting.
Mr Trump then became angry at Mr Sessions for recusing himself from the Russia investigation because of his prior contacts with Russian officials, it said.
"The president became angry and lambasted the attorney general for his decision to recuse from the investigation, stating 'How could you let this happen, Jeff?'" the report said.
"Everyone tells me if you get one of these independent counsels it ruins your presidency," Mr Trump was quoted as saying.
"It takes years and years and I won't be able to do anything. This is the worst thing that ever happened to me," Mr Trump added.