US President Donald Trump will make his case to Americans that a "crisis" at the US border with Mexico requires a wall in a prime-time address aimed at building support for a campaign promise that has sparked an 18-day government shutdown.
Mr Trump's Oval Office remarks, scheduled for 2am Irish time will be the president's latest attempt to convince Democrats, not to mention government workers, to support his push for a steel barrier on the US southern border that he says is needed to curb the flow of drugs and illegal immigration.
I am pleased to inform you that I will Address the Nation on the Humanitarian and National Security crisis on our Southern Border. Tuesday night at 9:00 P.M. Eastern.

— Donald J. Trump (@realDonaldTrump) January 7, 2019
All the major US television networks agreed to air Mr Trump's speech, prompting Democrats, who say a wall would be expensive, inefficient and immoral, to seek equal time.
"Now that the television networks have decided to air the President's address, which if his past statements are any indication will be full of malice and misinformation, Democrats must immediately be given equal airtime," said a joint statement issued by House Speaker Nancy Pelosi and Senate Democratic leader Chuck Schumer.
Vice President Mike Pence said yesterday that administration officials and congressional staff discussed the border "crisis" in meetings over the weekend about how to break an impasse about funding and reopen the government.
"We made progress in establishing the fact that we do have a humanitarian and security crisis at our southern border. The president will address that as he speaks to the nation," Mr Pence told reporters.
The emphasis on a crisis comes as Mr Trump is considering declaring a national emergency in an effort to bypass Congress and build the wall without its approval.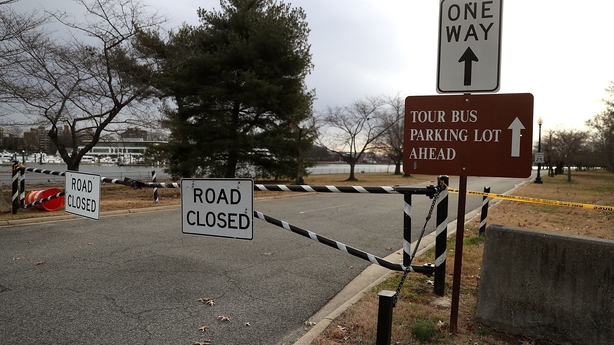 Democrats, who control the US House of Representatives, have rejected Mr Trump's demand for $5.7 billion to help build such a wall.
Mr Trump promised a wall as a candidate for the White House in 2016, making it one of his signature campaign issues and saying Mexico would pay for it.
He paints the Mexico border as an open gate for criminals, including rapists, terrorists, people with dangerous diseases and phony asylum seekers.
The border has indeed for years seen significant numbers of illegal immigrants and a thriving drug trade. However, fact checkers have debunked the more hair-raising claims, including regarding terrorist threats.
Most recently, White House Press Secretary Sarah Huckabee Sanders claimed on Sunday in an interview on the usually Trump-friendly Fox News channel that "nearly 4,000 known or suspected terrorists come into our country illegally."
However, the interviewer immediately called her out, citing the government's own information that none of those individuals arrived across the southern border.
Large chunks of the federal government shut down on 22 December over Mr Trump's demand that a bill to keep the federal government operational include more than $5 billion to pay for what he has now said would be a steel structure to protect the border.
About 800,000 government workers, including Secret Service agents, are furloughed or working without pay.
Mr Trump said in December he would be "proud" to shut the government down over the wall and told lawmakers last week it could last months.
Secretary of Homeland Security Kirstjen Nielsen told reporters in a briefing yesterday that terrorists had crossed the border into the United States but that information about the number of such incidents was sensitive or classified.
Democrats say other border security measures are more efficient and cost-effective than a wall, which they say is contrary to US values.
The shutdown is affecting security operations at airports, where Transportation Security Administration (TSA) employees have been deemed essential, but a growing number are calling in sick since they are not currently receiving salaries.
"Call-outs began over the holiday period and have increased but are causing minimal impact ... Wait times may be affected depending on the number of call-outs," a TSA spokesperson said in a statement, adding that wait times are nonetheless "well within TSA standards."
With close to 90% of its workforce on forced leave, the Internal Revenue Service will soon face a flood of paperwork from taxpayers, who have until April to file.
A delay in refunds could have an impact on both household consumption and the US economy.