US President Donald Trump made a surprise visit to Iraq today, his first trip to American troops deployed in a war zone since he was elected two years ago.
Mr Trump landed at the Al-Asad Air Base in western Iraq, accompanied by his wife Melania Trump, where he spoke to troops and met military leaders.
A meeting between Iraq's leadership and Mr Trump was scrapped over disagreements about how to conduct the session, according to a statement from the Iraqi prime minister's office.
"A disagremeent over how to conduct the meeting led to the meeting being replaced by a telephone conversation," the statement said.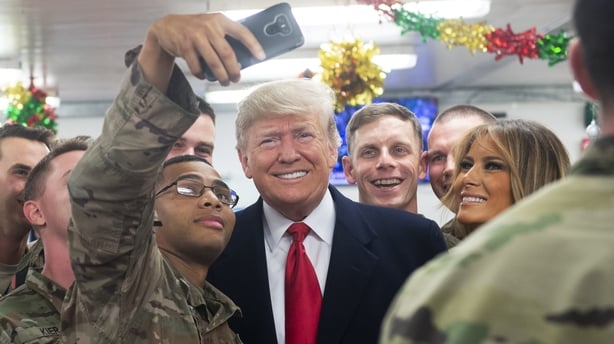 Although the visit took place in considerable secrecy, speculation had been mounting that he might make such a trip following his decision to slash troop levels in Afghanistan and pull out entirely from Syria.
The president acknowledged that he had security concerns about visiting Iraq, saying it was "pretty sad" that he needed such secrecy to see the troops.
The trip came after mounting criticism that he had not already visited US forces abroad. Mr Trump said he was concerned about making the journey "when I heard what you had to go through".
"I had concerns about the institution of the presidency. Not for myself personally. I had concerns for the first lady, I will tell you."
Mr Trump, who left unannounced from Washington in the dead of night in a darkened plane, said that a "couple" of trips had been previously set up but cancelled as word got out.
"Pretty sad when you spend $7 trillion in the Middle East, and going in has to be under this massive cover with planes all over and all of the greatest equipment in the world, and you do everything to get in safely," he said.
Mr Trump's trip came days after his sudden decision to withdraw all 2,000 US troops from Syria, arguing that the Islamic State jihadist group had been defeated and that the United States was paying too much on foreign interventions.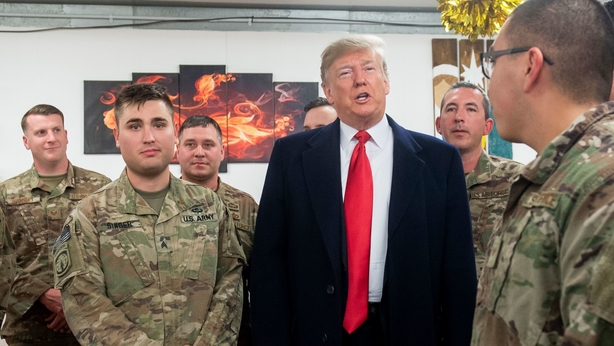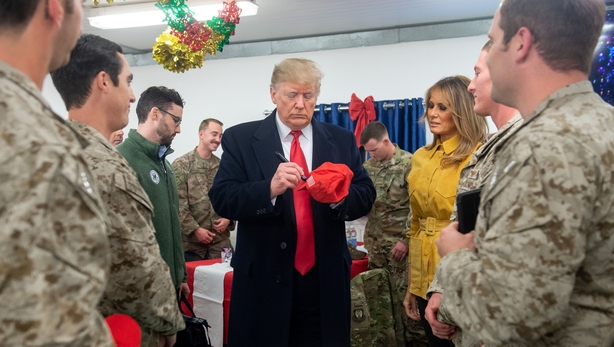 He defended the decision to withdraw from Syria during today's visit, saying that many people are going to start seeing things the same way he does.
He abruptly made the decision on Syria last week, against the advice of top aides and commanders, including Defence Secretary James Mattis, who resigned the next day.
Mr Trump said he had told his advisers, "let's get out of Syria", but was then persuaded to stay, before deciding to bring the 2,000 troops home.
"I think a lot of people are going to come around to my way of thinking. It's time for us to start using our head," the president told reporters at the Al Asad Air Base west of Baghdad.
Mr Trump also said the United States had no plans to withdraw its troops from Iraq, adding, "in fact we could use this as the base if we wanted to do something in Syria."
Mr Trump indicated he would not rush to nominate a new secretary to replace Mattis, the first defence chief in decades to resign over policy differences with the president.
Mr Trump said Deputy Defence Secretary Patrick Shanahan, whom he named on Sunday to replace Mr Mattis in an acting capacity starting on 1 January, "could be there for a long time."
President Trump and the First Lady traveled to Iraq late on Christmas night to visit with our troops and Senior Military leadership to thank them for their service, their success, and their sacrifice and to wish them a Merry Christmas. pic.twitter.com/s2hntnRwpw

— Sarah Sanders (@PressSec) December 26, 2018
---
Read more:
Trump orders full withdrawal of US troops from Syria
Mattis to step down as US Defense Secretary next February
Mattis resignation letter reveals chaos at White House
---
The president has come under withering criticism from fellow Republicans, Democrats and international allies over his decision to pull out of Syria because he believed Islamic State militants have been defeated.
Critics argue that the decision could undercut US leverage in the region and undermine diplomatic efforts to the end the Syrian civil war, now in its eighth year.
Ankara is threatening a new offensive in Syria. To date, US forces in Syria have been seen as a stabilising factor and have somewhat restrained Turkey's actions against Syrian Kurdish forces.
On Sunday, Mr Trump said in a tweet that he had spoken to Turkish President Tayyip Erdogan about a "slow and highly coordinated" withdrawal of the US troops, suggesting that he might slow down the process after the barrage of criticism.
A complete withdrawal of US troops from Syria would leave a sizeable US military presence in the region, including about 5,200 troops across the border in Iraq. Much of the US campaign in Syria has been waged by warplanes flying out of Qatar and other locations in the Middle East.