US President Donald Trump has nominated William Barr, a conservative lawyer who was attorney general in the administration of the late George H.W. Bush, to lead the US Department of Justice.
Mr Barr would replace Jeff Sessions, who Mr Trump forced to resign last month amid rising pressure on the White House from the Russia collusion investigation of Special Counsel Robert Mueller.
Mr Barr is "A terrific man, a terrific person," Mr Trump said.
"He was my first choice from day one.... respected by Republicans, respected by Democrats," he said.
Mr Trump also nominated US State Department spokeswoman and former Fox TV news anchor Heather Nauert as ambassador to the United Nations.
Mr Trump told reporters that Ms Nauert, who is in line to take over from Nikki Haley, had proven herself as a "very talented, very smart" member of his administration.
Ms Nauert had been touted for the post since October when Ms Haley announced that she was stepping down.

Kelly set to resign as Trump chief of staff - reports
Meanwhile, John Kelly is expected to resign as Mr Trump's chief of staff in the coming days, CNN has reported citing unnamed sources.
Representatives for the White House did not immediately respond to a request for comment on the report.
The rocky relationship between Mr Trump and Mr Kelly, a retired Marine Corps general, has been widely reported.
CNN, citing its sources, said their relationship was now worse than ever and that the two were not on speaking terms, but added that no decision on Mr Kelly's possible departure was final until it was announced.
A source told Reuters last month that Mr Trump was considering a replacement for Mr Kelly.
Vice President Mike Pence's chief of staff, Nick Ayers, is a possible contender, the source said.
Mr Kelly had sought to bring more order and stability to a White House that has often been chaotic under the unpredictable Mr Trump.
Mueller to give new details on Russia investigation
Meanwhile, US Special Counsel Robert Mueller will provide new details on how two of Mr Trump's closest former aides have helped or hindered his investigation into possible collusion between Russia and Trump's 2016 election campaign.
Mr Mueller last month accused Mr Trump's former campaign chairman Paul Manafort of breaching a plea bargain deal by lying to prosecutors, and he will submit information on those alleged lies in a filing to a federal court in Washington.
That could include shedding new light on Manafort's business dealings or his consulting for pro-Kremlin interests in Ukraine.
Manafort, who maintains he has been truthful with Mr Mueller, managed Mr Trump's campaign for three months in 2016.
Manafort, in addition to allegedly lying to Mueller, was convicted in a separate case in Virginia for a sophisticated bank and tax fraud scheme that included tens of millions of dollars in payments for his work in Ukraine.
Mr Mueller's office and the Southern Districtof New York are also to file sentencing memos on Michael Cohen, Mr Trump's former private lawyer.
Cohen pleaded guilty to financial crimes in a New York court in August, and last week to lying to Congress in a Mueller case.
Sentencing for both of those cases will be handled by one judge.
Attention will focus on whether Mr Mueller discloses new information to supplement Cohen's admission last week that he sought help from the Kremlin for a Trump skyscraper in Moscow late into the 2016 campaign.
Mr Mueller's probe has infuriated the president. He denies any collusion between his team and Russia, and accuses Mr Mueller's prosecutors of pressuring his former aides to lie about him, his election campaign and his business dealings.
The president has called Cohen a liar and "weak person."
He lashed out against the probe in a series of posts on Twitter today, again questioning prosecutors and accusing federal investigators and senior officials of having conflicts of interest without offering any evidence.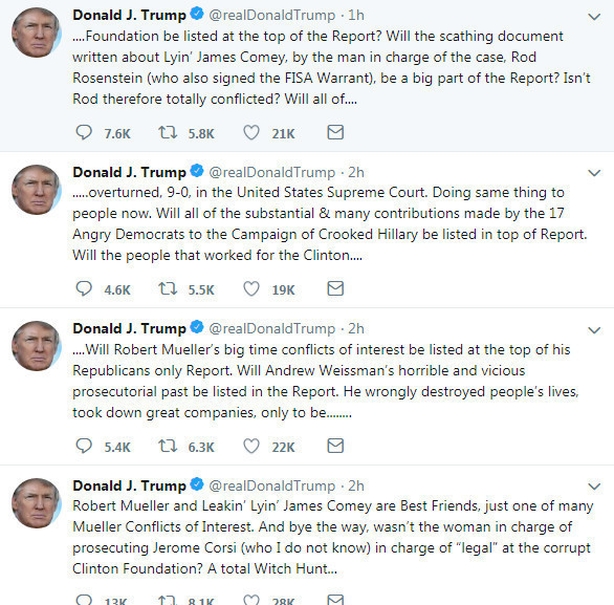 The filings on Cohen and Manafort follow a sentencing memo earlier this week on Mr Trump's former national security adviser Michael Flynn.
In that memo, Mr Mueller praised Mr Flynn for providing" substantial" cooperation and argued that he should receive no prison time, a move widely seen by legal experts as a message to other would-be cooperators that assistance would be rewarded.