US President Donald Trump's longtime personal lawyer Michael Cohen has pleaded guilty to making false statements to Congress regarding a Trump Organisation real estate project in Moscow, prompting Mr Trump to call him a liar and a "weak person."
Mr Cohen entered his guilty plea in federal court in Manhattan to one count of making false statements to Congress in an investigation into whether Mr Trump's campaign worked with Russia to sway the 2016 US election in his favour.
The plea has increased the pressure on Mr Trump during the ongoing special counsel investigation into Russia's role in the election.
The proposal at issue was to build a skyscraper bearing Mr Trump's name in the Russian capital, a project that ultimately did not materialise.
Mr Cohen provided false statements to both the Senate and House intelligence committees to create the false impression the Moscow real estate project had ended by the time the political primary season began, the charging document said.
Mr Cohen said in court that in 2017, he submitted a written statement to Congress saying all efforts relating to the real estate project in Moscow had ceased by January 2016.
He said that in fact these efforts continued until June 2016.
Mr Cohen also said that in the statement to Congress, he claimed to have had limited contact with Mr Trump concerning the project, when in fact it had been "more extensive."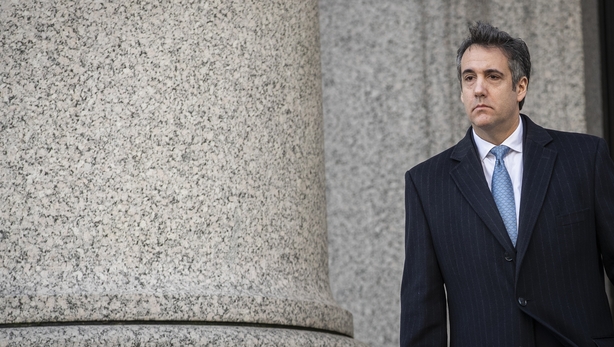 Mr Cohen also said he falsely told Congress he never took any steps toward traveling to Russia, when in fact he had discussed traveling there, although he never did.
"He's a weak person and not a very smart person," Mr Trump told reporters of Mr Cohen.
"He's got himself a big prison sentence. And he's trying to get a much lesser prison sentence by making up this story.
"This was a deal that didn't happen," Mr Trump said of the real estate deal. "That was no deal. ... To my way of thinking, it was an option that I decided not to do."
In August, Mr Cohen pleaded guilty to campaign finance violations, tax evasion and bank fraud in a case brought by federal prosecutors in New York.
The guilty plea may signal Mr Cohen is hoping for a lighter sentence on the charges in exchange for continuing to cooperate with Special Counsel Robert Mueller's Russia investigation.
"I made these misstatements to be consistent with individual 1's political messaging and out of loyalty to individual 1," Mr Cohen said in court.
He previously identified individual 1 as Mr Trump.
Russian President Vladimir Putin's spokesman said in August 2017 that he had received an email in January 2016 from Mr Cohen about a Moscow real estate project, but said he had neither replied nor discussed it with Mr Putin.
The Washington Post reported last year that Mr Cohen had emailed Dmitry Peskov, Mr Putin's spokesman, seeking his help in advancing a stalled Trump Tower development project in Moscow at the same time Mr Trump was running for president.
Mr Peskov said at the time that Mr Cohen had written about "a certain Russian company and certain people" who wanted to build a skyscraper in Moscow and wanted his help in making the stalled project a reality.
Robert Mueller, who took over the Russia investigation from the FBI in May 2017, has brought criminal charges against a series of former Trump aides and associates, including his former campaign chairman Paul Manafort and former national security adviser Michael Flynn, as well as Russian individuals and entities.
Mr Cohen has previously said he was Mr Trump's "fixer" and would "take a bullet" for the president.
His plea may turn up the heat on the US president, who last week provided written answers to questions posed in the investigation.
Mr Trump has sought to distance himself from Mr Cohen despite their long association.
Mr Cohen testified in August that Mr Trump had directed him to commit a crime by arranging payments to silence two women who alleged before the 2016 election that they had affairs with Mr Trump.
Mr Trump said in October that Mr Cohen's testimony was "totally false" and he minimized his role working for him, describing him as "a PR person who did small legal work."
Mr Cohen left the courthouse on Thursday without speaking to reporters.