Tensions have mounted after US President Donald Trump renewed threats to repel hundreds of Central American migrants who have massed at a town on the southern side of the US-Mexico border for a bridge crossing to the US.

As US authority helicopters hovered overhead, a group made up mostly of men headed from the shelter where they were staying since last week to the El Chaparral bridge around 1km away in Tijuana, just across the border from San Diego in California.

Mr Trump threatened to close the border altogether, having previously deployed nearly 6,000 troops to erect concrete barriers and barbed wire fences to deter what he has called an "invasion."

Speaking to reporters, he said: "If we find that it gets to a level where we are going to lose control or where people are going to start getting hurt, we will close entry into the country for a period of time until we can get it under control."
In a warning to Mexico, Mr Trump added: "The whole border. I mean the whole border. Mexico will not be able to sell their cars into the United States."
Mr Trump also said he had authorised the use of lethal force by troops on the border if necessary.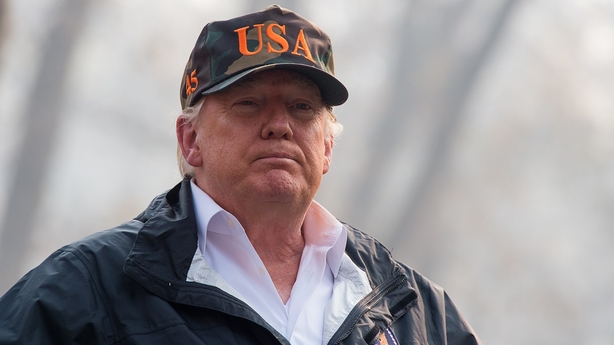 Tensions rose when a local official and a human rights activist tried to convince the migrants both of the benefits of remaining in Mexico, and to submit their US asylum requests through official channels.

"We don't want to!" shouted the migrants before continuing on to the bridge.

One man said: "Let us cross now, we're already desperate, we've left family in Honduras, we need to work".

Authorities in Tijuana set up a job fair in an attempt to recruit skilled workers among the migrants for the benefit of local companies, while Mexico's migration agency has offered them temporary residency papers.

Some have taken advantage of the offers but others are determined to reach the US.

Since setting out more than a month ago, mostly from Honduras, thousands of migrants, including many women and children, have covered about 4,400km, either walking or hitchhiking, before the first groups began reaching Tijuana at the end of last week.

But there have been tensions since they started arriving at the border town, particularly in the shelter housing around 4,500 Central Americans.

The migrants are mostly fleeing poverty and unrest in Central America's "Northern Triangle" - El Salvador, Guatemala and Honduras, where gang violence has fuelled some of the highest murder rates in the world.