Democrats won governorships in several US states that supported Republican President Donald Trump in 2016 but lost high-profile races in Florida and Ohio, as voters cast ballots in dozens of gubernatorial contests across the country.
The hotly contested race in Georgia, where Democrat Stacey Abrams was seeking to become the first African American woman to be elected governor of a US state, remained too close to call.
In Florida, Democrat Andrew Gillum lost his attempt to become the state's first African American governor, suffering a narrow defeat to Republican Ron DeSantis.
"I still plan to be on the front lines alongside every one of you when it comes to standing up and fighting for what we believe in," Mr Gillum, the 39-year-old mayor of Tallahassee, told supporters at his election night party, where small groups of people embraced, tears streaming down their faces.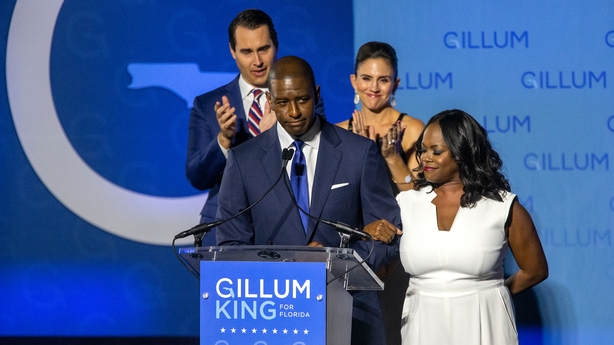 Republicans also scored a major victory in Ohio's governor race, where Mike DeWine, the state attorney general, defeated Democrat Richard Cordray, who served as the first director of the US Consumer Financial Protection Bureau.
But in Wisconsin, Democrat Tony Evers pulled off a narrow win in unseating Republican incumbent Scott Walker, according to data provider DDHQ.
The two-term governor, who also survived a Democratic-driven recall election in 2012 after ending collective bargaining for public workers, briefly ran for president in 2016.
In addition to Wisconsin, Democrats also won governor races in three other states - Michigan, Pennsylvania and Kansas – that supported Mr Trump in 2016, bolstering the party's hopes of capturing those states in the 2020 presidential election.
In Michigan, Democrat Gretchen Whitmer turned back Republican Bill Schuette in the contest to replace Republican Governor Rick Snyder, who could not run again due to term limits.
In Kansas, Democrat Laura Kelly defeated Kris Kobach, a staunch Trump ally, where outgoing Republican Governor Sam Brownback suffered from low approval ratings.
Democratic candidates also triumphed in Illinois, Maine, New Mexico and Nevada, where Republicans had held the governorships.
All told, Democrats had flipped at least seven Republican-held governorships without suffering any losses as of early this morning.
While much of focus of the elections was on which party would win control of the US Congress, Republicans and Democrats were battling across the country for state-level power, which could have a major impact on issues such as congressional redistricting and healthcare.
In Georgia, Ms Abrams, 44, was locked in a tight battle with Republican Brian Kemp, the state's secretary of state.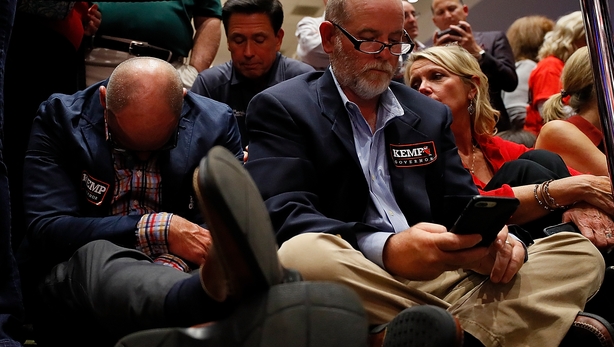 There was a minor party candidate also in the race, and under Georgia law, if no candidate exceeds 50% of the vote, the top two finishers advance to a December run-off election.
By 7am Irish time, Mr Kemp held a three-point lead, but Ms Abrams told her supporters that she expected a run-off once all votes were counted.
"I promise you tonight that we are going to make sure every vote is counted," she said. "We are still on the verge of history, and the best is yet to come."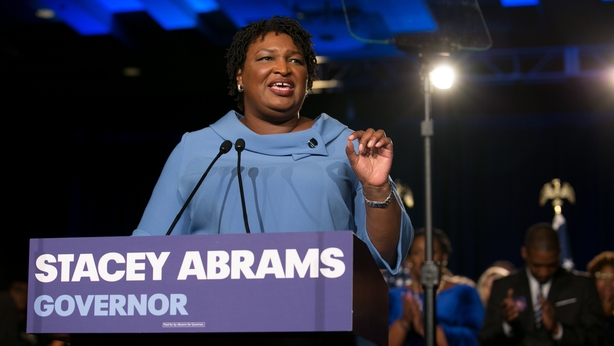 Another Democrat trying to make history, Ben Jealous, lost his bid to become Maryland's first African American governor to incumbent Republican Larry Hogan.
The races in Florida and Georgia were seen as a test of whether liberal candidates could prevail in Southern states, where centrist Democrats have repeatedly lost, by appealing to a coalition of young and minority voters.
Both Mr DeSantis and Mr Kemp had strong support from President Trump, who travelled to their states in the closing days of the campaigns to energise Republicans at "Make America Great Again" rallies.
Democratic former President Barack Obama swooped in to boost the Democrats, and Oprah Winfrey visited Georgia on behalf of Ms Abrams.
Accusations of race-baiting dogged Mr Kemp and Mr DeSantis who denied the allegations. Neither Georgia nor Florida has elected a Democratic governor in 20 years.
Going into yesterday, Republicans controlled 33 governors' mansions and two-thirds of state legislative chambers.
The Democratic Party said it flipped at least six state legislative chambers on the strength of local races. Democrats now have complete control of state government in Colorado, New York, Illinois, Maine and New Mexico.
Democrats, playing catch-up after a net loss of 13 governorships and more than 900 state legislative seats during the eight-year Obama administration, fielded their largest slate of legislative candidates in more than three decades.
The outcome of elections for state positions could also affect future control of the US House of Representatives.
Governors and hundreds of legislators elected this year will be in office when congressional districts are redrawn after the 2020 Census. In some states, a governor's power to sign or veto congressional maps could decide the partisan balance.
Republicans were eyeing a potential pickup in Connecticut, traditionally a Democratic state, where the contest was too close to call.
In Colorado, Democrat Jared Polis became the first openly gay man to be elected governor of a US state.
But Democrat Christine Hallquist lost her bid to become the first transgender US governor in Vermont, where Republican incumbent Phil Scott won re-election.